Creativity Chronicles is an independent publication launched in May 2022 by Jessica Carey. If you subscribe today, you'll get full access to the website as well as email newsletters about new content when it's available. Your subscription makes this site possible, and allows Creativity Chronicles to continue to exist. Thank you!
Who are we?
We are regular people and creators, just like you! We love tapping into our creativity, exploring self-expression, and setting our creative spirits free! We embrace our authenticity, enjoying the fun and quirkiness we each have to offer!
What does the Creativity Chronicles team do?
We find the best creative products, supplies, resources, and information to help you explore new ideas, media, and techniques and stay creative!
How do we do that?
As we go about our daily lives, we use and learn about a variety of tools, products, and resources, and some of them are too amazing not to share!
We love finding creative resources worth sharing! We scour the reviews, seeing what fellow creatives think about it, so we can determine if it's the next big thing! Whether it's something small or large, if we love it enough, we'll shout it from the rooftops! (Or at least share it with our friends on the internet.)
Why We Do What We Do
In these Creative Chronicles, we explore all things related to creativity. We'll discuss why creativity is important, how to foster it in our lives, and share some of our favorite creative products.
Creativity is important because it enriches our lives and helps us to see the world in new ways. It allows us to express ourselves and connect with others. And it can be a lot of fun!
There are many ways to foster creativity in our lives. One way is to surround ourselves with things that inspire us or make us feel good. This could be anything from a beautiful piece of art to a cozy blanket. Another way is to try new things and step outside our comfort zone. This could mean trying a new recipe or taking a dance class.
Creating and sharing awesome resources is so much fun! Who wouldn't want to surround themselves with fun, amazing things to improve their life and make them feel extra special?
No matter what it is, it can make life worthwhile. Why expend all the time, effort, and even luck to find these for yourself? Save yourself the hassle and let us handle it! Get comfy, relax, and enjoy reading about our latest Creativity Chronicles!
Why Trust Us?
If you're looking for an honest, trustworthy review of the latest products on the market, we've got you covered! We select our recommended products based on our own personal experiences and the thousands of customer reviews we pour over.
And our recommendations are always unbiased - we only make money if you purchase certain products through our affiliate links, but we never let that influence our opinions. We also recommend other offers and resources that do not provide any commissions just because they're too good not to share!
Our creative team adores what we do, and by using our affiliate links, you're supporting our blog and creative endeavors, allowing us to keep doing what we love most!
So why not give us a try? We're sure you won't be disappointed.
Backstory
Jessica has been creating ever since she was little, loving art and writing. She continued her exploration throughout her schooling experience; art classes were always her top pick for elective classes. Jessica took creative writing and AP Studio Art in high school before continuing her education, earning a Bachelor degree in Fine Arts and Master degree in Art Education.
She's worked with all levels of school children at a wide variety of schools, starting with preschool and going up to high school. She's led art clubs and taught after school lessons. Jessica is incredibly passionate about art, creativity, and free expression. She hopes to one day open a creative space for anyone and everyone to come create in.
She's currently enrolled in Chris Luck's AMBSDR program! If you want to learn how to become a brand ambassador and make passive income online by writing about what you love, check out this awesome program! It'll teach you all you need to know and then some!
Chris Luck, AMBSDR's founder, will hook you up with all the details inside of Certification. You'll be able to make as much money as you want, and you just need internet access and just a few minutes of time each day. Chris Luck teaches like no other, constantly over-delivering!
With the guidance of her phenomenal mentor, Chris Luck, she's grown so much as a writer and entreprenuer. She's learned a lot about SEO and has even earned her certification!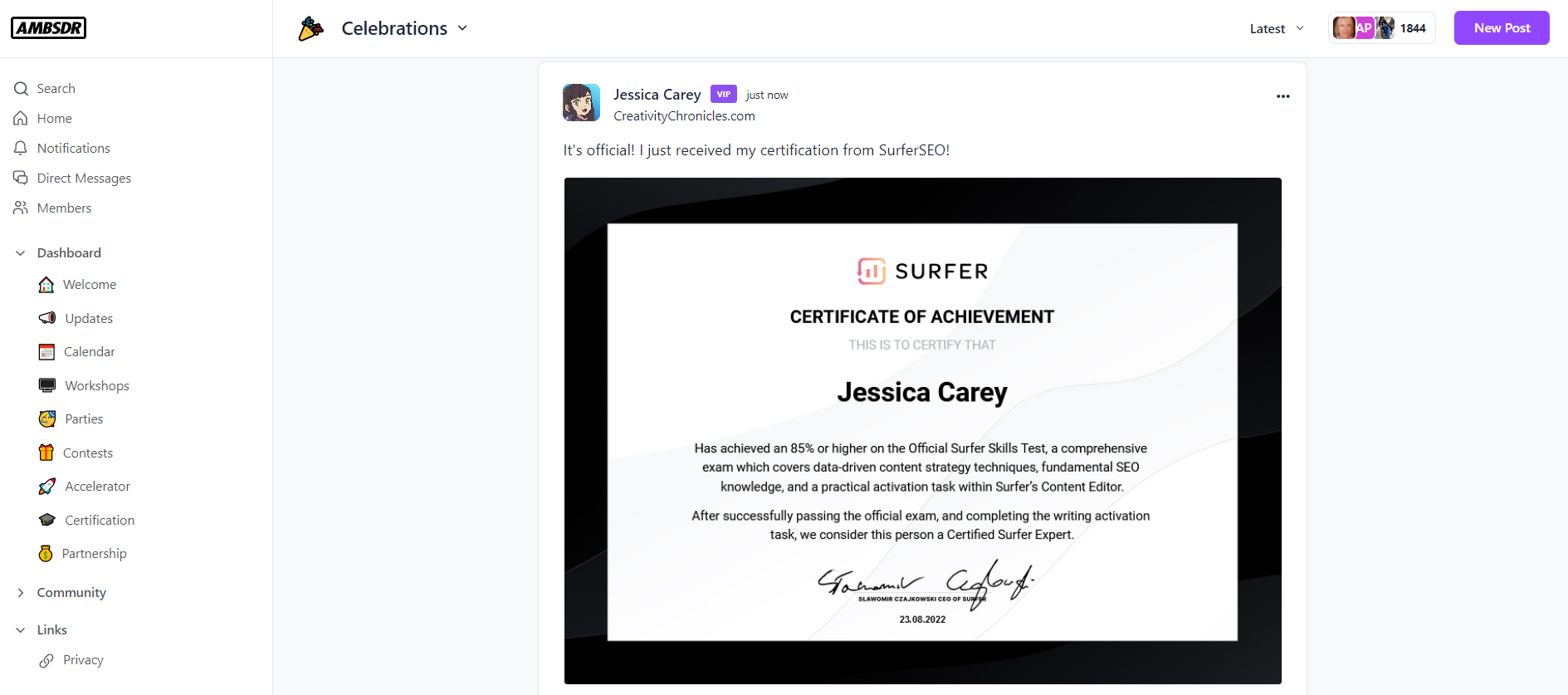 Access all areas
By signing up, you'll get access to the full archive of everything that's been published before and everything that's still to come. Your very own private library.
Fresh content, delivered
Stay up to date with new content sent straight to your inbox! No more worrying about whether you missed something because of a pesky algorithm or news feed.
Meet people like you
Join a community of other subscribers who share the same interests.
---
Start your own thing
Enjoying the experience? Get started for free and set up your very own subscription business using Ghost, the same platform that powers this website.
---
Amazon Affiliate Disclaimer:
Creativity Chronicles is a participant in the Amazon Services LLC Associates Program, an affiliate program that allows us to earn money linking to Amazon.com and associated websites. When you click on or make a purchase through an affiliate link on Creativity Chronicles, we might get a small commission at no additional cost to you.