Are you looking to create some drawings and looking for the perfect drawing pens?
You come to the right place!
In this review, we've created a list of the top drawing pens for artists of all levels of experience.
Whether you're a beginner or a professional, there's a perfect drawing pen for you!
With the right tools, anyone can be an artist and can create anything their heart desires.
Pick up the perfect set of pens and unleash your inner creativity!
Start browsing our top pick selection to find the perfect set for your next project!
Keep reading to find the perfect pens for your art needs!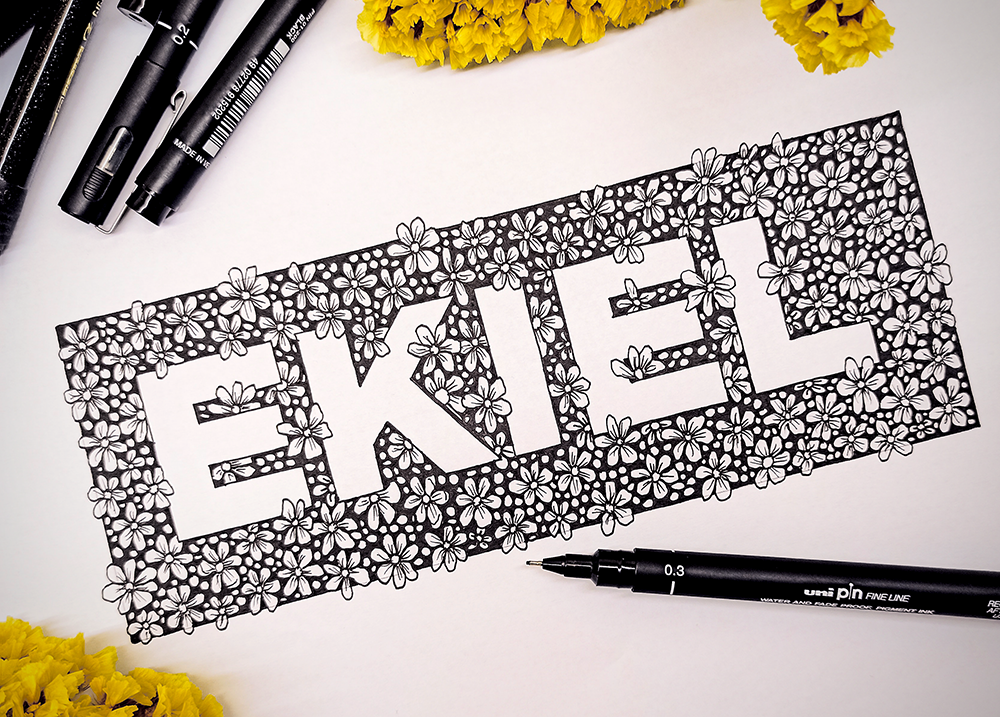 How We Choose Our Selections
Trying to find the right drawing supplies can be really tough.
You have to read through a lot of reviews, compare prices, and figure out what type of pen is best for you.
It can be hard to know which pen is right for you, especially if you're a beginner.
There are so many different types of pens available on the market, it's easy to get overwhelmed.
We've done all the hard work for you, reading thousands of Amazon reviews, and compiled a list of the top pens based on customer feedback.
Whether you're looking for to doodle, sketch, draw, or illustrate, we've got you covered.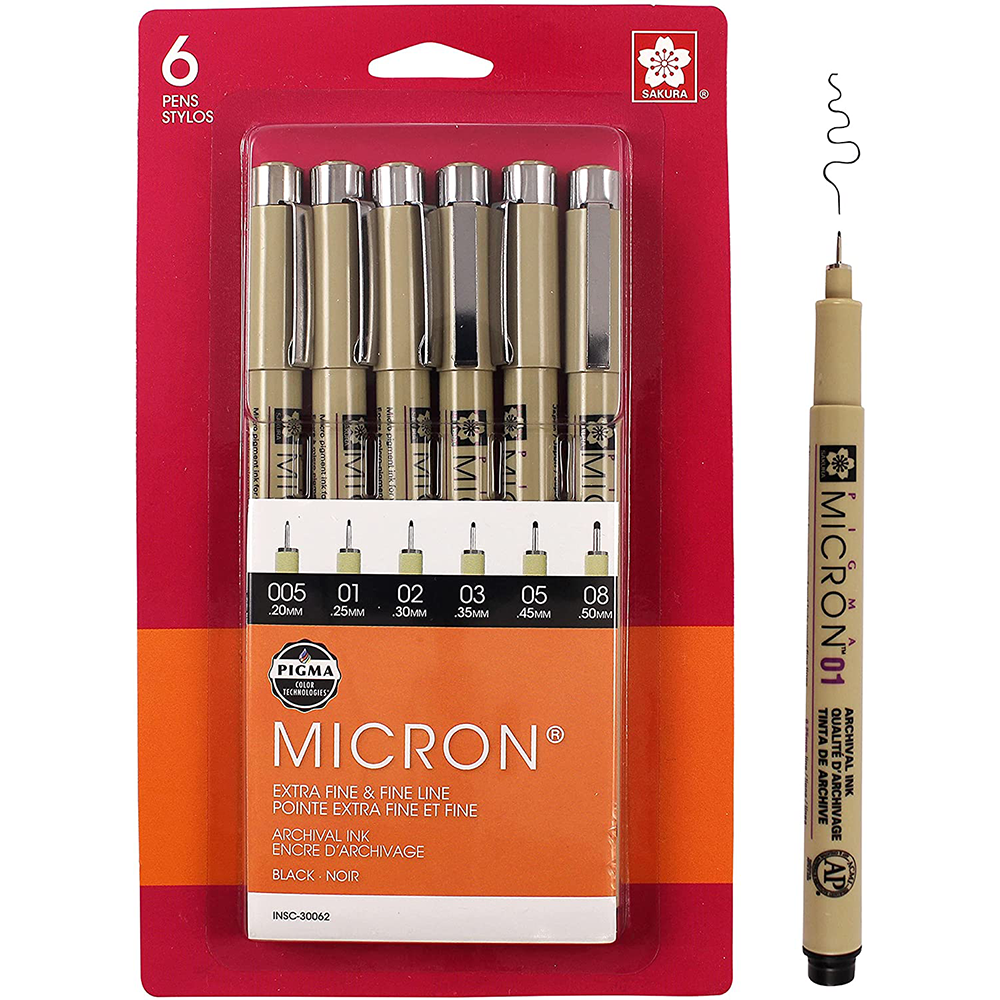 Best Professional Black Drawing Pen Set
Sakura Pigma Micron Drawing Pens
Check Price on Amazon
Why We Love It
If you're looking for a versatile and reliable drawing pen, look no further than the Sakura Pigma Micron.
This set of 6 black, pens comes in a variety of tip sizes, so you can find the perfect line width for your needs.
They're perfect for detailed work, thanks to their precision tips and rich ink that doesn't bleed through most paper.
Plus, they have a smooth writing action that will make your sketches and illustrations look professional.
Whether you're a seasoned artist or just starting out, the Sakura Pigma Micron is a great choice for all your drawing needs.
What You Should Know
Sakura Pigma Micron pens provide color consistency from their single pigment source.
They are waterproof, quick drying, fade resistant, pH neutral, and nontoxic.
This set meets ACMI standards.
They have a strong tip that is resistant to wear and tear and strong, non-bleed, pigment ink, making them perfect for drawing and writing.
This set comes in a variety of colors including black, blue, brown, green, orange, pink, purple, red, violet, white, and yellow.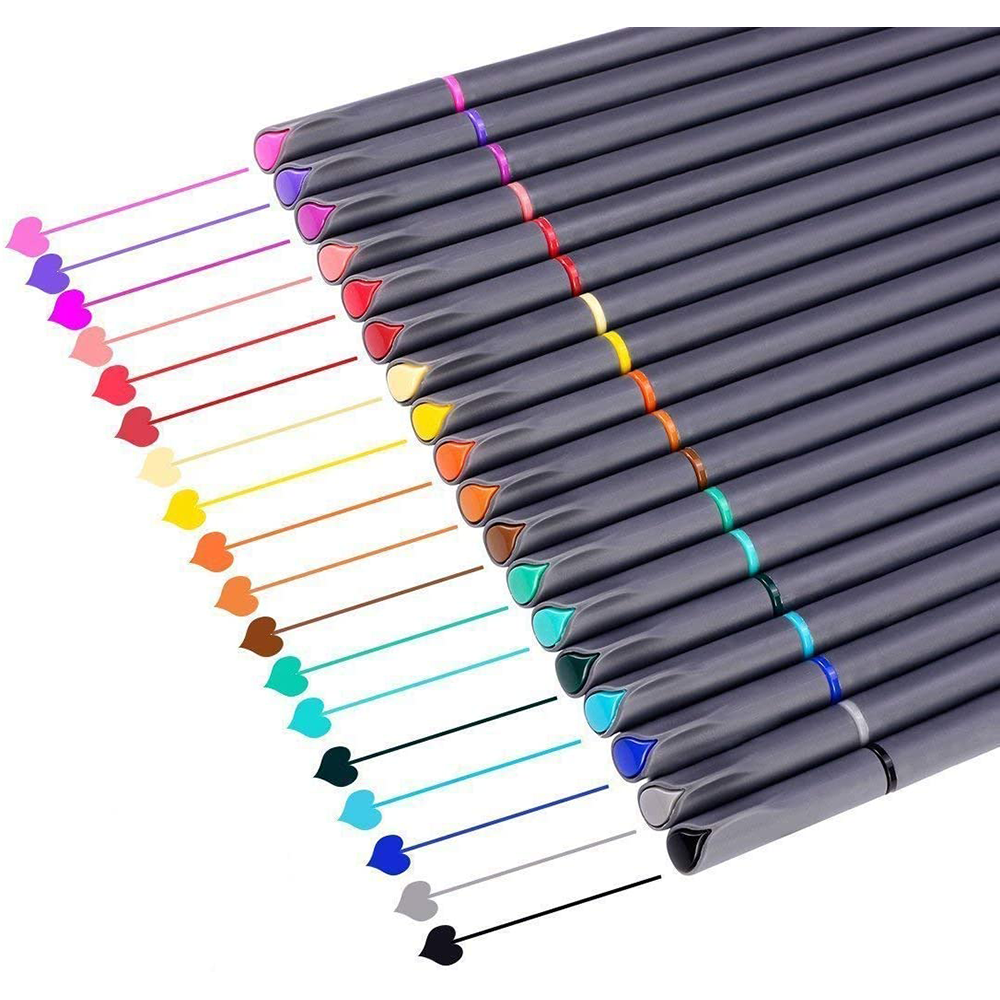 Best Starter Colored Drawing Pens
Check Price on Amazon
Why We Love It
Looking for a versatile and affordable drawing set?
Check out iBayam's 18-piece set!
This set comes with an assortment of 18 different colors, perfect for any project you have in mind - whether it's adding a splash of color to your journal entries, doodling in your notebook, or even getting creative with some adult coloring books.
This pen set comes with a fine tip that produce smooth and consistent lines, so you can achieve the exact look you're going for.
They won't bleed through the page.
Plus, they're non-toxic and water-based, making them ideal for all users.
When you're done using them, simply store them away in the included plastic case.
What You Should Know
Anyone who loves to draw will appreciate the iBayam pen.
It has a metal-clad tip that creates thin strokes, making it a great choice for drawing enthusiasts, hobbyists, and artists of all skill levels.
The water-based ink will help your artwork will look its best.
Plus, the compact design is more efficient to ship and produces less carbon emissions.
So not only will you be giving a great gift, but you'll also be helping to protect the environment.
Best Starter Black Drawing Pens
Check Price on Amazon
Why We Love It
Dyvicl pens are perfect for a wide range of papers and vellum.
The pen set contains 9 assorted sizes, including 1 brush tip, which are perfect for any drawing or writing needs you may have.
The precision ink pen set uses black, water resistant ink that won't smear as you glide it across your paper.
This is the perfect pen set for anyone who loves to sketch, illustrate, or engage in any other drawing technique.
What You Should Know
Dyvicl pens are a great option for anyone looking for high-quality, reliable drawing supplies.
They use nontoxic, odorless, archival grade ink that won't bleed or fade, and they meet ASTM standards.
They're also light-weight and easy to hold, making them comfortable to use for extended periods of time.
If you're ever not satisfied with a purchase, Dyvicl is committed to customer satisfaction and will do everything they can to make things right.
So if you're in the market for new drawing supplies, be sure to check out Dyvicl pens.
You won't be disappointed.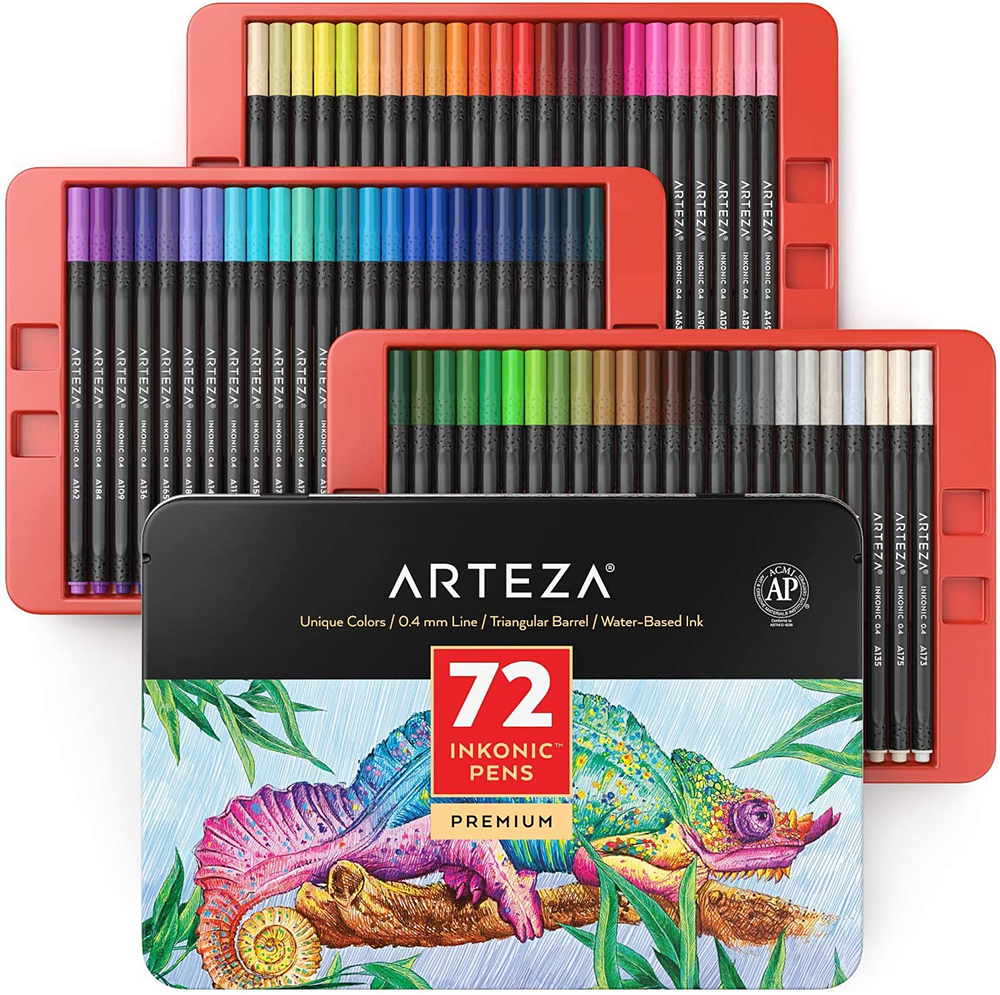 Best Colored Drawing Pen Set
Arteza Inkonic Drawing Pens
Check Price on Amazon
Why We Love It
Looking for a high-quality, smudge-free drawing pen?
Look no further than the Arteza Inkonic drawing pen set!
These pens come with easy-grip comfort and 72 vibrant colors to choose from.
The triangular barrels are designed so they won't roll off surfaces, making them perfect for any workspace.
With their precision tips, they are perfect for detailed drawings and illustrations.
If you're looking for a drawing pen that won't let you down, go with these fine tip pens!
What You Should Know
Arteza Inkonic pens have acid-free, odorless ink that dries quickly.
Arteza guarantees their value and performance, as they are designed and created by artists.
Their priority is providing quality art supplies that are accessible to everyone.
They have a 0.7mm tip that is great for detailed work.
The quick-drying ink is perfect for those who want to create beautiful artwork without having to worry about smudging or smearing.
Know that with Arteza you're getting a high-quality product.
Whether you're a beginner or a seasoned artist, Arteza brand is an excellent choice for all your drawing needs.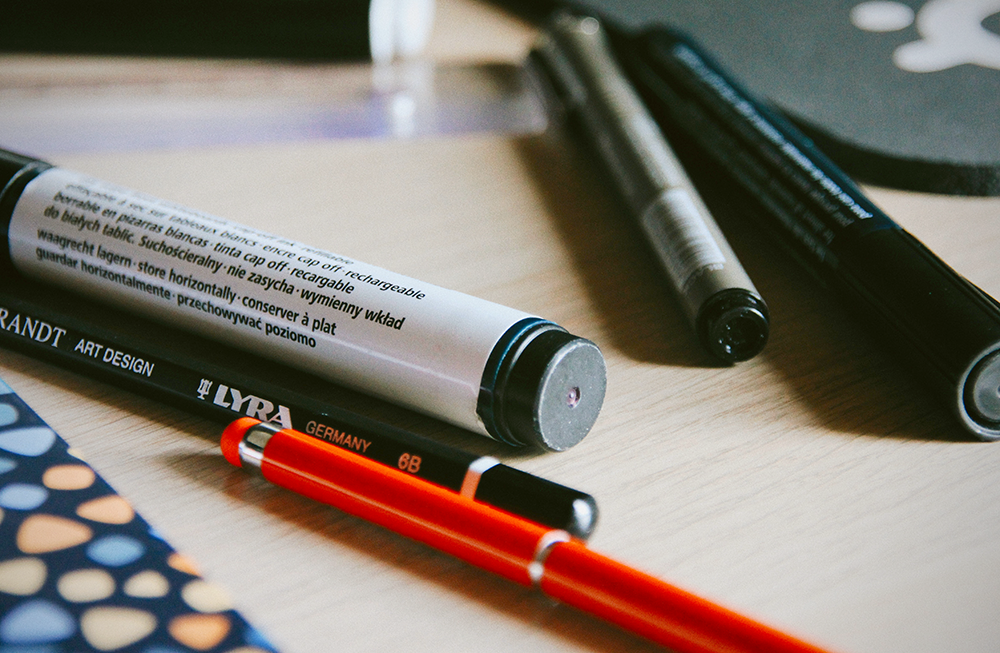 Pen and Drawing FAQs
People often have questions about the perfect drawing pens for their needs.
It can be tough to figure out which type of pen is right for you, especially when there are so many options available on the market.
There's nothing worse that making the wrong purchase decision based off misconceptions.
We've put together this list of frequent asked questions to help make your decision easier so you can make an informed decision before purchasing.
Whether you're looking for the perfect gift for the artist in your life or just need a new drawing utensil for future art projects, you'll leave feeling confident.
Should I draw with pens?
At the end of the day, there is no one definitive answer to this question because it depends on your preferences and the types of drawings you want to create.
Some people prefer to use pens because they produce crisp, clean strokes that are less likely to smudge than pencils.
However, they can also be more difficult to erase mistakes with, and they can be less forgiving for drawings with a lot of detail.
Pencils are generally more versatile than pens, as they can be used for both detailed and rough sketches.
They are also easier to erase mistakes with, which can be helpful when you're first starting out drawing.
However, pencil lines can also be less distinct than pen lines, and they may not be as suitable for certain types of drawings.
Ultimately, the decision of which drawing medium comes down to personal preference and what type of drawing you want to create.
If you're not sure which one to choose, we recommend trying out both and seeing which you prefer.
You can also think about drawing with markers or other media.
Is it better to start with black or colored pens?
It depends on what you're using them for.
Black pens are better for outlining and drawing clean lines, while colored pens are better for adding color and shading.
That said, it's always a good idea to have both black and colored pens on hand, because there are some things that can only be done with a black pen (generally, they work best for outlines), and there are some things that can only be done with a colored one (like adding a variety of hues).
So it really depends on what you're trying to achieve with your drawings.
How many types of pens should I have in my art supply kit?
As a general rule, having a set of inexpensive pens is better than having one or two very expensive ones because you have more variety.
That said, every artist is different and you may find that you prefer to work with fewer pens or more specialized pens.
Pens come in a variety of styles and sizes.
There are ballpoint pens, brush pens, disposable drawing pens, fine tip pens, and alcohol based ink pens to name a few.
They can have different nib sizes and replaceable nibs, and you can even use india ink.
The following is a list of the types that you may want to consider for your supply kit:
1. Black fine-point: this is the most basic type of pen and can be used for a variety of purposes, from sketching to writing.
2. Colored fine-point: these pens can be used for adding color to your sketches or for drawing attention to specific elements in your drawings.
3. Metallic fine-point: these pens can be used to add a bit of sparkle and shine to your drawings.
4. Pens with different tip sizes: having various tip sizes gives you more flexibility when drawing, as you can use the thicker tips for larger areas and broad lines and the thinner tips for smaller details.
Is printer paper good for drawing?
Yes, printer paper is good for drawing, especially for beginners with limited funds.
The smooth texture makes it easy to create clean lines, and the white background provides a bright canvas for your artwork.
Plus, it is relatively inexpensive and readily available, so it's a great option for beginners.
That being said, more expensive, specialized drawing papers come with a variety of benefits.
For example, they may be thicker and more durable, which is ideal for creators who want to frame their drawings.
Or, they may have a textured surface that can add an interesting effect to your drawings.
If you're looking for the perfect drawing paper, we recommend trying out a few different types to see which works best for you.
What paper should I use with drawing pens?
There is a lot of debate over what kind of paper is best to use with pens.
Some creators prefer to use standard printer paper, while others invest in more expensive, high-quality ones specifically designed for pen drawings.
Ultimately, it comes down to personal preference and what works best for you and your artwork.
If you're just starting out, we recommend using standard printer paper to begin with.
It's inexpensive and easy to find, so you can experiment without breaking the bank.
Plus, you can always upgrade to more expensive versions later on if you find that it makes a difference in your artwork.
Here are a few types you may want to consider:
- High-quality drawing paper: this type is more expensive, but it's designed specifically for use with pens.
- Watercolor paper: this type is thicker and more absorbent, so it's ideal for drawing with pens that have a lot of ink.
- Bristol board: this type is smooth and durable, making it ideal for drawing with pens that create thin lines.
How can beginners start pen drawings?
There are a few things to consider when starting out.
The first is the type you want to use.
There are three main types: calligraphy pens, brush pens, and felt-tip pens.
Calligraphy pens have a fine point and are good for lettering or drawing thin lines.
Brush pens have a brush tip that is good for producing thick strokes, while felt tip have wide tips great for creating bold markings.
The next thing to consider is the paper you will be using.
Some are better suited for certain types of pens than others.
For example, calligraphy paper is designed to hold more ink than regular paper, so it's a good option for calligraphy pens.
Once you've selected the right supplies, you're ready to start drawing!
Here are a few tips to get you started:
- Use light pressure when drawing with your pen to avoid making any accidental mistakes.
- Experiment with different strokes and line thicknesses to see what works best for you.
- Practice drawing simple shapes and lines before moving on to more complex drawings.
With a little practice, you'll be creating beautiful artwork in no time!
Pens are a great way to add detail and interest to your drawings.
What's the difference between drawing and doodling?
It's easy to think of drawing and doodling as the same thing, but there are actually quite a few differences between the two.
For one, drawing is generally done with a specific purpose or goal in mind, while doodling is often more spontaneous and unplanned.
Drawing is also often thought of as a more "serious" activity, while doodling is seen as more light-hearted and fun.
Another key difference between drawing and doodling is that drawings usually involve some level of realism, whereas doodles are often more abstract and whimsical.
Drawings are typically based on real objects or subjects, whereas doodles can be purely imaginary.
And because of this, drawings tend to be more detailed and complex than doodles.
So, what does all this mean for you?
Simply put, it means that there are no hard and fast rules when it comes to drawing and doodling.
It's up to you to decide what you want to create, and there's no wrong way to do it.
So go ahead and let your creativity flow!
How can I get better at doodling and drawing?
One way to get better at doodling and drawing is to practice every day.
Draw simple shapes or scribbles over and over until they start to look more refined.
You can also try copying images or designs that you find interesting.
Another helpful technique is to focus on the details.
For example, when drawing a person, pay attention to the shape of their eyes, nose, and mouth, and how they're positioned in relation to the rest of their body.
This will help you create a more accurate representation.
Finally, don't be afraid to experiment.
Try using different colors or shading techniques, or experiment with different mediums such as pencils, markers, or charcoal.
The more you practice and experiment, the better you'll become at drawing and doodling!
Where can I find drawing inspiration?
There are a lot of great places to find drawing inspiration. Here are a few of our favorites:
The real world: go out exploring and see what you can find.
Life can provide excellent inspiration, whether it be a funny conversation, beautiful scene, adorable pet, loved ones, or anything else that lights up your passion.
Don't be afraid to go new places and try new things; they just might provide the exact inspiration you were looking for.
Art books: If you're looking for drawing inspiration that's a little more specific, try browsing through some art books.
You can find ones devoted to a certain artist, technique, style, or subject matter.
This is a great way to get exposed to new art creators and find drawing ideas.
Pinterest: One place to start your search for drawing inspiration is on Pinterest.
You can type in any subject you're interested in, plus "drawing" or "sketching" and get inundated with beautiful examples from some amazingly talented artists.
Not only will you be inspired by what you see, but you can start to get a feel for different styles and techniques that you might want to try out yourself.
Google Images: Google Images is another fantastic place to turn when you need some visual inspiration for your drawings.
Again, simply enter a search term like "funny cats drawing" or "landscape drawing" and see what comes up.
You can also click on the "Tools" button and select "Usage rights" to filter the results by images that are free to use.
There are countless places to get inspiration, so keep an open mind and see where creativity takes you!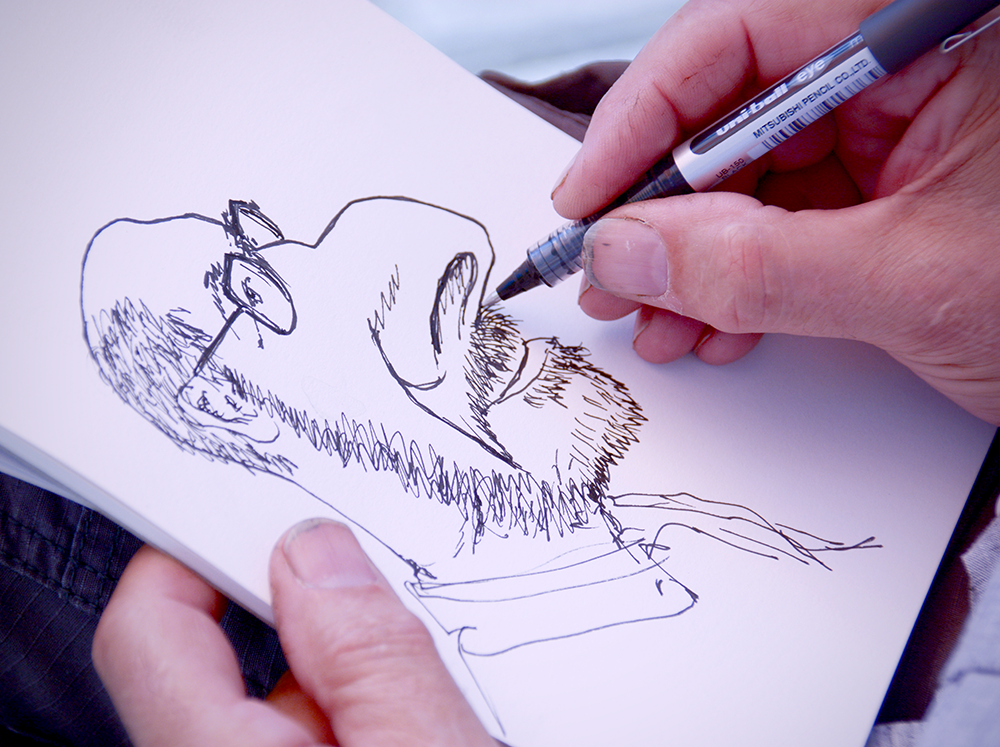 The Best Drawing Pens for You
So, what are the perfect pens for your needs?
After hours of research, reading thousands of verified Amazon customer reviews, we've found the top drawing pens for all levels of artists.
Whether you're just starting out as a newbie, are a hobbyist looking to dabble and unwind, or are a professional artist looking to take your project to the next level, there's a set of pens perfect for your needs.
We've included a variety of pens, so there is a drawing pen set for everyone.
Whichever pen set you choose, these top picks will help you create beautiful pieces of art.
Hopefully, our findings have given you the necessary information to make an informed decision about your best drawing pen set, so you can walk away a happy shopper with your new pens!
Don't forget to tap the button to check Amazon for the best prices for these drawing pens!
Thanks for reading and happy creating!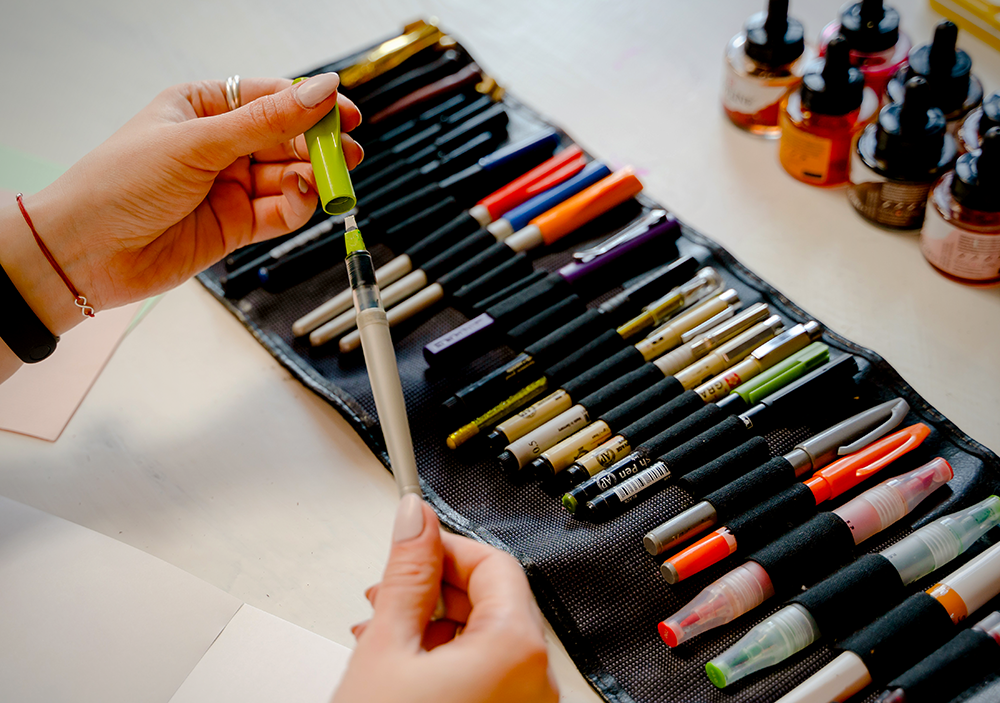 Need help getting started with your new pen set? Check out Sandy Allnock's Artventure's video!
If you'd like to see drawings made with pens and other media, you can find some of my art at Redbubble, TeePublic, and TeeSpring.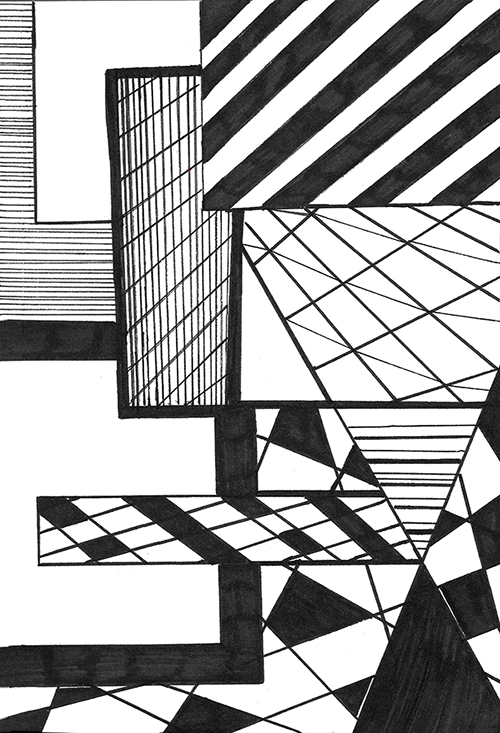 And if you'd like to listen while creating like I do, you can get a 30-day free trial of Amazon Prime Music or Two Free Audiobooks from Audible Plus!
I love listening to a great book or music while losing myself to creating art!
Having a great audio track makes the creating process much more fun!
Plus, if you want to take advantage of 2-day shipping, get a free 30-day trial of Amazon Prime, or if you want to take advantage of down time, get a free 30-day trial of Prime Video!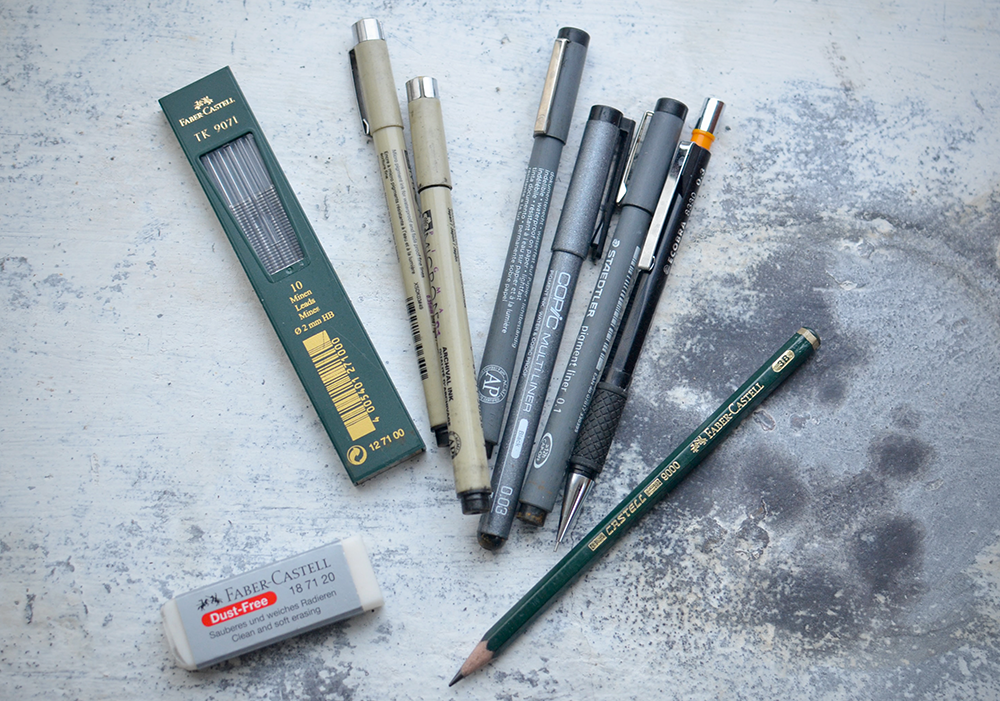 Need a great everyday pen? Check out Resilient Reviews for the best everyday carry pens!

Want even more content about creativity and art?
Be sure to check out all of our creative chronicles!
Enjoy drawing and looking for more art supplies?
Check out our other drawing supply articles: