Interested in adding more color to your drawings?
You've come to the right place!
Oil pastels are a fun and versatile medium for artists of all levels, newbies and professional artists!
If you're looking for a new medium to try, oil pastel is a great option.
They are easy to blend and manipulate, which makes them perfect for a variety of projects.
You can find the perfect set for your needs, whether you're a beginner or experienced artist.
With such a wide selection of brands and sets available, it can be difficult to determine which is the best choice for you.
That's why we've compiled a list of the best oil pastels on the market.
Start browsing our selection of top picks to find the perfect set for your next project!
Keep reading to find the best oil pastels for your art needs!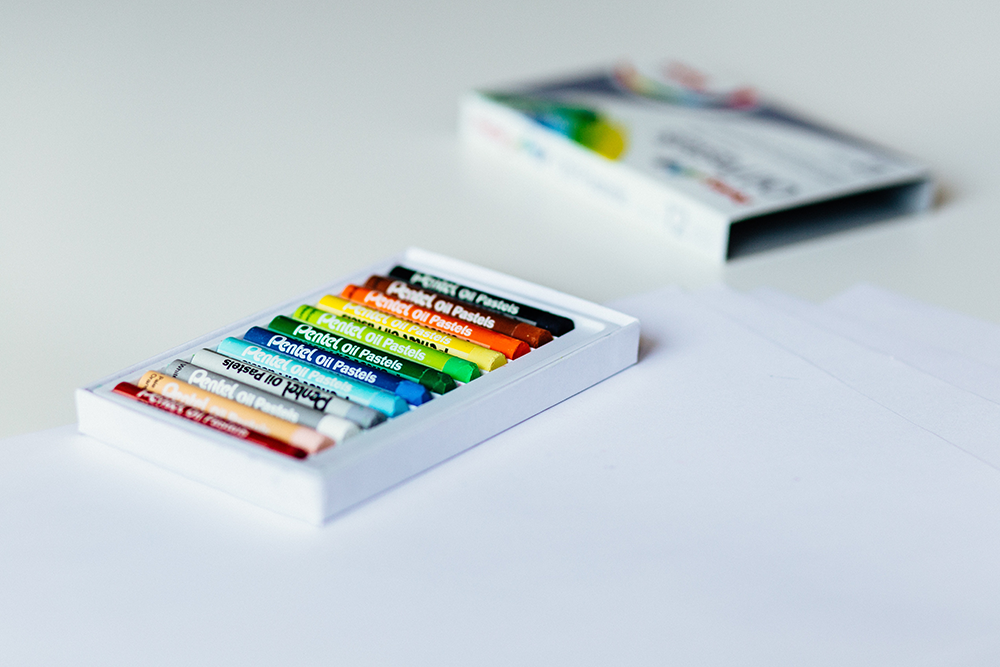 How We Choose The Best Oil Pastels
It can be hard to find the right art supplies, especially if you're not sure what you're looking for.
It's even harder when you don't know where to start. There are so many different brands and types available.
You might spend hours online or in stores reading reviews, browsing other oil pastel brands, only to end up more confused than when you started.
Artists have different preferences, and what works for one person might not work for another.
Never fear! We've done all the hard work for you and compiled a list of the best oil pastels based on thousands of customer reviews.
Whether you're a beginner or an experienced artist, we have the perfect set of oil pastel choices for you.
This list of best oil pastels will help you can find the perfect set for your unique needs!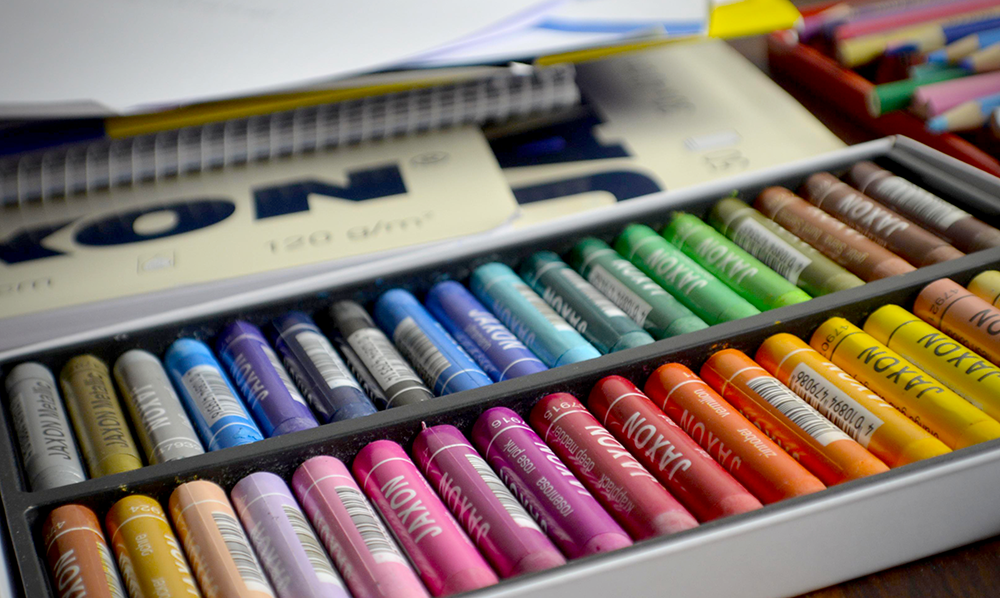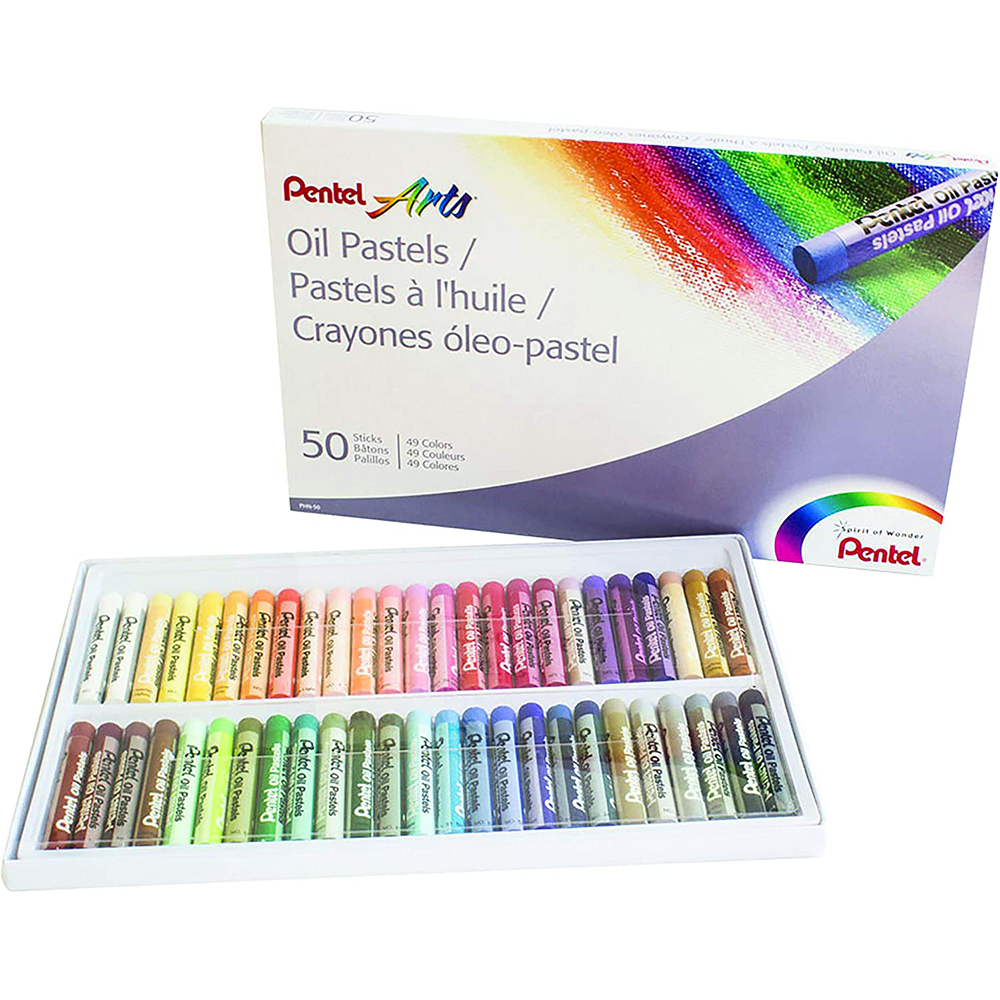 Best Oil Pastels Starter Set
Pentel Arts 50 Piece Oil Pastels
Check Price on Amazon
Why We Love It
Unleash your inner artist with Pentel Arts oil pastels!
This comprehensive set comes with 50 vibrant colors, making it perfect for artists of all ages.
These oil pastels are easy to use and resistant to humidity, meaning your drawings will stay looking beautiful for longer.
Whether you're a beginner or a seasoned artist, these oil pastel sticks are sure to take your artwork to the next level!
These oil pastels are great for art students!
What You Should Know
Pentel arts oil pastels are made from high-quality materials and are ACMI certified, so you can be certain they're safe and non-toxic.
Pentel has supplied these incredible materials since 1946, so they're a brand you can trust.
With the Pentel Arts set, you'll have everything you need to get started on your next artistic masterpiece!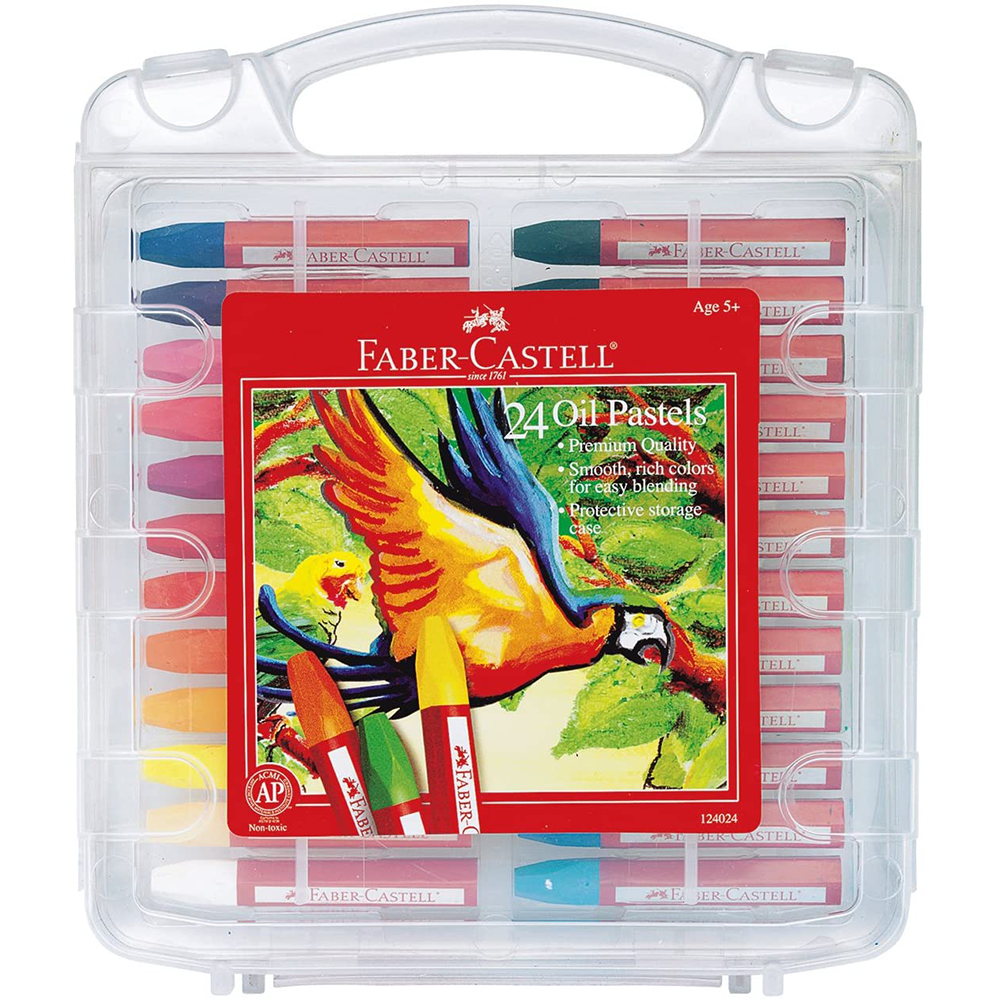 Best Beginner/Kids Oil Pastels
Faber-Castell 24 Piece Oil Pastel Set
Check Price on Amazon
Why We Love It
Bring your creative ideas to life with this vibrant student grade oil pastel kit!
With 24 colors to choose from, you can easily blend and create any masterpiece you can imagine.
Plus, the hexagon-shape makes them easier to grip and prevents them from rolling off your work surface.
These are great oil pastels for beginners.
For easy storage and transport, they come in a handy case. Let your imagination run wild with Faber-Castel oil pastels!
What You Should Know
These soft oil pastels are perfect for budding artists of all ages!
The vibrant colors and easy-to-use application make these a popular choice for any activity, from sketching to coloring.
Your little one can let their creativity loose and explore their imagination!
Plus, they're made by Faber-Castel, so you know they're high quality; they've been providing quality art materials since 1761.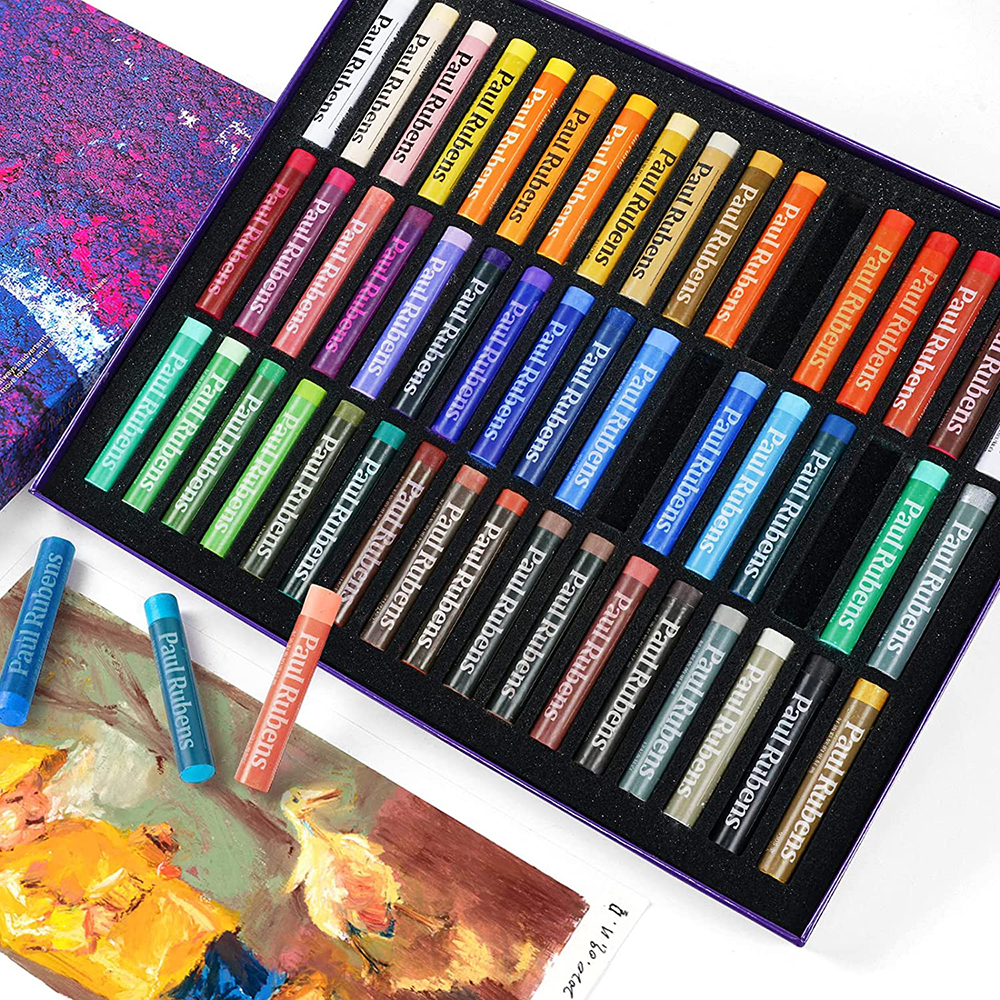 Best Intermediate Oil Pastels
Paul Rubens 50 Piece Oil Pastel Set
Check Price on Amazon
Why We Love It
Paul Rubens oil pastels are the perfect way to unleash your creative side.
These vibrant and easy-to-use pastels come in 50 different colors, and are made from eco-friendly materials.
Whether you're a beginner or an experienced artist, these pastels are perfect for all ranges of skill level and age.
What You Should Know
With Paul Rubens quality pastels, you'll have all the colors you need to create your masterpiece!
Paul Rubens backs up the quality of their artist supplies using independent research and pigment development.
These vibrant oil pastels are made with high-quality pigments that won't fade over time.
So go ahead and let your imagination run wild!
Best Luxury Oil Pastels
Sennelier 24 Piece Oil Pastel Set
Check Price on Amazon
Why We Love It
Sennelier oil pastels are made with the finest ingredients and provide rich pigmentation and creaminess.
With these pastels, you will be able to create beautiful works of art.
The high quality pigments will allow you to achieve vibrant colors that will pop off the page, and the creaminess of the Sennelier oil pastels will make them a joy to use.
Each oil pastel is handcrafted with the utmost care, so you can be sure you are getting the best possible professional grade oil pastels.
Don't settle for anything less than the best when it  comes to your artwork!
Artists prefer the best, so don't settle for other brands. Select quality oil pastels.
What You Should Know
Let your creative side flow with these vibrant, Sennelier oil pastels that are perfect for any artist project.
Since 1887, Sennelier has been manufacturing high quality art supplies that artists love, so you know the quality is top notch.
These professional grade pastels are just what you need to unleash your inner artist and bring your artwork to life.
The other brands can't compare to their high quality.
The creamy consistency of these soft oil pastels make them great for professional artists.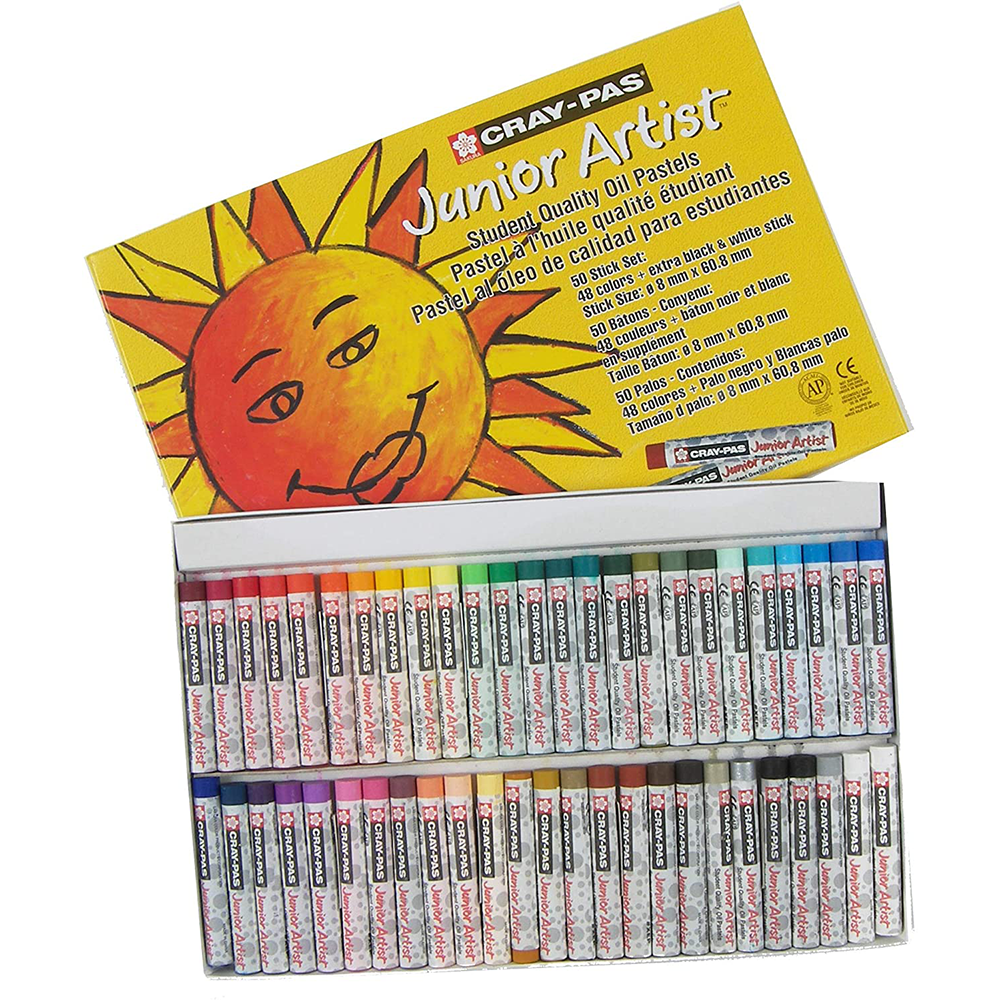 Best Oil Pastels for All Ages
Sakura Cray-Pas Junior Artist 50 Piece Oil Pastels
Check Price on Amazon
Why We Love It
These Sakura oil pastels are the perfect way to get started in the art world or continue your artistic journey.
With 50 vibrant colors to choose from, you're sure to find the perfect oil pastel shade for your project.
This non-toxic pastels is easy to use and create stunning results.
So dive into a new creative adventure today with Sakura Cray Pas oil pastels!
What You Should Know
With Cray Pas oil pastels budding artists can create beautiful pieces of art that will last a lifetime.
These Sakura oil pastels are made without all those nasty tree-nut oils, latex, oat, soy, wheat, barley, animal oil/waxes, egg, dairy or casein, so they won't cause allergic reactions.
Plus, this set is certified by the ACMI to be safe and nontoxic, so explore your creative side with these fun, student grade oil pastels!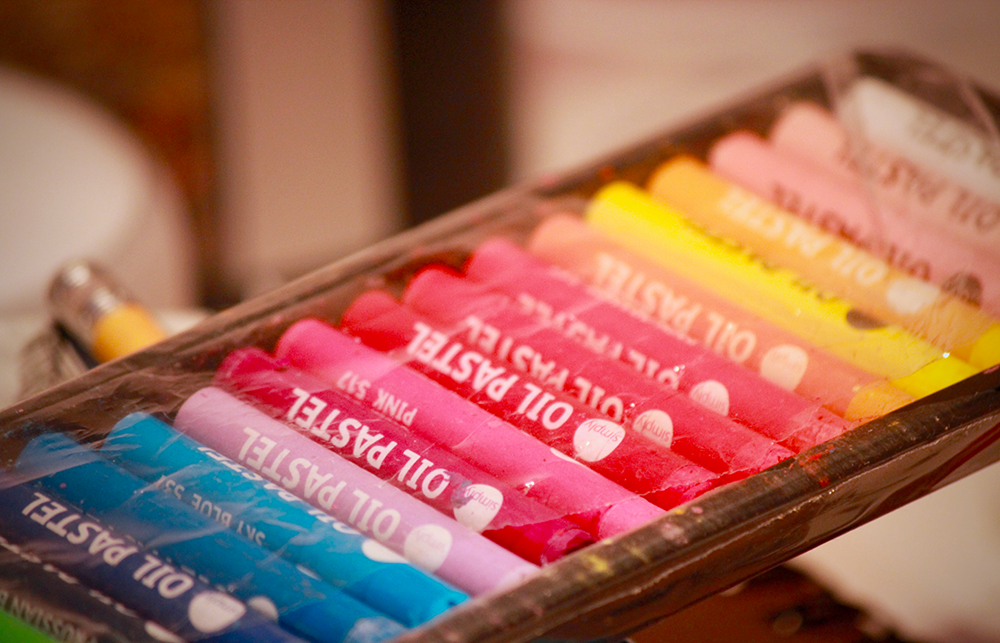 Student Grade And Professional Grade
The oil pastel medium comes in a range of qualities, from the student grade oil pastel found in elementary school classrooms to the professional artist level oil pastel used by many artists.
While both types of oil pastel can be used to produce stunning artwork, there are some key differences that should be taken into account when making a purchase.
Student grade oil pastels tend to be softer and more crumbly, making them ideal for blending and layering colors.
However, they may not provide the same level of color saturation as professional grade oil pastel many artists seek.
Professional grade oil pastels are made with higher quality pigments and beeswax, resulting in richer colors that are less likely to fade over time.
They are also firmer than student grade oil pastels, making them easier to control when creating detailed drawings or paintings.
Ultimately, the type of oil pastel that is right for you will depend on your needs and preferences as an artist.
Knowing Your Budget
Many people believe that in order to create quality art, they need to invest in the most expensive supplies.
While it is true that professional grade oil pastels can be quite costly, it is important to remember that the price tag does not necessarily guarantee better results.
Many amateur artists are able to produce stunning oil pastel paintings using less expensive brands.
The most important factor is finding the oil pastel that suits your individual needs and style.
With so many different types of oil pastel on the market, there is sure to be a product out there that fits both your budget and your artistic vision.
So don't be discouraged if you can't afford the priciest oil pastel; you can still create something beautiful if you embrace your creativity and find the best oil pastel for you.
Purchasing Individual Pastels vs. a Set
Oil pastels come in two main varieties: sets and individual colors.
Sets are highly recommended for first-time buyers, as they provide instant access to a wide color spectrum for your artwork.
Some companies sell individual pastels, while others only sell them in sets.
If you purchase a set, be aware of this distinction, as it's important when working on a large-scale pieces.
If you need to replace a specific color, it's cheaper to buy a sole replacement color versus an entire set.
Pastel Consistency
Pastels come in a wide range of consistencies, from soft and creamy to firm and rigid.
Soft pastels are also known as dry pastels.
Soft pastels are composed of pigment, water, and chalk or binder.
Many artists prefer soft pastels for their ease of blending, but firmer pastels can be better for detail work.
When making your selection, keep in mind that soft pastels cannot be mixed on a palette.
The right consistency for you will depend on your artist preferences and the type of work you plan on making.
It's a great medium for a wide range of art styles, whether you prefer oil pastel or soft pastel.
Experiment with different types and other oil pastels to find the best oil pastel choice for you.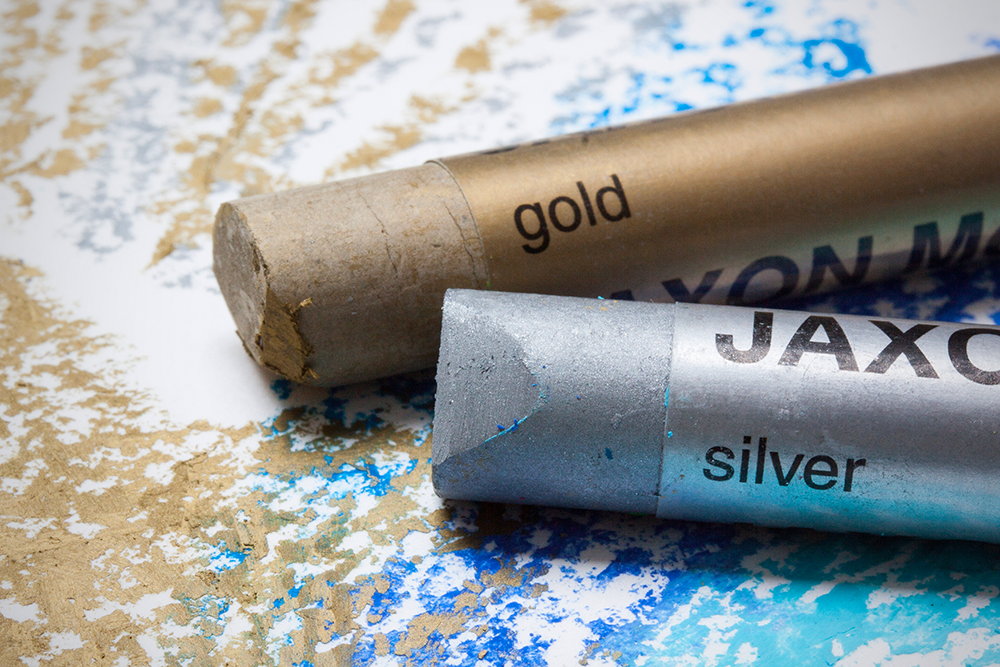 Oil Pastels FAQs
People often have a lot of questions about oil pastels but don't know where to find the answers.
Oil pastels are a fun and versatile medium that can be used for a variety of purposes, like drawing and sketching, but they can be confusing for beginners.
There are a lot of different types of oil pastels, ranging from artist grade oil pastels to student grade pastels, and it's hard to know which ones to buy or how to use them.
We've created this guide to answer the most frequently asked questions about oil pastels.
This guide will teach you everything you need to know about choosing the right type of oil pastel, using them for the first time, and creating beautiful artwork with them, so that you can get all the information you need before making a purchase decision today.
How do you use oil pastels?
Oil pastels are a type of art medium that are made from a mixture of pigment and wax.
They are somewhat similar to oil paints in stick form.
Soft pastels differ from oil pastels because soft pastels have a chalky consistency.
Pastels come in a variety of colors, and oil pastel artists use oil pastel to create both abstract and realistic artworks.
Oil pastels are versatile, so you can use them to create thick or thin lines, depending on how much pressure you apply to the paper.
You can also blend them with other colors to create subtle gradients, and you can layer different colors on top of one another.
To use oil pastels, start by selecting the color you want to use.
Then apply some color pigment to your paper.
There are a variety of brands you can use, such as Crayola oil pastels, Mungyo Gallery oil pastels, or Holbein Artists oil pastels.
Regardless of which set you bring home, oil pastels are a great medium for your art!
What paper is best for oil pastels?
The best paper depends on artist preference, but there are a few factors to consider for paper selection.
In general, look for papers that are specifically made for oil pastels, as they will be able to stand up to the medium better than regular drawing papers.
Oil pastels tend to do best on heavyweight paper.
Watercolor paper is one type of heavyweight paper to consider.
Smooth paper allows even application of strokes, but textured paper will help to create a nice finish for your artwork.
The color of paper can also affect the appearance of your finalized piece.
A white or light-colored paper will make your oil pastels pop, whereas a darker paper can give your work a more subdued look.
What is the best way to blend oil pastels?
To blend oil pastels, you can use your fingers, a blending stump, or a tortillon (a small, rolled paper cone used for blending).
If you use your fingers, make sure to slightly dampen them first so the pastel won't stick to your skin.
If you're using a blending stump or tortillon, make sure they're clean and free of any debris before you start blending.
To blend the colors together, start by rubbing the two colors together on the surface of the pastel.
You can also twist the two colors together to create a more intense color.
Keep blending until you get the desired effect.
Are oil pastels easy for beginners?
Oil pastels are a great option for beginners who want to explore their creativity with drawing.
They are user-friendly, readily available, and affordable.
You can find oil pastels at any art supply store or online retailer.
They're easy to use and require little cleanup, so you can spend more time enjoying the creative process.
Plus, they come in a variety of colors to suit any project you have in mind.
The medium is also forgiving, so even if you make a mistake, you can simply cover over it and start anew.
With a little practice, anyone can create stunning art using oil pastels!
So if you're feeling curious or inspired, don't hesitate to pick up a set and give them a try.
Buyers can find artist grade oil pastels as student grade pastels.
Soft oil pastels are also great for professional artists.
Can you use water with oil pastels?
It isn't necessary to use water with oil pastels.
In fact, many artists know water can make the oil pastel pigments a little bit more difficult to work with because they will be a bit more slippery.
Oil pastels are a type of pigment that is mixed with a drying oil.
The addition of the oil makes the pigment more durable and allows it to be spread more easily.
As it's oil-based, it doesn't tend mix well with water.
Are oil pastels the same as crayons?
As oil pastel artists know, oil pastels are very different from crayons, though they share some similarities.
Both are made of coloring agents mixed with a binder and shaped into a stick form.
Crayons are made of wax while oil pastels are made of a mix of wax and oil.
The major difference between the two is that oil pastels have a much higher ratio of pigment to binder than crayons do.
This gives them their soft, creamy texture and consistency, and it allows them to be used on a variety of surfaces.
Oil pastels are also can create softer effects and layers.
Are oil pastels washable?
Oil pastels are generally not washable, though some brands may be more water soluble than others.
If you get oil pastel on your clothes or skin, you can usually remove it with soap and water.
There are a few exceptions. Some oil pastels that have been specifically designed for children are marketed as being able to be washed off of skin and clothes.
However, most oil pastels will not come off with just water; you will need to use a solvent like rubbing alcohol or turpentine.
Can you correct mistakes with oil pastels?
Many oil pastel artists recognize you can correct mistakes with oil pastels.
The texture of oil pastels makes them ideal for blending and correcting errors.
You may be able to use oil pastels to soften the appearance of a mistake by covering it with a new layer.
You can also take a cotton swab or Q-tip and lightly dab it over the area you wish to fix.
Then, use a clean oil pastel to blend the edges of the correction.
Do oil pastels need to dry?
No, oil pastels do not need to dry.
Oil pastels can be used immediately after application.
They are a medium that artists can use, similar to crayons or pencils.
Oil pastels are made with a mixture of wax and pigment, although if you want to preserve your oil pastel work, it is best to frame it under glass.
What does ACMI certified mean?
The Art and Creative Materials Institute (ACMI) is a non-profit association for manufactures of creative art and craft supplies.
ACMI certified art supplies are those that have been independently tested and verified to meet certain safety standards by a board-certified medical expert.
This means that they are safe for use by both children and adults, and that they are not likely to cause any harm if used as directed.
ACMI certification is voluntary, but it provides reassurance to consumers that the product meets high safety standards.
Best Oil Pastels for You
After hours of research on all the oil pastels, reading thousands of Amazon reviews, we've found the best oil pastels for individuals of all ages and skill levels.
Whether you are a beginner just starting out or an expert looking for artist grade pastels, these oil pastels reviewed will suit your needs.
We've included a variety of best oil pastels with different price points and levels of quality, so there is something for everyone.
Hopefully, our findings have given you the necessary information to make an informed decision about which product is best suited for your needs, so you can create beautiful, new art!
Don't forget to tap the button to check the best prices for oil pastels on Amazon!
Thanks for reading and happy shopping!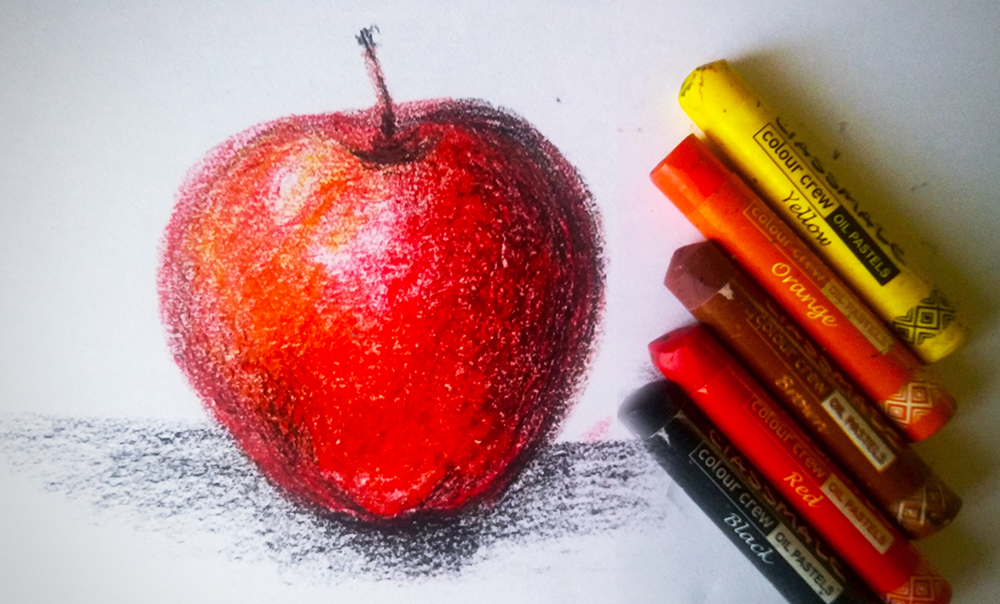 Want an introduction to drawing with oil pastels? Check out Yayen's guide!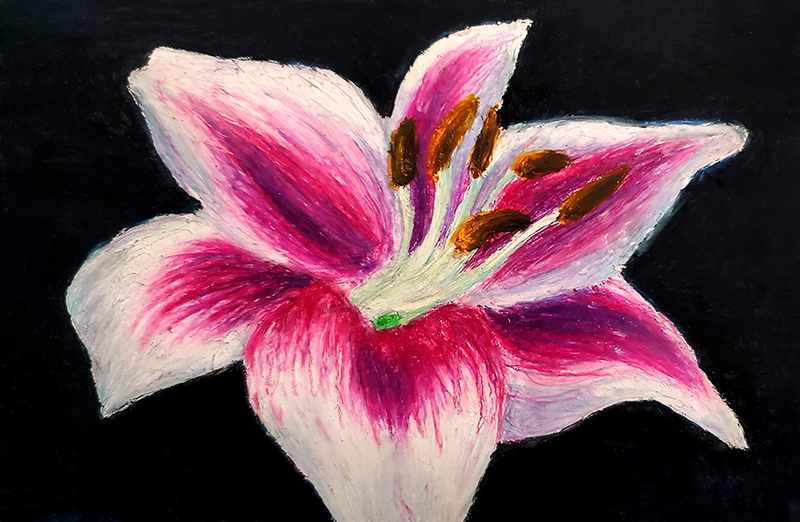 If you'd like to see drawings made with oil pastel and other media, you can find some of my art at Redbubble, TeePublic, and TeeSpring.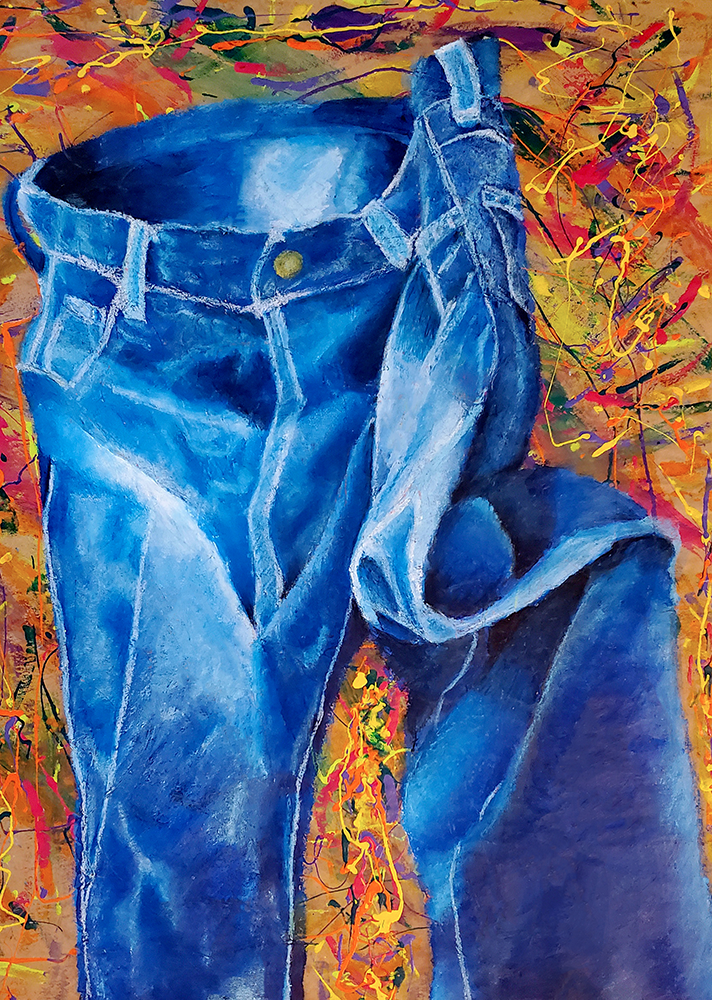 And if you'd like to listen while creating like I do, you can get a 30-day free trial of Amazon Prime Music or Two Free Audiobooks from Audible Plus!
I love listening to a great book while immersing myself in the realm of art!
It makes the creating process all the more fun!
And if you want to take advantage of 2-day shipping, get a free 30-day trial of Amazon Prime!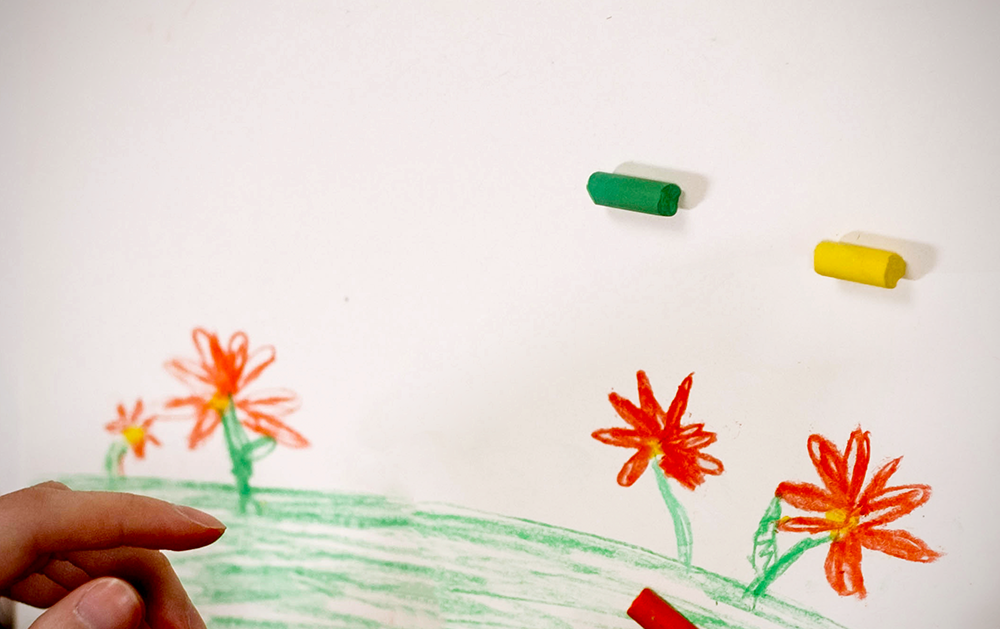 Check out our other pastel supply articles:
If you want more ideas for additions to you art kit, check out some of our other drawing supply articles: