Stuck in a creative rut and looking for a way to jump start your creativity?
Tracing paper is the perfect tool for anyone who wants to get creative or begin their creative journey.
It's thin and translucent, which allows you to see the image or text that you are tracing.
You can use it in a variety of art projects, from drawing and sketching to painting and calligraphy.
This article will be looking at the best tracing paper options available.
With this paper the sky is the limit!
Give it a try and see what you can come up with!
Keep reading and start browsing our selection of top picks to find the perfect resource for your next project!
How We Choose Our Selections
It can be hard to find the best tracing paper for your needs, especially when you're just starting out and unsure of what supplies you need.
Not all are created equal, varying in quality and cost.
You need a quality product that will help you start your next art project, practice your skills, and shorten the amount of time needed for task completion.
We've found the best products on Amazon by reading thousands of reviews, and we want to share them with you.
Whether you're an artist, student, or hobbyist, we have a product perfect for your skill level.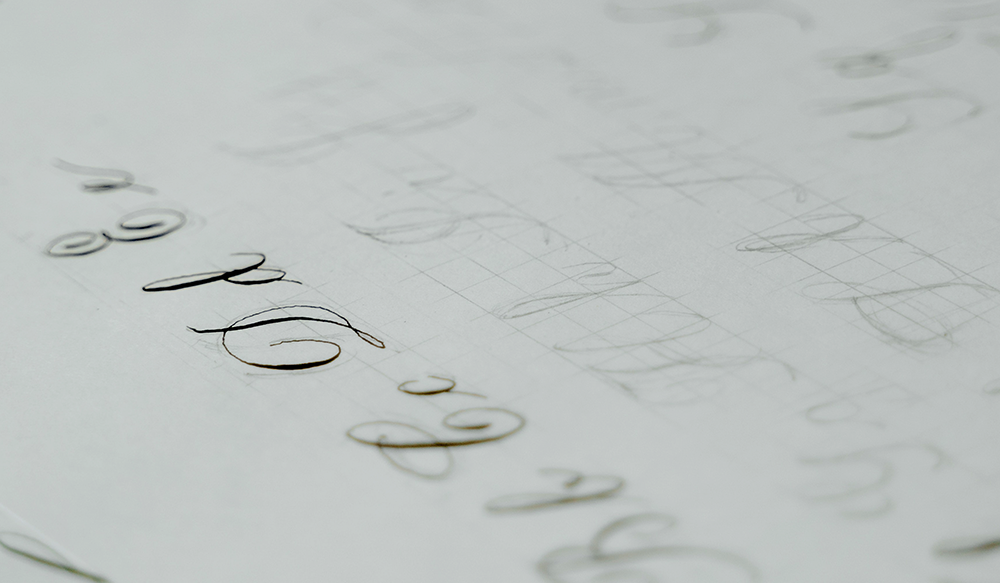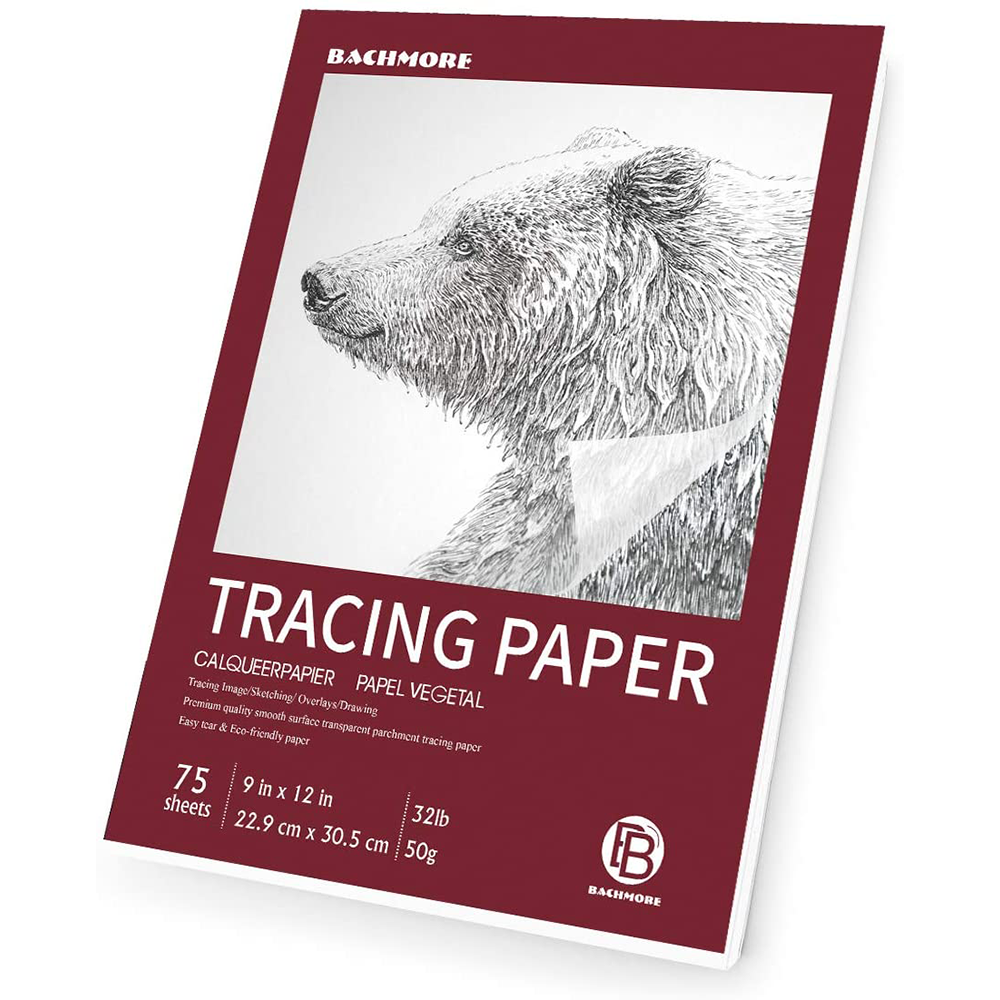 Best Starter Tracing Paper
Check Price on Amazon
Why We Love It
Looking for the perfect paper to use for your drawings and sketches?
Look no further than Bachmore's tracing pad!
This pad comes with 75 sheets of 9x12-inch, lightweight, transparent paper that is perfect for any art endeavor.
The pad is also convenient to use with each easy-to-tear-free sheet.
Go ahead and get creative with this paper pad!
What You Should Know
This transparent paper is a great tool for any artist, whether you're tracing a design onto a canvas or sketching out a new idea.
Bachmore's tracing paper is thicker than most available, meaning there's less chance for your pencil to easily pierce the sheet.
This tracing paper is acid-free, eco-friendly, and recyclable, so you can feel good about using it.
If you're looking for a solid choice, Bachmore is the way to go.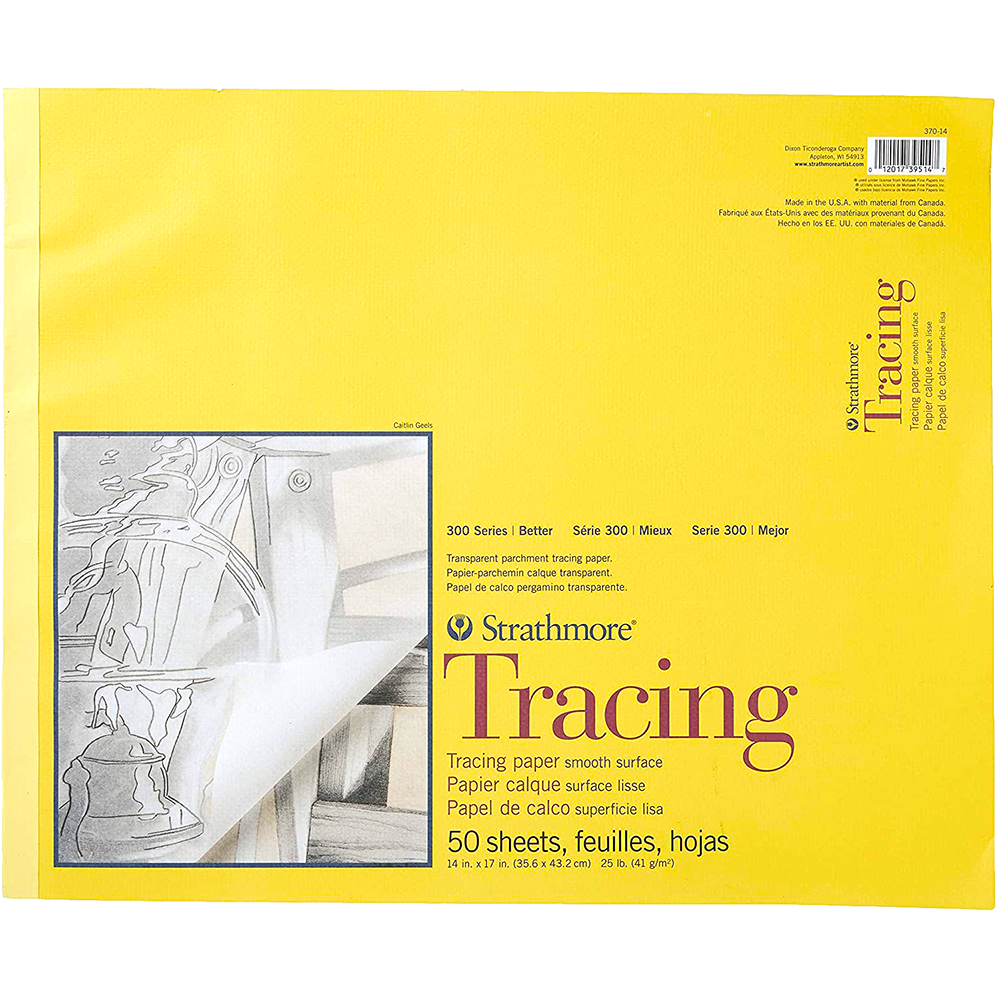 Best Large Tracing Paper
Check Price on Amazon
Why We Love It
If you're looking for a versatile option that can handle pencil, marker, and ink, then look no further than Strathmore tracing paper.
This pad includes 50 14x17 inch sheets, perfect for all your tracing needs.
Plus, the paper weight is 25 pounds.
Whether you're a beginner or a seasoned pro, Strathmore is perfect for you.
What You Should Know
If you're an artist, chances are you've heard of Strathmore.
Strathmore is a leading brand of art paper, used by artists all over the world.
Its history dates back to 1892, and since then, it has been committed to providing the highest quality art paper.
Today, Strathmore offers a wide range of papers for artists of all levels, from watercolor to tracing paper.
Know that if you buy their this product, Strathmore will deliver quality.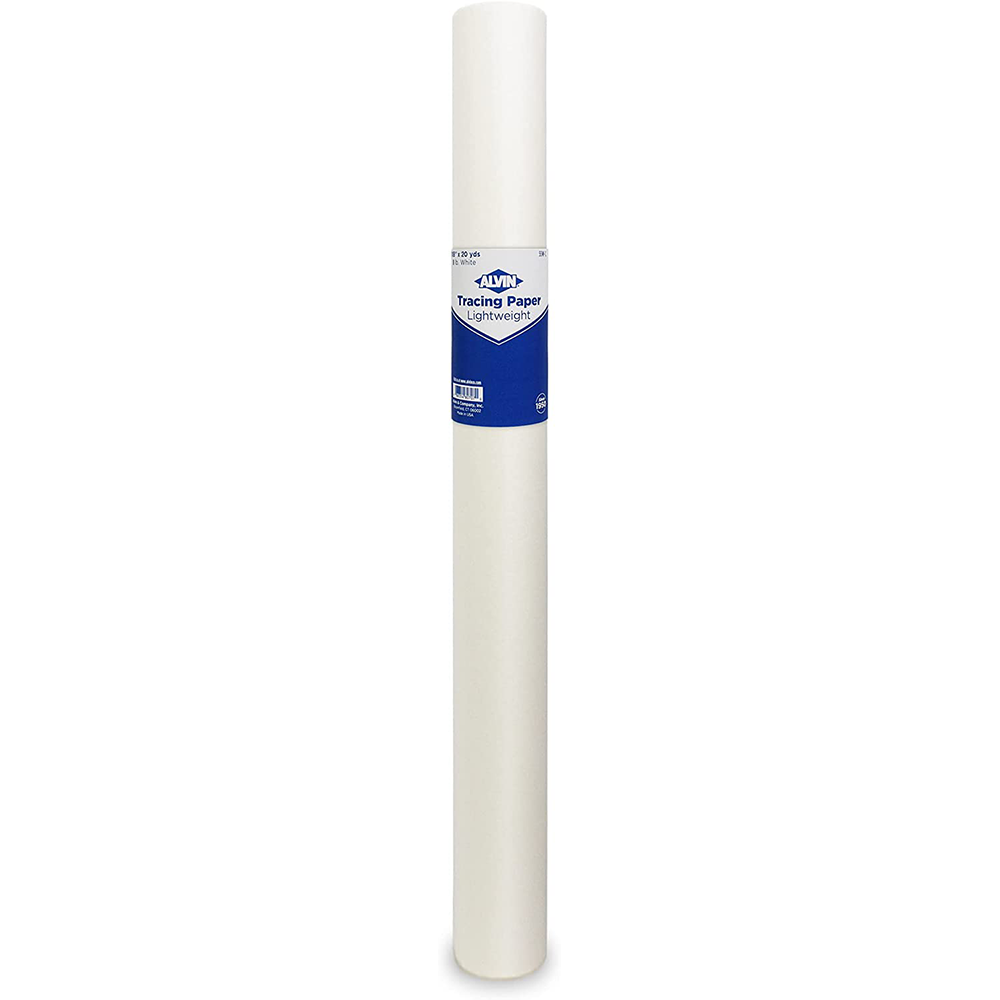 Best Tracing Paper Roll
Check Price on Amazon
Why We Love It
Alvin's tracing paper roll will provide high quality results!
This lightweight, translucent tracing paper is perfect for use with ink, graphite, and charcoal and produces great results every time.
Plus, it's conveniently sized at 18 inches by 20 yards, making it perfect for all your tracing needs, large or small.
You can easy choose just how much you want every time rather than the same-sized sheets.
What You Should Know
Alvin is a trusted brand for drafting and drawing supplies, dating back to 1950, and their tracing paper is no exception.
Alvin is well known for their high-quality selections, and this is no exception.
You can use it for tracing, handicraft work, and more.
With its high transparency, you won't have to worry about bleed-through.
Alvin is the perfect choice.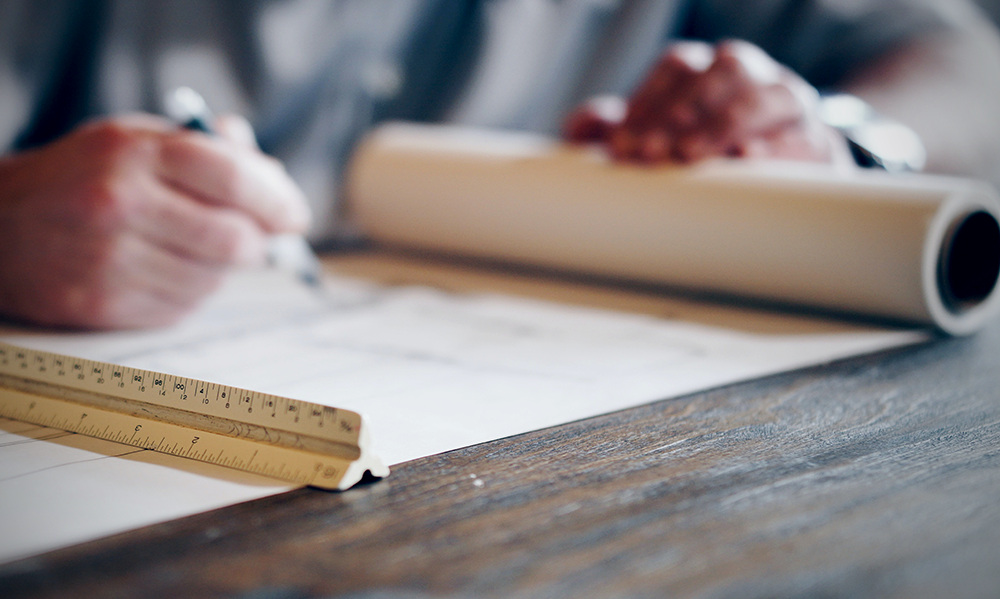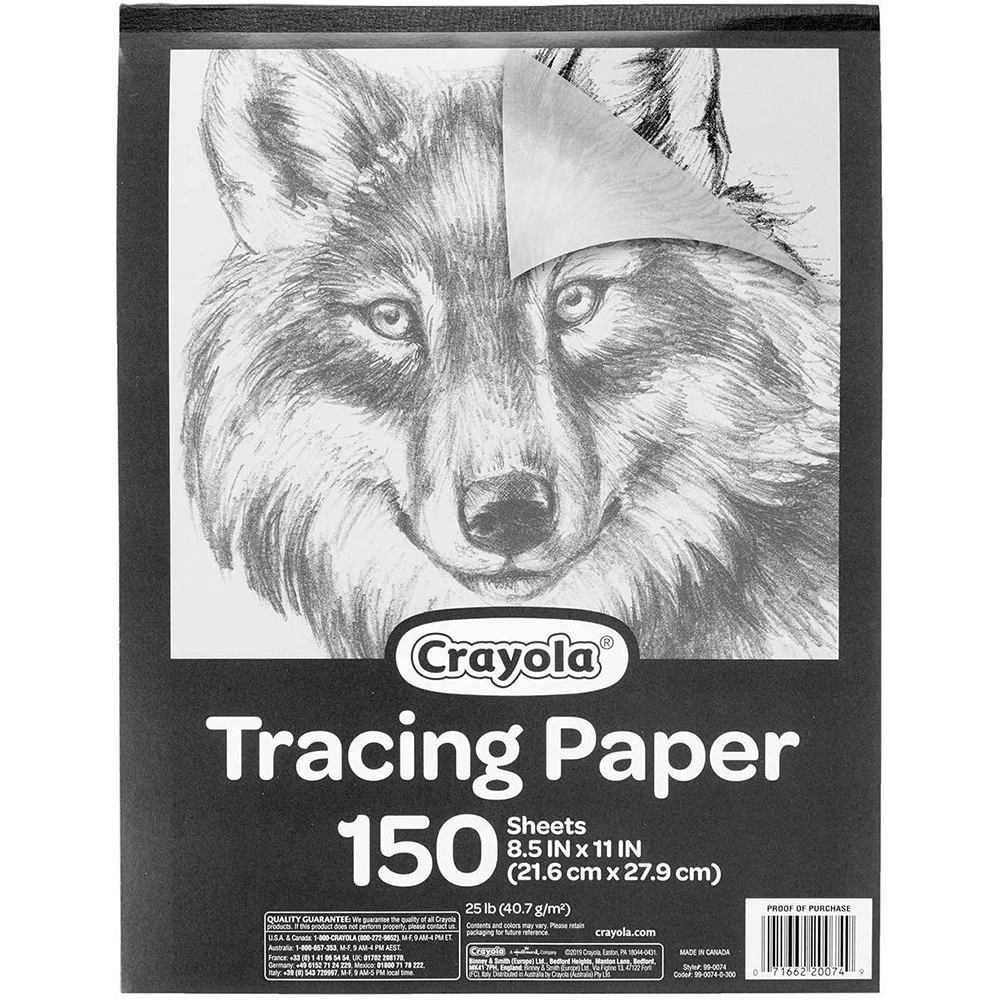 Best Children's Tracing Paper
Check Price on Amazon
Why We Love It
Crayola's tracing paper is a great addition to any art supplies!
This pad contains 150 sheets of 8.5x11 inch pages, perfect for classrooms, craft rooms, or home use.
It's thin and translucent, making it ideal for projects like transferring designs onto fabric or canvas.
Plus, the bright white color makes it easy to see your trace lines.
It's great for all kinds of art, drawings, sketching, calligraphy, ink, crafts, and more!
Whether you're a beginner or a seasoned crafter, this pad is a great option for all your needs!
What You Should Know
Crayola is a trusted children's art supply brand, and they recommend offering tracing paper to help your child build artistic confidence.
Tracing is one of the first steps in learning how to draw, and it helps children to develop fine motor skills and hand-eye coordination.
Crayola suggests getting the Crayola light up tracing pad as a great addition to this pad; it illuminates the image and tracing paper so that your child can see the lines more clearly.
It's not necessary to buy the light up tracing pad, but it may prove easier for tracing and help your child learn how to draw.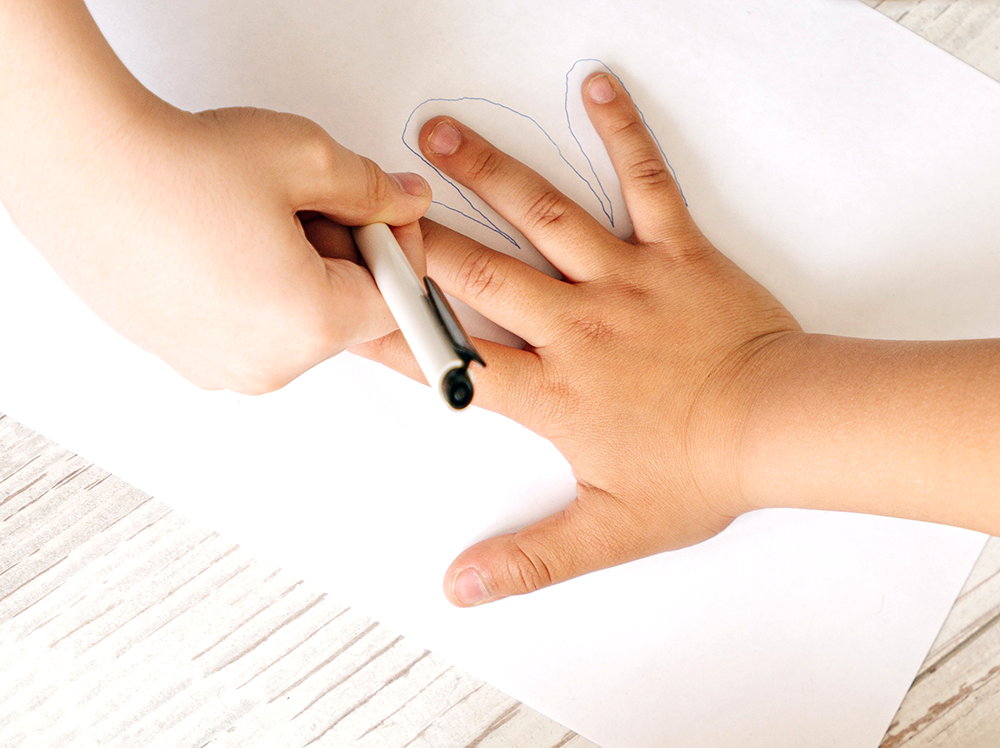 Tracing FAQs
You're probably wondering about tracing and how it can be used.
Unlike regular paper, this paper is transparent.
It's often used by artists and designers to transfer a sketch or drawing onto a new surface, but there are a lot of options available, so it can be hard to distinguish which is best.
It's not the only option for tracing, either.
There's no need to worry, though, because we're here to answer your questions.
We've compiled a list of the most frequently asked questions about tracing so that you can find the answers you need quickly and easily and then make an informed purchase.
Is all tracing paper the same?
No, not all of them are the same.
While all of the sheets have transparency that can be used for sketching, drawing, calligraphy, and crafts, they can vary in specific material and quality.
Different brand manufacturers use different materials and processes to create their translucent tracing paper, which can result in significant differences in quality.
When choosing, it is important to consider factors such as opacity, strength, durability, and erasing characteristics.
Opacity is important if you need to be able to see through the page to the image underneath, allowing you to pick up on details to enhance your work.
A stronger sheet for tracing is less likely to rip or tear.
A page with better erasing characteristics will make it easier to remove your tracing lines after you're finished.
The difference in quality will impact your drawings, ability to enhance details, and overall finalized picture.
What are the benefits of tracing paper?
It has a multitude of uses, both in art and design contexts and beyond.
Its semi-transparent property allows one to place it over a picture or existing work in order to transfer elements of the composition onto a new page or surface.
This is often used by artists as a method of creating preliminary sketches for larger drawings or paintings.
These translucent papers can also be used for pattern making.
It is frequently used in quilting and sewing as well, due to its properties which allow for easy manipulation and cutting.
How do you use tracing paper?
Translucent tracing paper is used to transfer a design or pattern from one surface to another.
For example, you might want to trace a pattern from a sheet onto fabric for a sewing activity.
To use these translucent papers, first place the pattern you want to trace underneath the sheet.
Then use a drawing utensil to trace over the lines of the pattern and sketch the design.
Once you have drawn the pattern, you can then transfer the design from the page to the new surface.
How do I transfer a drawing to another paper?
There are a few different ways that you can transfer a drawing to regular paper.
One popular method is to use a light box.
To do this, first place your drawing on the light box and then trace it onto the new piece of paper.
Another way to transfer a drawing is to use graphite paper.
It has carbon particles on one side that will transfer onto the new piece of paper when you trace over it with a pencil.
You can also use tracing paper, which is translucent, or see-through, paper that you can lay over your original drawing and then traced.
Whichever method you choose, be sure to use a lightly pencil so that you can erase any mistakes later on.
How do I improve my tracing?
Tracing is all about practice!
The more you do it, the better you'll get.
There are a few things that can help you improve your tracing skills.
First, try to use a light touch and be as precise as possible.
Make sure your strokes are smooth and even, and take your time to make sure each letter is correctly formed.
It also helps to practice regularly and use different types of writing tools (such as a pen, pencil, or marker).
Experiment with different fonts and try to copy quotes or passages from books or magazines.
The more variety you add to your practice sessions, the better you'll become at tracing.
Most importantly, have fun with it!
Do artists use tracing paper?
Yes, artists use this translucent paper all the time!
It's a great way to transfer images onto another surface, or to create a perfect copy of an existing drawing.
There are a few different ways to use it effectively.
First, you can trace images directly onto the paper using a pencil or ink pen.
This method is good for creating clean lines and crisp images.
You can also place the tracing sheet over images and use a small piece of charcoal to lightly draw over the lines you want to transfer.
This method is good for getting a more organic, freehand look.
So, this paper is a great tool for artists of all levels.
Whether you're just starting out or you've been drawing for years, it can help you create amazing art.
How do you trace a drawing without tracing paper?
One way to trace without tracing paper is to use a lightbox.
A lightbox is a translucent surface that you draw or trace onto, and it can be lit from the bottom or the top.
This creates a soft, even light that won't create any glare on your drawing and will allow you to see the lines you've drawn more clearly.
If you don't have a lightbox, a similar method is to use a window during daylight hours.
The sunlight streaming through the glass pane of the window will accomplish the same affect as a lightbox.
Another option is to use graphite transfer paper.
This paper is coated with a thin layer of graphite, which will transfer onto your drawing surface when you draw over it with a pencil.
This is a great way to get clean, precise lines.
You can also use carbon tracing paper, which has tiny carbon particles on one side that will transfer onto your drawing surface when you trace over it with a pencil.
This is a great way to get darker, bolder lines.
So, there are a few different ways to trace without tracing paper.
Which method you choose will depend on your preference and the look you're going for.
Now that you know a few tracing tips, it's time to get started!
Choose the method that works best for you!
Why do artists use light boxes?
Light boxes are often used by artists because they provide a consistent and evenly lit surface on which to work.
This is especially important for artists who work in media that are sensitive to light, such as photography and printing.
Light boxes also help to reduce eye fatigue, which is common among artists who spend long hours looking at their work.
Some light boxes even come with built-in magnification, which can be helpful for detail-oriented tasks.
Lastly, light boxes can be used to create a makeshift studio environment when natural light isn't available.
Is tracing your own artwork okay? Is it cheating?
No, it's not cheating to trace your artwork.
Many professional artists do this as a way to improve their work.
There are several benefits to tracing your own artwork.
First, it can help you learn how to draw and paint from observation.
Second, it can help you develop your own unique style.
Third, it can help you improve your skills faster than if you were working from scratch.
Fourth, it can be a fun way to experiment with different techniques and color combinations.
So if you enjoy doing this type of artwork, there's no reason why you shouldn't continue doing it!
Just be sure to give credit to the artists if you borrow their work.
Your own work is completely fair game to use, so go for it!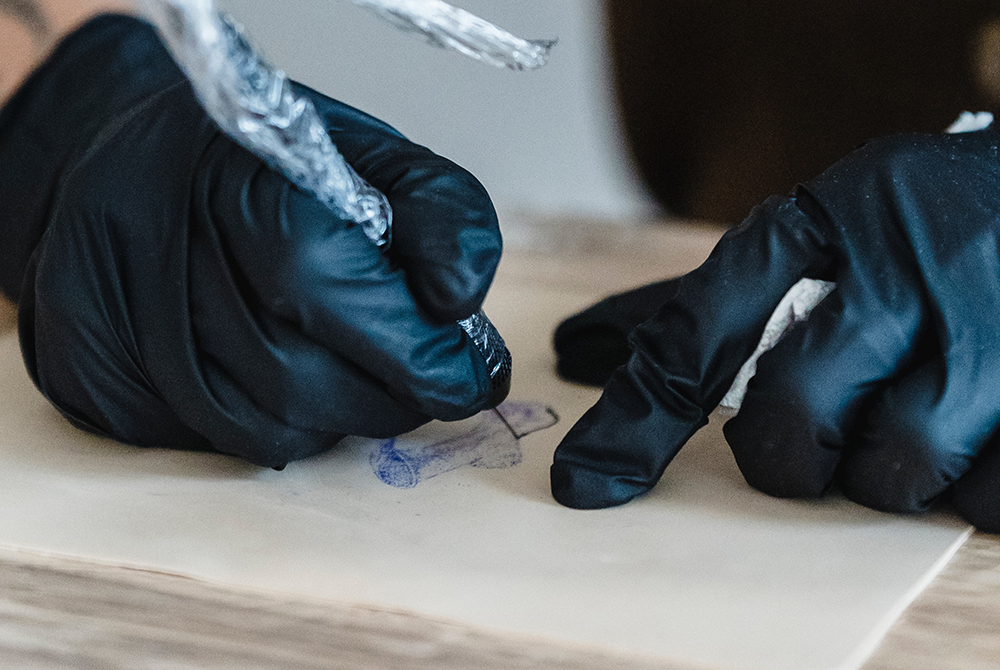 The Best Tracing Paper for You
So, what is the best tracing paper for your needs?
After hours of research and reading thousands of verified customer reviews on Amazon, we've found that the top picks when it comes to tracing paper.
We hope this article was helpful in finding the perfect tracing paper for your needs, whether you're just starting out or a professional looking to expand their art supply collection.
Hopefully, our findings have given you the necessary information to make an informed decision, so you can walk away happy with your tracing paper purchase!
Whichever paper you choose, we hope you have fun exploring the world of tracing and creating!
Be sure to check out our other art supply articles for more tips and advice.
Don't forget to tap the button to check Amazon for the best prices for tracing paper!
Thanks for reading and have fun creating!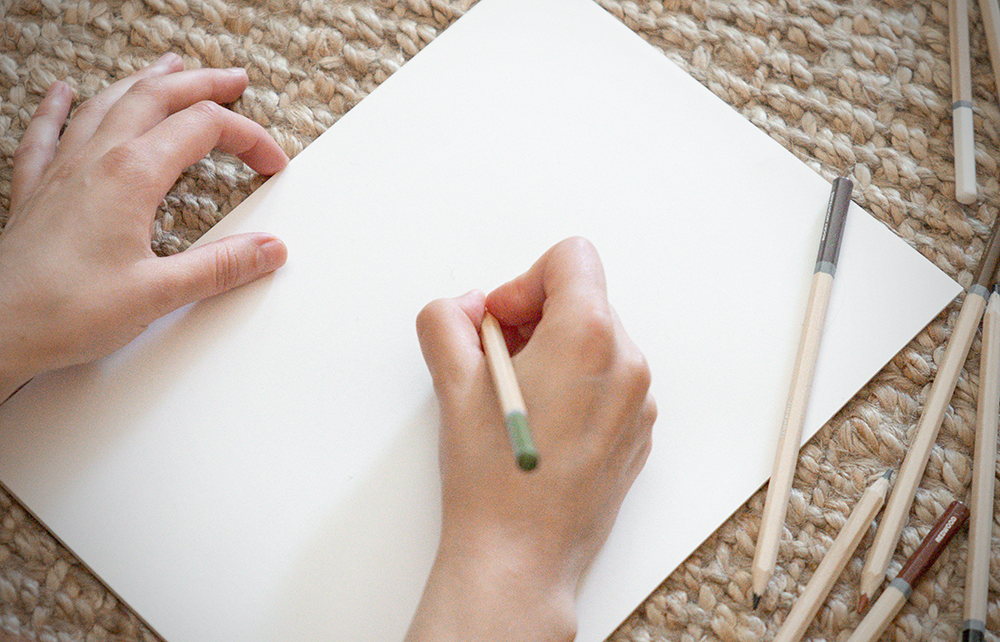 Want to see how to transfer images using tracing paper? Check out Saena Fine Art's video!
If you'd like to see artwork I've made, you can find some at Redbubble, TeePublic, and TeeSpring.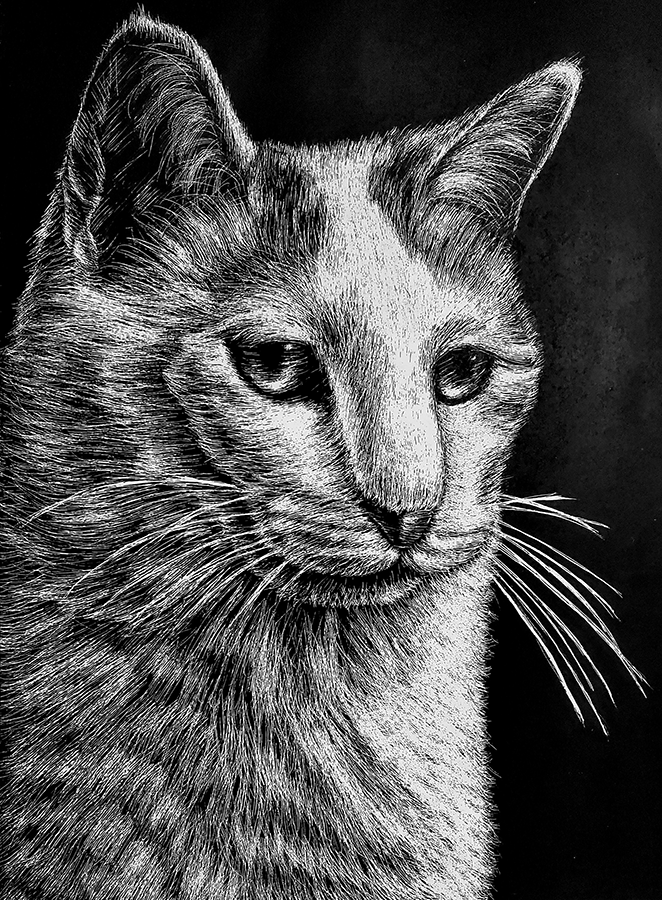 And if you'd like to listen while creating like I do, you can get a 30-day free trial of Amazon Prime Music or Two Free Audiobooks from Audible Plus!
I love listening to a good book and awesome music while tapping into my creativity!
And if you want to take advantage of 2-day shipping, get a free 30-day trial of Amazon Prime!
Want some art supplies to use with tracing paper?
Check out some of our drawing supply articles:
If you love paper, be sure to check out some of our other paper articles: