Do you love to color?
Do you remember the first time you ever used crayons?
These sets are a great way for children and adults to express themselves artistically.
With the right set, you can create beautiful artwork that will brighten up any room.
This drawing medium such a simple thing, but it can create such beauty in the world.
In this article review we will take a look at the different types available so you can find the perfect set for your needs.
With so many colors and styles to choose from, you're sure to find the perfect set for your next project.
Keep reading so you can start browsing our selection of top picks to find the best set for you!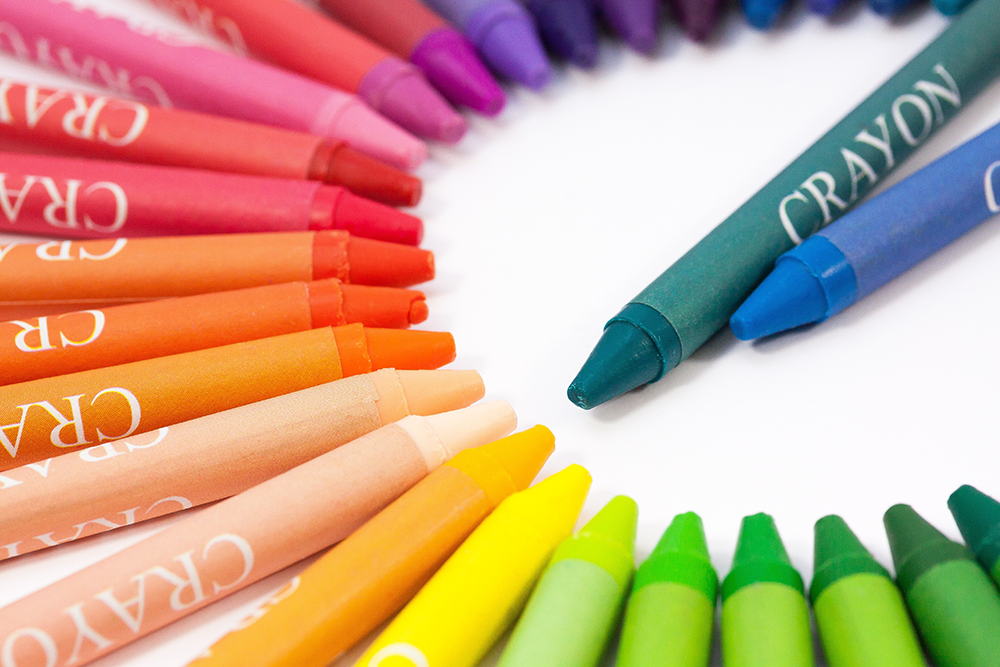 How We Choose Our Selections
It can be hard to find the right set for your needs, especially if you're a student or beginning as an artist.
Not all sets are created equal!
Some are better for detailed drawings while others are more suited for coloring in large areas.
Then there are those specialty sets that come in metallic and neon colors.
We've done the research for you, reading thousands of reviews, and compiled a list of the best sets available on Amazon.
Whether you're looking for something basic or want to try out some new, innovative colors, we've got you covered.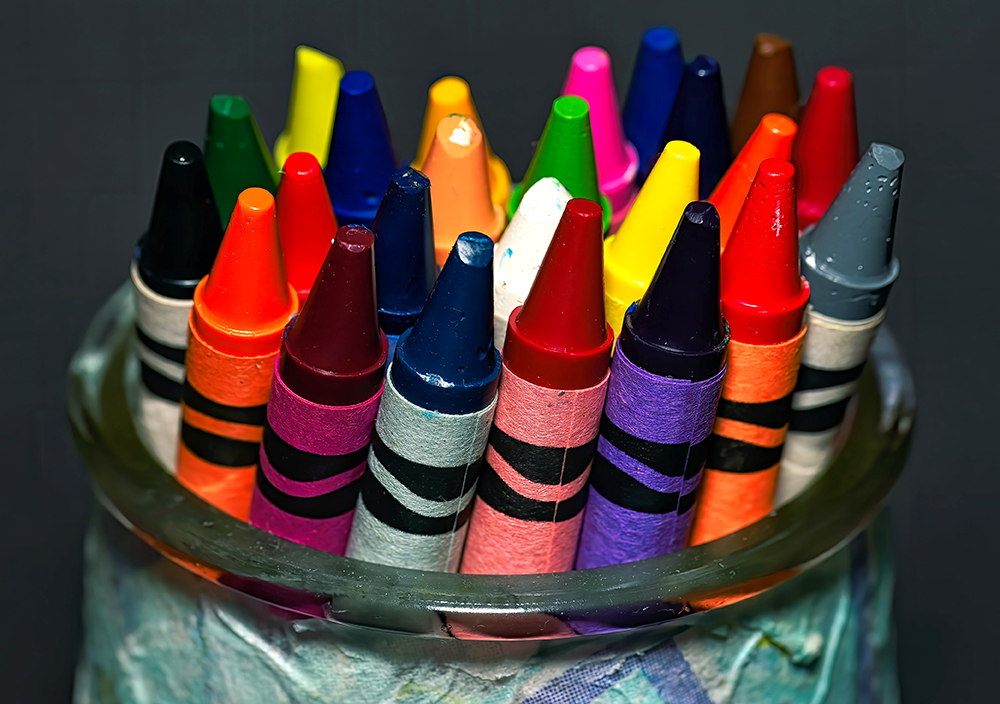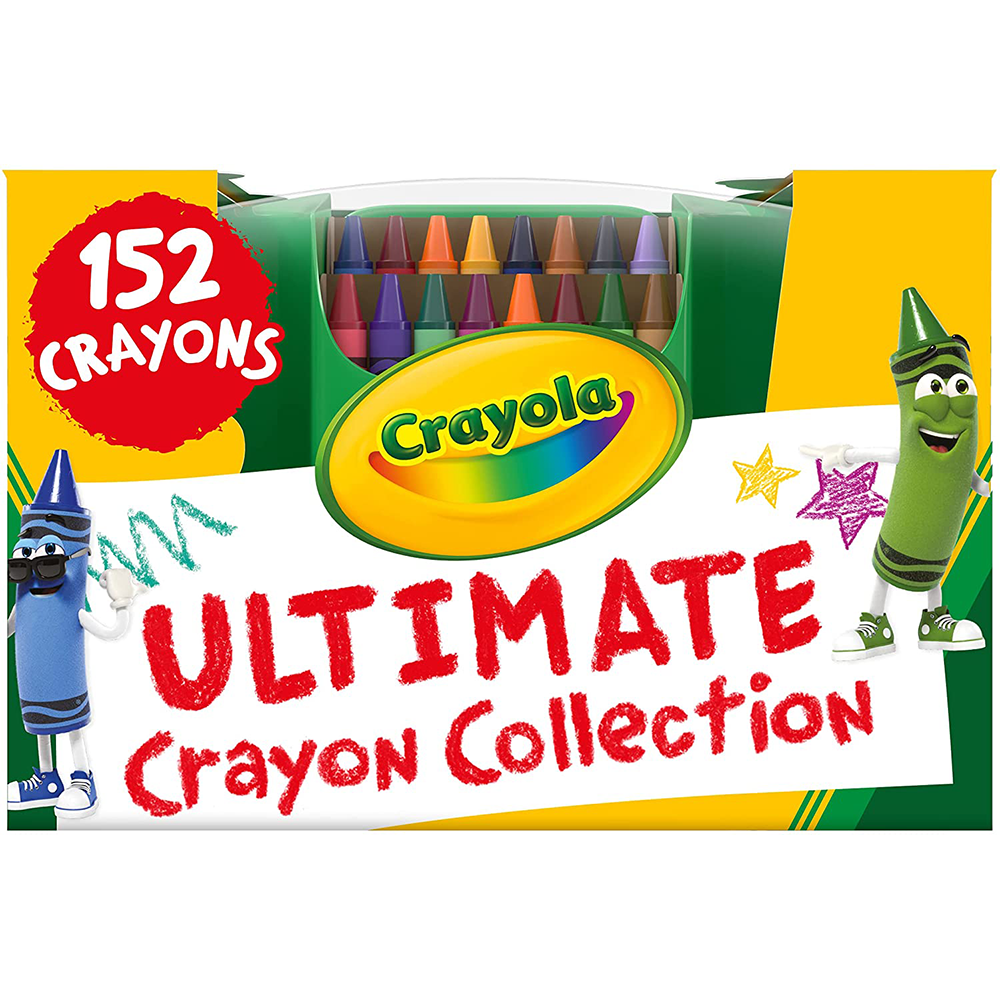 Best Traditional Crayons
Crayola Ultimate Crayons Collection
Check Price on Amazon
Why We Love It
Introducing the Crayola ultimate collection!
This massive set comes with 152 assorted colors, including metallic and glitter options.
Plus, there's a sharpener and portable box included, so you can keep your new set organized and ready to use.
With so many colors to choose from, your imagination will be limitless.
Whether you're coloring in a picture in coloring books or just doodling around, make sure you have the Crayola's ultimate collection on hand.
What You Should Know
When people hear crayons, odds are they think of the Crayola brand.
So many of us have fond childhood memories with these crayons, whether creating at home or at school.
Crayola sets strike the perfect balance between durability and convenient hold, making them ideal for artists of all ages, which is why they're often found in classrooms at school.
This crayon box is also safe and nontoxic, so you don't have to worry about your kids getting sick from using them.
When it's time to hit the road, their convenient box ensures that they will be there when you need them.
Whether you're a seasoned artist or a budding Monet, Crayola box sets are the perfect tool for your next masterpiece.
Crayola's ultimate collection pack makes a great gift for kids ages 3 and up.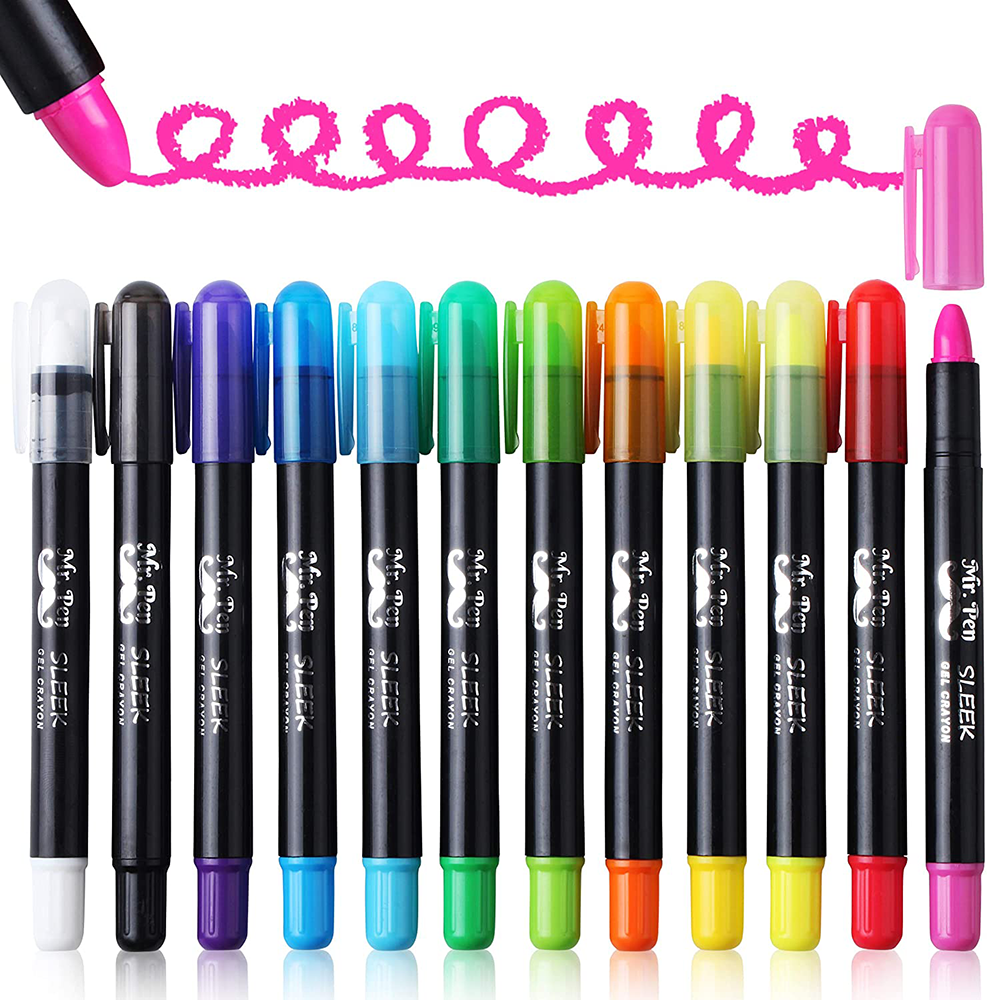 Best Gel Crayons
Check Price on Amazon
Why We Love It
Want an easy and effortless way to color?
Look no further than Mr. Pen's gel crayon set!
These soft gels come in 12 different colors and glide smoothly onto paper, so you can color and draw with ease.
Plus, the twistable tops mean you never need to sharpen them.
What You Should Know
They have the power to bring out the creative side in both children and adults alike.
When it comes to finding the perfect set, Mr. Pen's gel pack is an Amazon's Choice product, so you know you're getting quality.
This nontoxic, acid-free gel crayon pack is great for both kids and adults.
Whether you're coloring in a coloring book or creating a masterpiece of your own, Mr. Pen's gel pack is the perfect tool for the job.
Grab Mr. Pen's gel pack and let your creativity flow!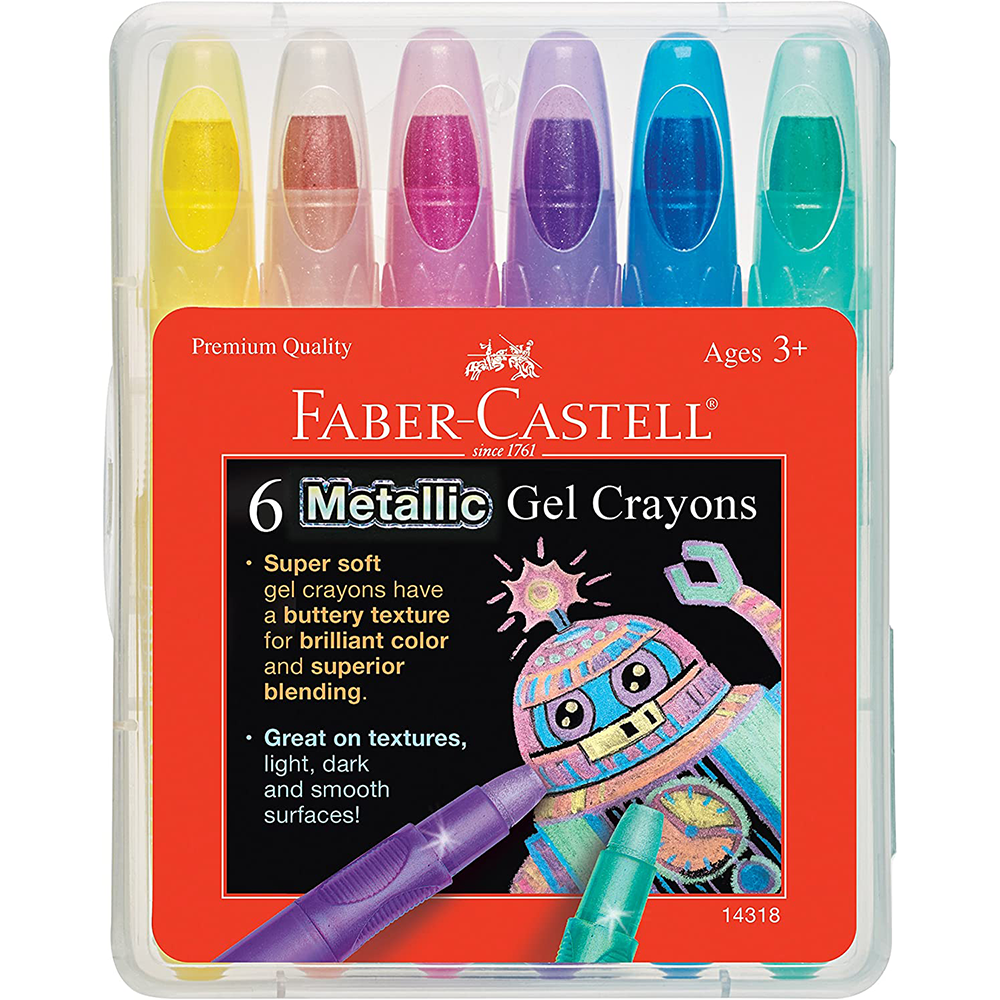 Faber-Castel Metallic Gel Crayons
Best Metallic Gel Crayons
Check Price on Amazon
Why We Love It
Add some pizzazz to your art projects with Faber-Castell's metallic gel set!
This bright and shiny pack comes in 6 amazing colors: pink, orange, yellow, green, blue, and purple.
They're super easy to use and blend, making them perfect for both kids and adults.
Plus, the metallic colors look incredible on black and white paper!
Whether you create art or write, this set will blow you away!
Grab this pack and let your creative side shine bright!
What You Should Know
Faber-Castell's brand is one of the world's leading manufacturers of arts and crafts supplies, and they're recommended by art educators, too.
The company's products are used by all sorts of artists, from kids to professionals.
Faber-Castell sets are known for their high quality, innovative designs, and safe ingredients.
The company also takes care to respect the environment in its manufacturing process.
This set is an Amazon's Choice product and is perfect for budding artists aged three and up.
The included tips and techniques booklet makes it easy to get started creating beautiful artwork.
Whether you're a seasoned artist or just starting out, Faber-Castell is a great choice for all your coloring needs.
Cover your walls with art and unleash your creativity with these crayons!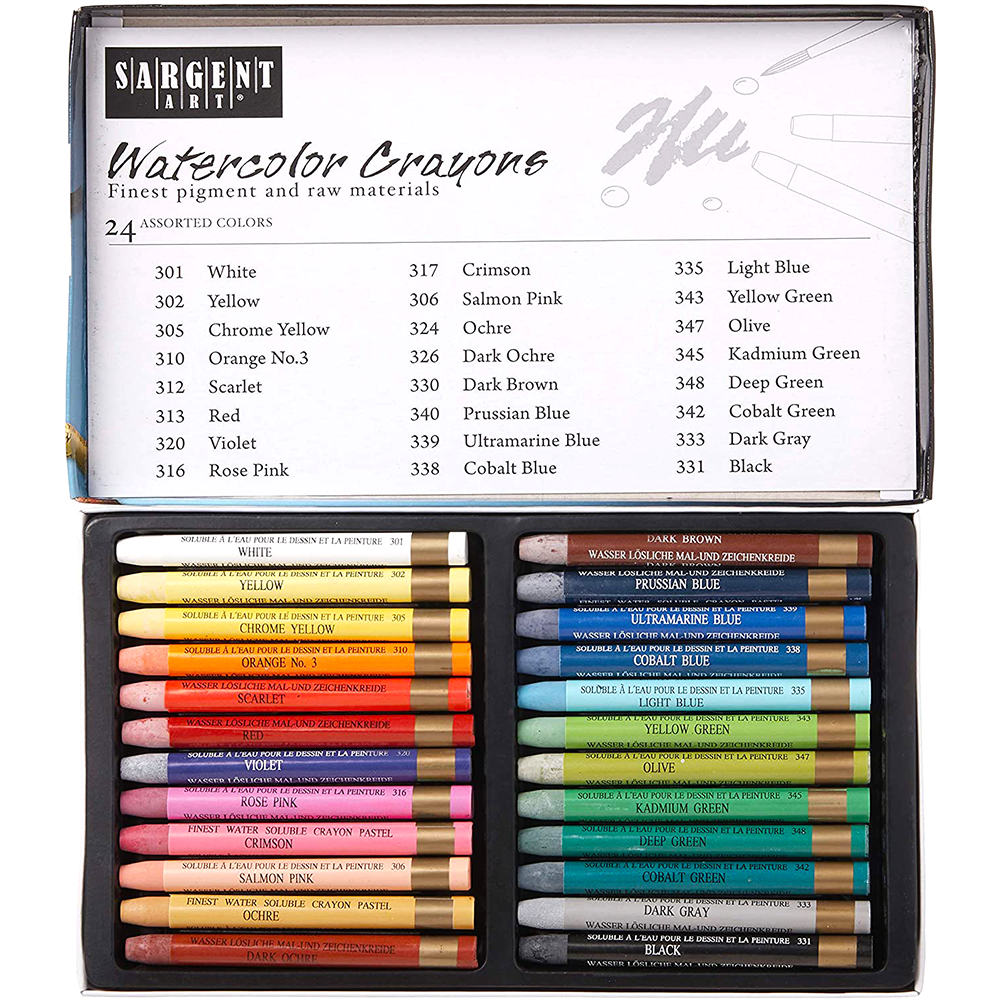 Best Watercolor Crayons
Sargent Art Watercolor Crayons
Check Price on Amazon
Why We Love It
Sargent Art watercolor set is a fun and easy way to add color and detail to your drawings!
This set comes with 24 vibrant colors that can be used wet or dry, so you can experiment and let your creative side loose.
With their blendable colors and durable tips, this watercolor option is perfect for both beginners and experienced artists alike.
What You Should Know
Sargent Art's watercolor set is a great choice for both kids and adults, and this crayon set is another one of Amazon's Choice products.
They are water-soluble, so they can be used with a wet brush to produce beautiful watercolor effects.
These are also safe and nontoxic, making them a great gift for kids.
They come in a wide range of colors, so you can create any number of effects.
Whether you're a beginner or an experienced artist, this set is a great option for anyone who wants to experiment with watercolor.
Grab this crayon set today and start adding some excitement to your artwork!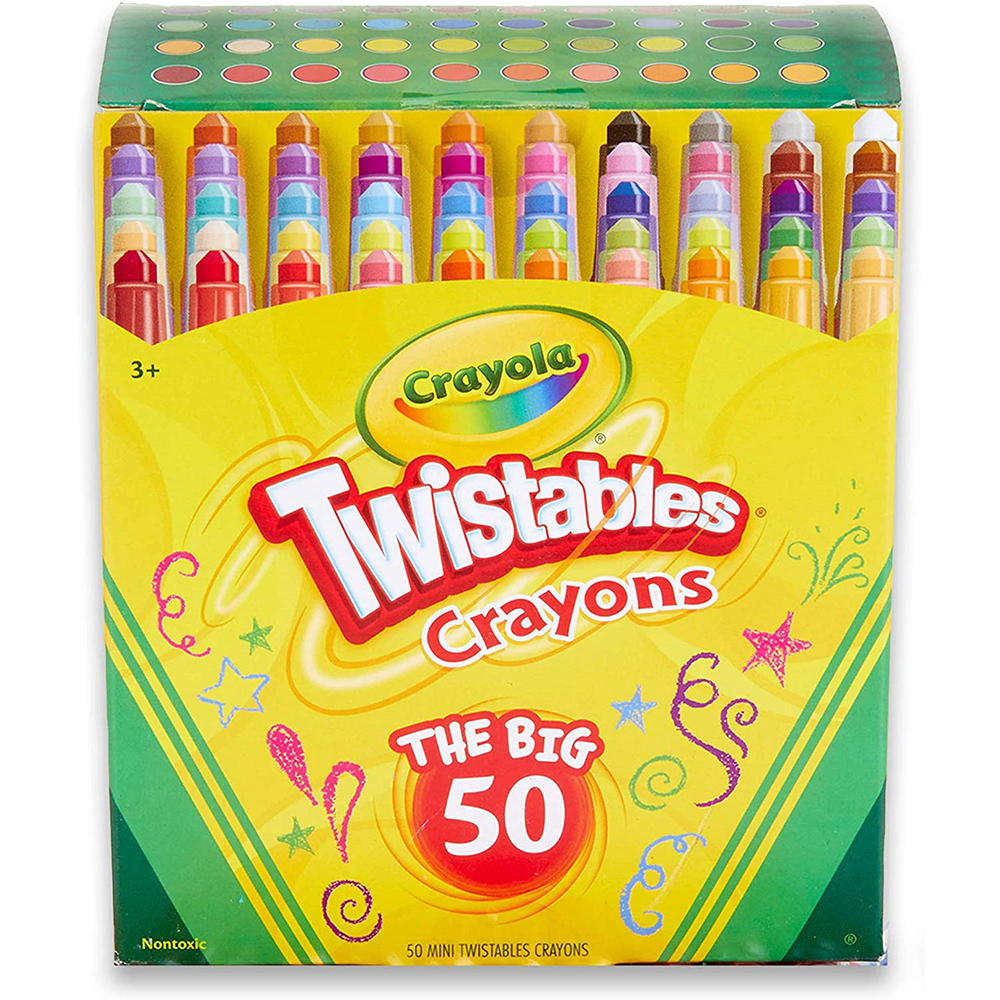 Best Twistable Crayons
Crayola Twistable Crayons
Check Price on Amazon
Why We Love It
Looking for a fun and easy way to get those creative juices flowing?
These colorful, Crayola crayons come in a convenient, reusable box and require no sharpening or wrapping; just twist and start drawing!
With 50 different colors to choose from, your little one will be sure to find the perfect hue for any project.
The sturdy, plastic barrels these crayons come packaged in protect the color cores; this gives them extra strength and makes them super durable.
They're perfect for those budding artists who like to color outside the lines!
Grab this twistable set and let imaginations run wild!
What You Should Know
If you're looking for a kid-friendly activity that's sure to entertain, Crayola's twistable set is a great choice that's also an Amazon's Choice product.
These are safe, nontoxic, and easy to use, making them perfect for kids aged 3 and up.
The set comes with a wide variety of colors, so kids can let their imaginations run wild.
Best of all, they are twistable, so there's no need for sharpening.
This makes them ideal for on-the-go creating.
Whether you're headed out on a long car ride or simply looking for a new activity to keep the kids busy, Crayola's twistable set is a great option.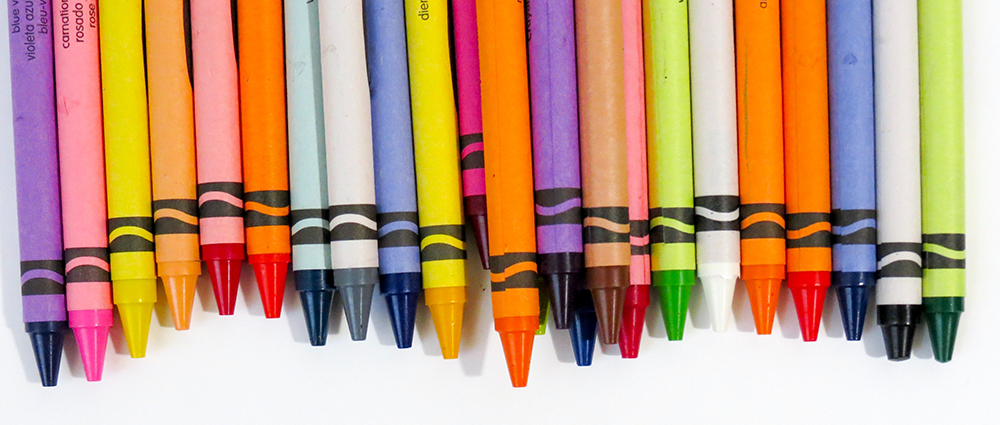 Crayon FAQs
Finding the right supplies can be overwhelming because there are so many options from different sellers.
If you're a beginner, you might wonder which type to buy, how many colors your set should have, and how to blend them well.
It's happened to many of us before; we were excited for our purchase, and then what we received wasn't what we hoped for.
Save yourself the hassle, and get the information you need before purchasing.
We've comprised a list of frequently asked questions, so you can have the answers you need make an informed decision.
Keep reading the guide below to learn more about this medium.
Are they a good drawing medium?
There are pros and cons to using this medium.
One advantage is that they are easy to use and accessible to people of all ages.
They also come in a wide variety of colors, which can be helpful when trying to produce a certain effect in your drawing.
Another plus is that they are relatively inexpensive.
On the other hand, some people feel that this drawing medium isn't as versatile as other drawing media, such as pencils or paint.
They can be difficult to control, and it can be hard to make fine details with them.
Plus, once you've used a color on your paper, you can't really erase it or change it. So if you make a mistake, you'll have to start over.
Either that, or you'll have to find a way to make it into a "happy accident," which can be a fun challenge.
If you're still undecided, we recommend trying out a few different types to see which ones you like best. With so many options on the market, there's sure to be a set out there that's perfect for you.
How are crayons different from oil pastels?
Crayons are made from wax and oil pastels are made from pigment and a solvent (usually linseed oil).
Wax crayons are less expensive to make than oil pastels because the pigment is not as finely ground.
They are also more prone to crumbling than oil pastels and also have a higher melting point than oil pastels, so they can withstand more heat.
This means that they are better for coloring on hot days or in warm environments.
They are also less likely to leave marks on clothing.
Oil pastels, on the other hand, are better for blending and creating gradients of color.
So, if you're looking for an all-around drawing supply that's affordable and versatile, go with crayons.
But if you're looking for something specifically for blending or gradients, oil pastels might be a better option.
How should beginners use crayons?
For beginners, they can be used to draw lines, shapes, and color in areas.
When using them, it is important to hold them near the point so that you have more control over the line thicknesses and curves.
Also, start with lighter colors and gradually lay down darker colors on top to shade.
When coloring with multiple colors, use a circular coloring motion to blend the colors together.
Experiment with different pressures to see what effect it has on your creations!
You can also use a white one to highlight areas after you've colored over them with a corresponding color; this will make your drawing really stand out.
Also, consider creating with friends to add a fun element to the creation process!
You'll never know what you can make when unite with others!
Have fun and enjoy experimenting with your new drawing supplies!
How do you shade and blend with these?
There are a few different ways to shade and blend.
One way is to use the side to apply color, then use the tip to blend it in.
Another method is to draw short, quick strokes with the side of it, then use the blending stump (or your finger) to smooth out the color.
Finally, you can also hold it at an angle and shade in a specific area, using varying pressure to produce value.
Experiment with all these methods and find what works best for you!
How many should you have?
The number varies from person to person, based on needs and preferences.
You should have as many as you need to be able to express your creative side.
There is no set number that everyone should have; it depends on the person and what they like to do with their supplies.
Some people might prefer a smaller, high-quality set, while others might prefer large boxes of cheaper sets for the color variety.
Ultimately, it is up to you to decide how many you need.
You can always experiment with different kinds and color options to find what works best for you personally.
Do professional artists use them?
They can use them, just like any other medium.
Some professional artists use them, but, at the end of the day, most prefer other mediums.
They are often seen as a children's medium because they are simple and relatively easy to use.
They're also made from safe, simple material, like wax, making them great for kids.
However, some artists find that they can produce beautiful works of art with this medium.
For example, the children's museum I worked at hired an artist to produce a mural using crayons; they were glued to the wall, the circle ends were left facing up, creating an awesome landscape, and placed behind glass.
This mural spanned the entire wall and was super cool to look at from both far away and up close!
It was a truly impressive display.
Now, you don't have to make something to such a grand scale; you can start small, maybe creating a small sign instead.
You can make a unique display perfect for you!
Just know that you have a lot of options available to you!
These wax drawing supplies can be a great medium for artists of all skill levels, from beginner to expert.
If you're interested in trying this medium as an artist, don't be afraid to experiment and see what you can make!
You'll never know what you can accomplish until you give yourself the chance to try!
What's the best way to use this medium?
There are a few different ways to use them, especially since they are sold in different forms that are made from a variety of material.
You can use them for coloring in pictures, drawing on paper, or even making candles.
The best way to use them for coloring is to start with the light colors and work your way up to the darker colors.
This will help you avoid having to go over the same area multiple times and will give you a neater finished product.
If you're using them for drawing, it's best to start with a light color and then add darker colors on top.
This will help produce depth in your picture.
You can also repurpose this drawing medium to form them into new things.
If you want to make candles with wax crayons, grab a set, whether you use broken pieces or the whole thing of brand new crayons!
Simply melt the wax pieces and then pour it into a mold.
Let it cool and enjoy your new, colorful, wax candle!
Also, if you've ever broken one, you might think you're out of luck.
Sometimes these broken pieces are really small, but that doesn't mean you are unable to use them any longer!
Don't toss them out, but save them instead!
Similar to making a candle, you can form the broken, wax pieces into new ones.
You can combine them melting them in the oven using a muffin tin or on the stove top in a pot before placing them in a mold like an ice cube tray!
Make sure to cool before trying to use them, but you can make fun color combinations using your broken pieces!
The kids I work with love using these new color creations!
Depending on the mold you use, these new versions might even be used by toys with children (kids are super resourceful and imaginative, after all).
There are lots of possible uses, so feel free to use your imagination!
The best way to figure out how to use them is to experiment and have fun!
They are a great way to add color to your world.
Whether you use them for doodling, coloring, art and crafts, or even making candles, they are a versatile medium that can be used in a variety of ways.
Get a set and start exploring the many ways you can use them!
Who knows, you might just discover a new idea for using them that you never thought of before.
Here's your sign that you have endless possibilities as a creator!
Are beeswax varieties better than other options?
There is no definitive answer to this question, as there are many different types on the market.
However, beeswax crayons are often considered to be better than other types because they are made from natural ingredients and they do not contain any harmful chemicals.
Additionally, the beeswax variety tends to be less dusty than other types, and they can be used for drawing or coloring on both paper and cloth.
So, if you're looking for a high-quality option, the beeswax variety is a great one to consider!
Are any toxic?
All of these drawing medium are considered non-toxic by the ASTM (American Society for Testing and Materials).
Most are made with wax, but some individuals could be allergic to the wax or colorants used.
When using any art materials, it is always best to do a patch test first on a small area of skin to check for any allergies.
Some natural options may contain beeswax, which some people may be allergic to.
If you are concerned about potential sensitivities, please consult with their doctor before using any new supplies.
What's the best paper for crayons?
There isn't really a "best" paper, as different types of paper will work better for different people.
Some prefer using regular printer paper as it's cheap and easily accessible.
There are some that prefer to use construction paper, while others prefer thicker, drawing paper or even newspaper.
Ultimately, it's up to the individual to experiment and find the type of paper that works best for them.
It really depends on what you're using them for and what type of paper you prefer to use.
There's no real "right" or "wrong" answer, so feel free to test out different paper types to find the best one for you!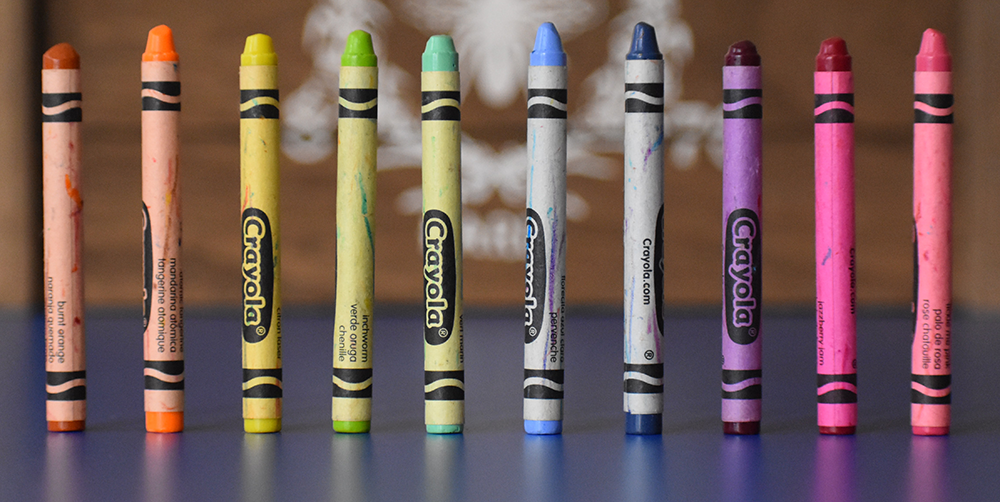 The Best Crayons for You
So, what are the best sets for all artists?
After hours of reading thousands of reviews and according to verified Amazon customers, these are the best crayon products.
With so many options on the market, it can be hard to know which sets are worth purchasing, but not anymore!
Thanks for following our guide and we hope you have a great time exploring your creative side with some new art supplies.
Hopefully, our findings have given you the necessary information to make an informed decision and walk away a happy customer!
Whichever set you choose, we hope you have fun creating!
Don't forget to tap the button to check Amazon for the best prices!
Thanks for reading and here's to your colorful, new art!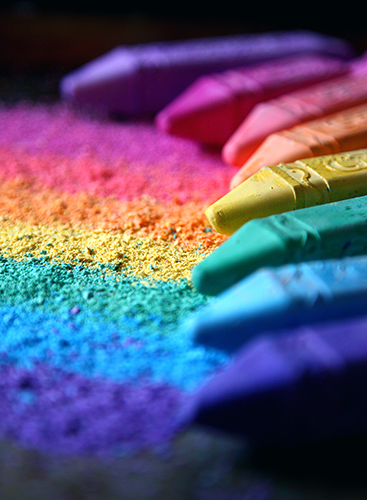 Want some tips for drawing with crayons? Check out Allison Platz's video!
If you'd like to see artwork I've made, you can find some at Redbubble, TeePublic, and TeeSpring.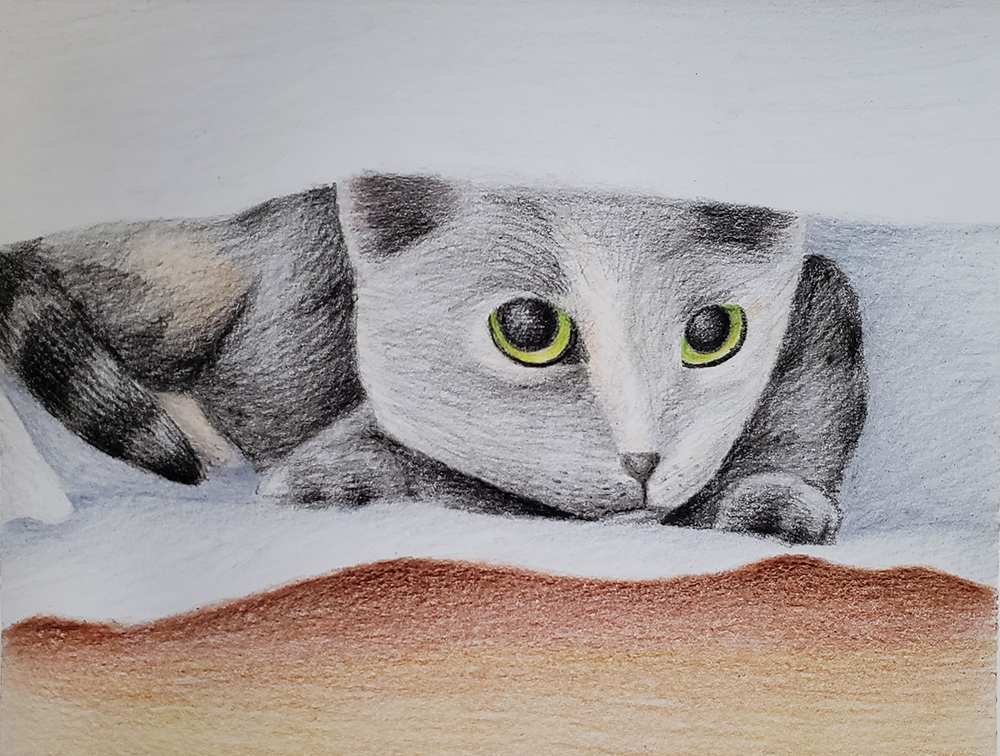 And if you'd like to listen while immersing yourself in the creative process, like I do, you can get a 30-day free trial of Amazon Prime Music or Two Free Audiobooks from Audible Plus!
I love listening to a great book and great music while creating!
And if you want to take advantage of 2-day shipping, get a free 30-day trial of Amazon Prime!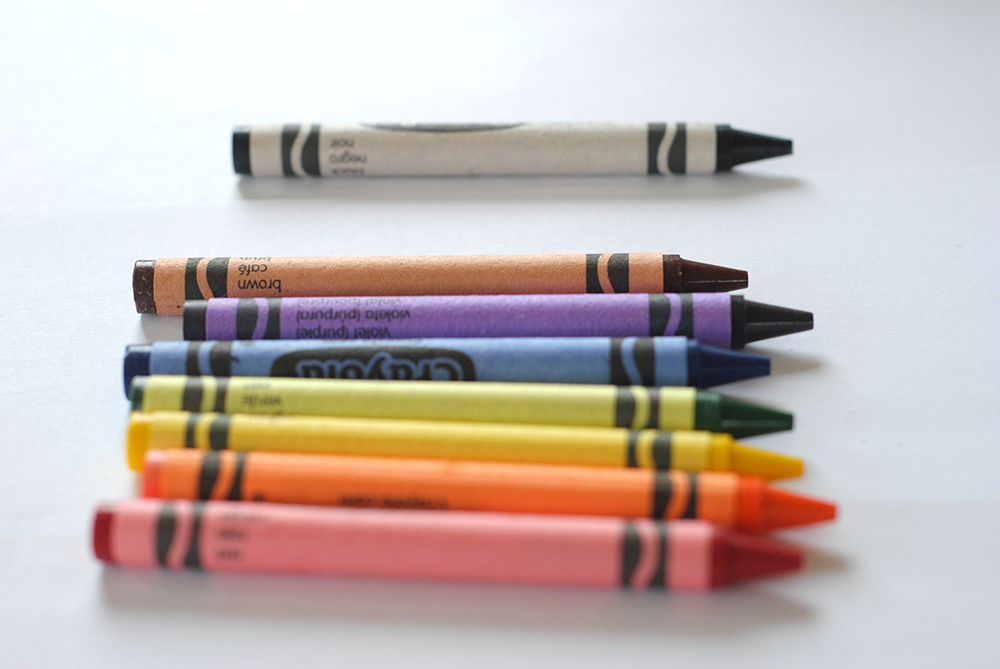 Enjoy drawing and looking for more art supplies?
Check out our other drawing supply articles: