Are you ready to be transported to a world of awe-inspiring beauty and imaginative possibility?
Then Maybe Something Beautiful, the acclaimed and multi-award winning picture book written by F. Isabel Campoy, and Theresa Howell and illustrated by Rafael Lopez is the perfect story for you!
A timeless tale embodying an uplifting message of transformation, readers embark on an unforgettable journey filled with vibrant colors that come alive in scenes of energy and life.
The tale portrays how arts and crafts not only influence our individual lives but also have the potential to affect communities on a larger scale.
Through vibrant colors and robust perspectives, this mindful masterpiece reveals that each person is capable of making their world more beautiful simply through compassionate observation.
Through this breathtaking page turner, you will explore how seemingly ordinary places can become extraordinary works of art with just a little bit of creativity and courage; inspiring readers everywhere to make their own mark on the world around them!
It's not just a heartwarming tale, but a catalyst for creativity, so join us as we dive into how this gorgeous work radiates with color to awaken our creative possibilities!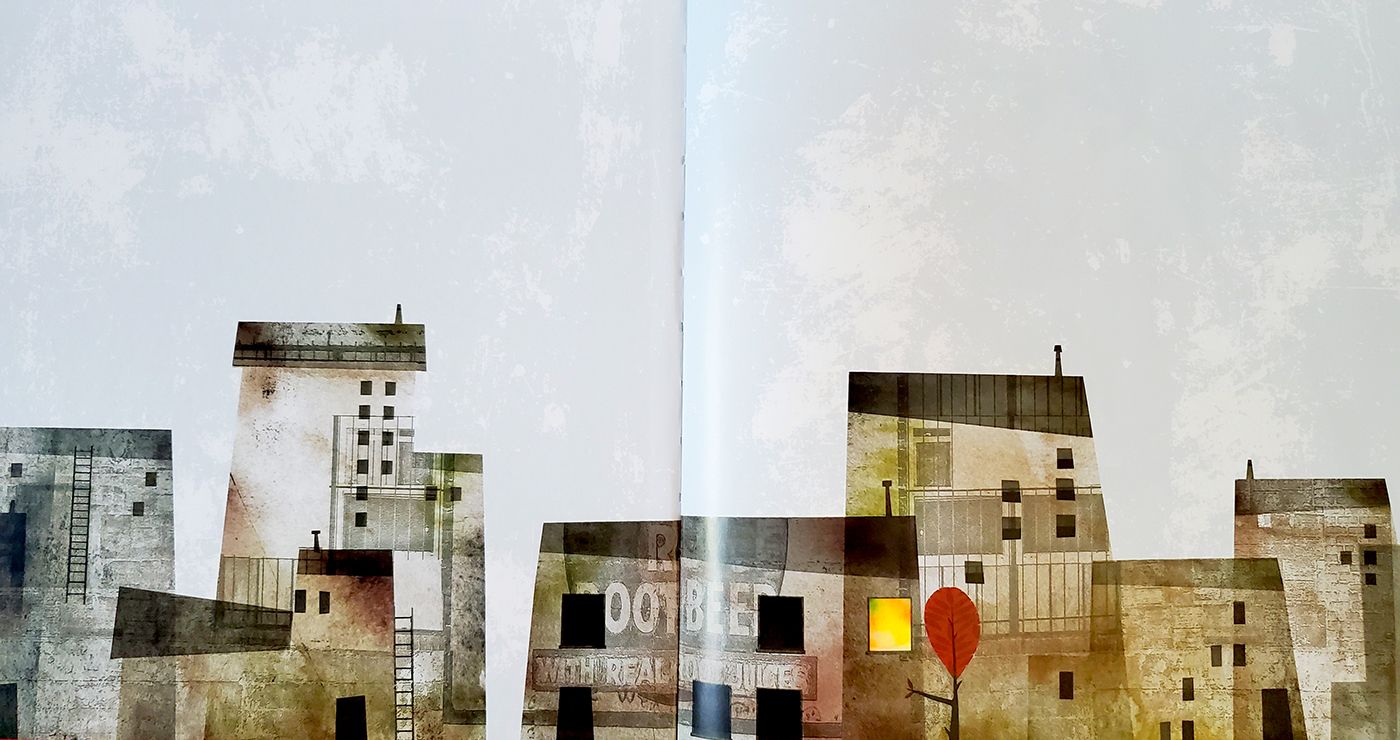 The Tale of Transformation
With storytelling penned by F. Isabel Campoy and Theresa Howell, the story revolves around a young artist named Mira who resides in a monochromatic urban community.
This dull and lifeless city is full of people who move about their days, unaware of the potential to transform their environment into something extraordinary.
Mira's seemingly small acts of creativity and kindness inspire the initial sparks of transformation.
One day, a mysterious artist comes to her city and suggests they work together to bring some color and life to the city's streets.
The arrival of a muralist instigates a transformation, as his vivid paints bring life and color to the gray cityscape.
As the narrative unfolds, the two collaborate to create a vibrant mural, and the neighbors discover, opting to follow their lead and add color to their everyday lives.
The dark walls transform through the warm hues and vivid colors of life; the sun's attraction transformed their streets with beautiful reveals of vibrant hues.
The power of collaboration allows for an unexpected chain reaction, which results in an entire city bursting with color and life where art transformed their unforgettable human spirit.
The impact of this transformation is seen beyond just the physical environment; it brings with it hope, joy, and inspiration!
This empowering story has vibrant and breathtaking illustrations that perfectly capture how color and a bit of creativity can transform the mundane into something beautiful.
In a world where gray, dull cityscapes are often the norm, Maybe Something Beautiful bursts onto the scene like a rainbow after a storm; this vibrant tale is more than just a children's book—it's a testament to the transformative power of art.
As the mysterious artist sums it all up, the book's message is simple yet impactful: art can bring people together and instill life into the dreariest of surroundings.
It encourages everyone, regardless of their artistic talent, to create something beautiful and spread positivity.
This inspiring and wistful message transcends the book's targeted age group and has reached people of all ages and professions.
From artists to writers and designers to creators, everyone has found solace in the message of the book.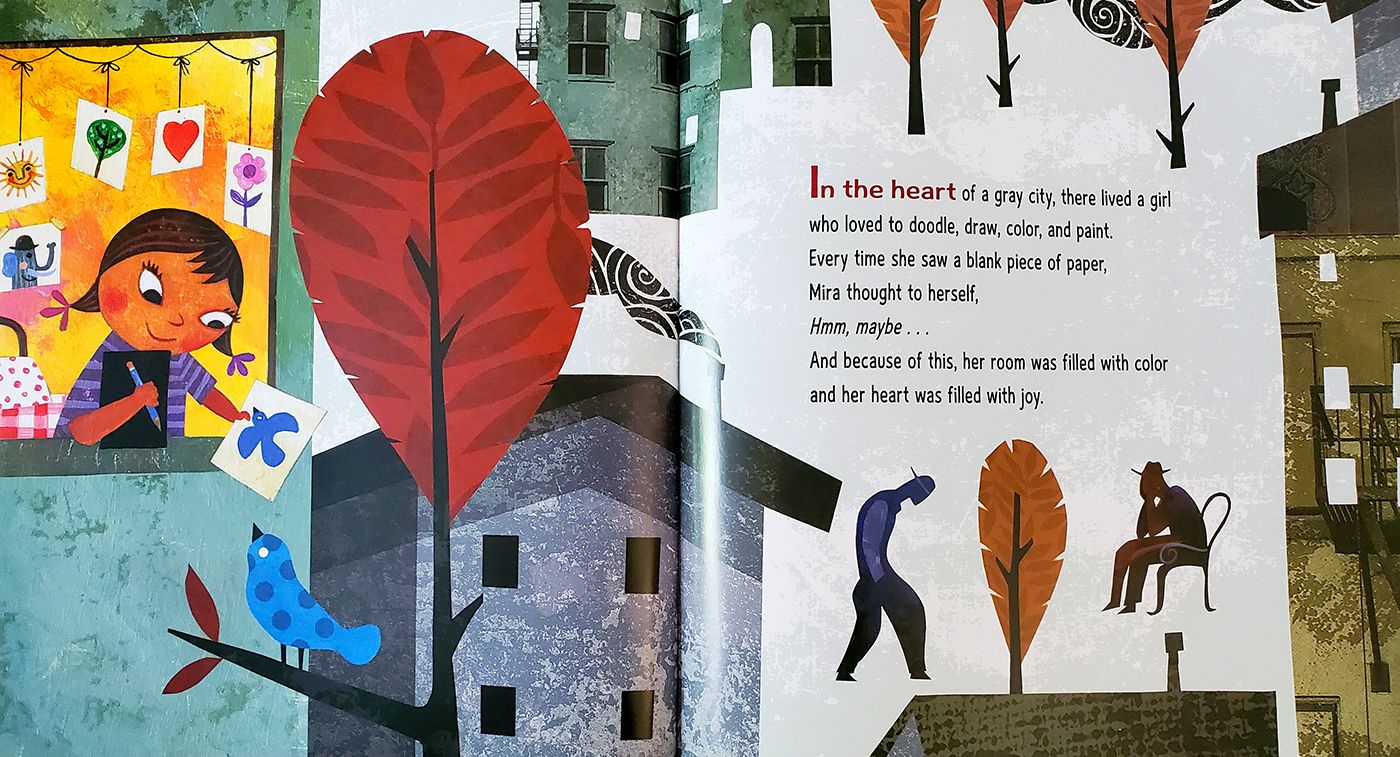 Powerful Themes and Visuals
This creative team, full of exceptional people committed to a common goal of creating an inspiring and uplifting story, has done a remarkable job in bringing to light an age-old message of transformation.
This heartwarming tale, based on a true story, has sparked a wave of creativity across various communities.
It has shown that art is not confined to galleries or studios but can bloom on the most unexpected canvases – from drab walls to desolate streets.
This charming story has encouraged people to be brave, take risks, and make a difference in their local communities.
Maybe Something Beautiful is truly a celebration of creativity and transformation!
This picture book is renowned for its captivating visuals that are nothing short of mesmerizing, all of which bring the story to life.
Having transformed the alleys in East Village of San Diego into beautiful art, Rafael López, whose career as a muralist inspired this tale, has captured a whimsical ambiance, giving readers an uplifting feeling as they explore the story's streets.
Rafael Lopez's artwork is a riot of colors that leap off the page, mirroring the transformation taking place within the story; he has done a simply superb job of capturing each moment in stunning detail.
Using geometric shapes, changing the page orientation, and playing with perspectives, Lopez has beautifully crafted this unique tale to bring brightness and hope to readers.
The vivid imagery not only complements the thoughtful narrative but also serves as a tangible representation of the transformative power of art.
The use of vibrant colors captures a sense of energy and optimism that resonates with readers everywhere.
These lively illustrations take us on a journey through Mira's world, illuminating her transformation and showing how art enriches our lives.
In each page, readers will be captivated by Lopez's brilliant illustrations that come alive with bold colors and dynamic patterns.
The unique textures and vibrant hues of the illustrations expand upon Campoy and Powell's story, creating a delightful visual feast that is sure to delight readers.
Maybe Something Beautiful is more than just the tale of one small act of kindness; it's a reminder that art and creativity can be used to bring people together, foster connection, and create vibrant communities.
This inspiring story has touched the hearts of many and continues to encourage us to embrace our creative sides and spread positivity through art.
The tale's message resonates widely, underscoring the importance of art in society, illustrating that art is not a solitary pursuit confined to galleries and studios but a communal endeavor capable of revitalizing neighborhoods and sparking joy.
In this sense, Maybe Something Beautiful serves as a call to action, reminding us that we all have the power to make our surroundings a little brighter, a little more beautiful.
With a wistful message wrapped in a vibrant visual palette, Maybe Something Beautiful will inspire kids, adults, and everyone in between to unite with their creative tribe and turn their own neighborhoods into art canvases.
Written during a time when cities were becoming more conscious of the role of public art in urban renewal, Maybe Something Beautiful has struck a chord with readers worldwide.
Its popularity can be attributed to its universal themes of hope, positivity, and empowerment, as well as its celebration of community spirit and collective action.
Through this inspiring book, readers are encouraged to look at the world with fresh eyes.
With a little bit of courage and imagination, anyone can become an agent of change.
By summoning their courage and channeling their creativity, readers everywhere can step into a world of beauty and possibility!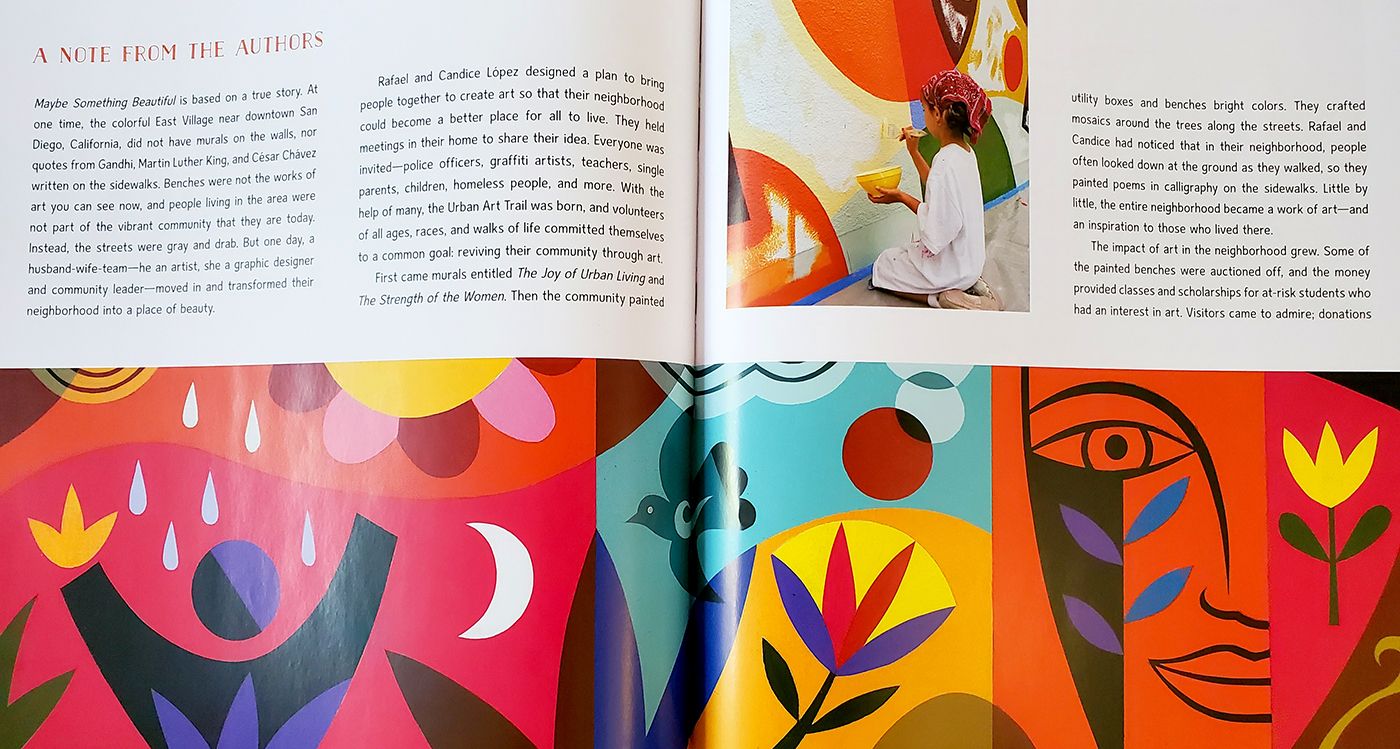 Influence as a Creative Catalyst
This captivating narrative has made a tremendous impact on the artistic community, inspiring artists to use their craft to transform their surroundings
It has inspired artists across the globe to look beyond traditional canvases and explore the beauty of creating public art.
Artists worldwide have found inspiration in this book, seeing it as a reminder that their creativity can indeed bring about change.
They've been prompted to think beyond conventional boundaries and explore new art mediums and techniques.
Taking this book's message to heart, they use their creativity to bring color and joy to unexpected places.
Maybe Something Beautiful has set a powerful example of how art, when used in the right way, can be a catalyst for positive change.
The book also reiterates the importance of collaboration and emphasizes the value of collective action.
It is an ode to the power of teamwork and shows that when we join forces, we are capable of creating something beautiful and impactful.
The book has been widely praised for its lighthearted and inspiring message of hope and transformation, inviting readers to embrace their creativity and use art to bring joy into the world!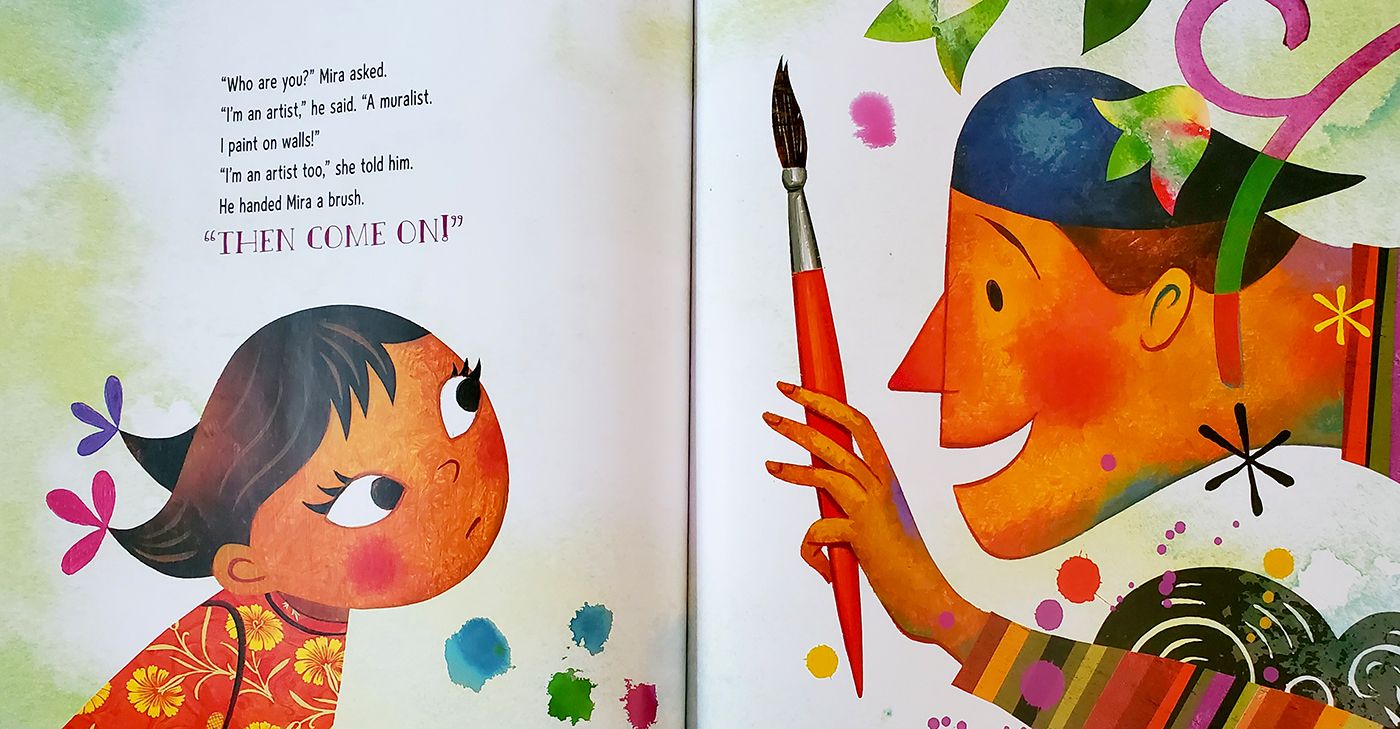 Creating Colorful Classrooms
Maybe Something Beautiful  has been used in classrooms around the world to teach kids about how they can make a difference in their community.
Resonating deeply among educators, they have found it to be an invaluable tool for inspiring creativity in their students.
The book serves as a springboard for discussions about art's impact on community and quality of life and encourages children to express themselves through art and understand its role in shaping societies.
Students learn how to appreciate people's differences and how everyone can contribute something unique and special to their surroundings.
As a result, classrooms see improvements in their students' creativity, social skills, and engagement with their environment.
Through Mira's story, students learn that art isn't confined to textbooks and assignments; instead, it's a powerful medium that can be used to express oneself and inspire others.
Igniting a spark in young minds, this book encourages them to express their creativity and make their surroundings more vibrant because it's not just a story—it's a movement, a call to action, a reminder that everyone, no matter how young or old, can create something beautiful.
This timeless tale has brought to life many classrooms and fostered a sense of appreciation for art, beauty, and positivity.
It is an invaluable resource that will continue to inspire generations to come!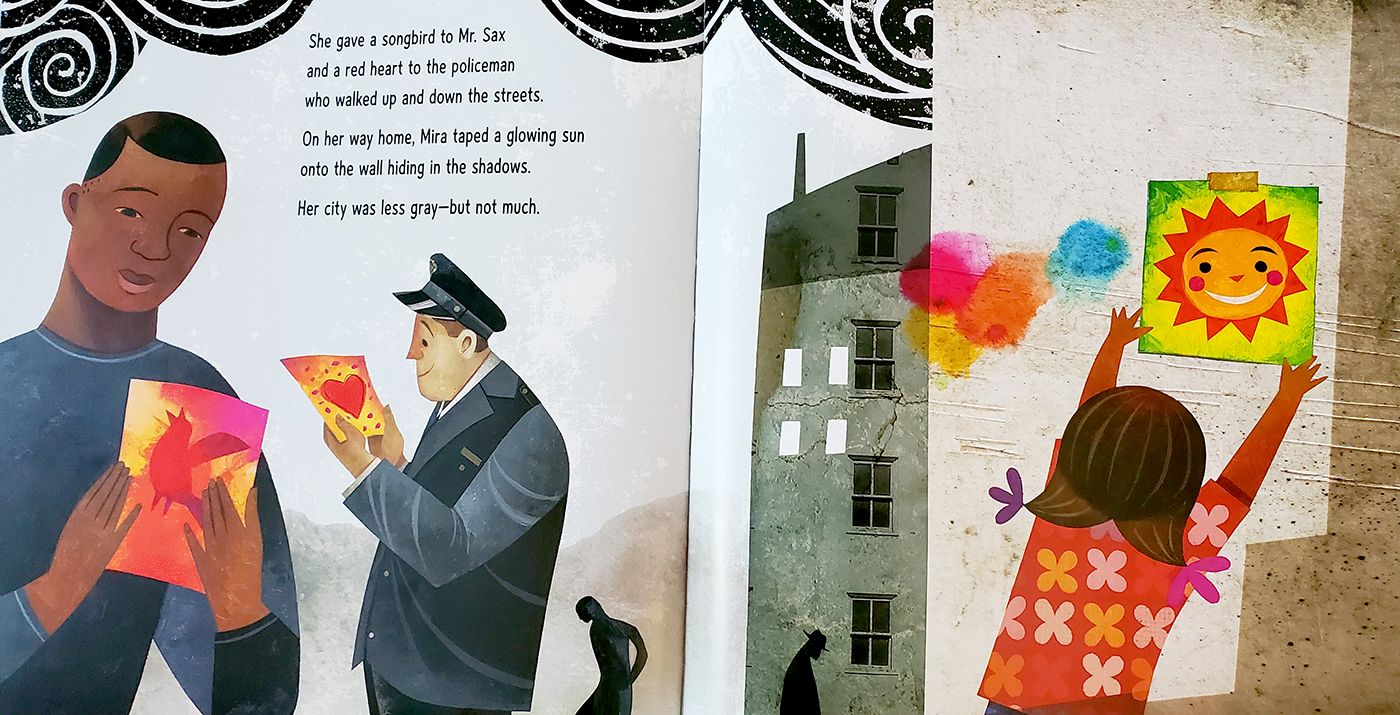 A Lasting Legacy in Children's Literature
Maybe Something Beautiful has truly revolutionized children's literature and picture books.
It stands out because it doesn't just entertain—it educates and inspires, teaching young readers about the power of creativity, the importance of community, and the joy of transforming the mundane into the magnificent.
The book is a shining example of how a simple message can inspire generations and impact the world for the better.
Readers of all ages have felt the ripple effects, inspired to see their surroundings through a different lens, to appreciate the beauty in the mundane.
Its core message—that art has the power to transform and uplift—has resonated deeply with audiences of all ages.
A testament to the fact that everyone has the potential to create something beautiful and make a difference in their own little way, this enchanting tale has not just brightened the pages it resides on but also sparked a creative revolution in classrooms, studios, and beyond.
What truly sets Maybe Something Beautiful apart in the world of children's literature is its potent message: art can be a catalyst for change; this book goes beyond typical fairy tales and adventure stories, using its platform to inspire creativity and social change.
The book's ability to combine a compelling narrative with a powerful social message makes it one of the most compelling works in children's literature—a timeless classic that will remain relevant for generations to come.
Maybe Something Beautiful is a powerful reminder that creativity can be used to make a positive impact, and its legacy will continue to inspire readers everywhere into the future.
The story is engaging and hopeful, yet it doesn't shy away from addressing real-world issues like urban decay and the need for community engagement.
As it continues to captivate readers around the world, this timeless tale will remain an inspiring reminder of the potential for creativity and transformation, highlighting how one person's actions can result in collective change.
It is a beautiful ode to the power of art and its ability to bring people together, creating something that is bigger than the sum of its parts—something that will remain with us forever.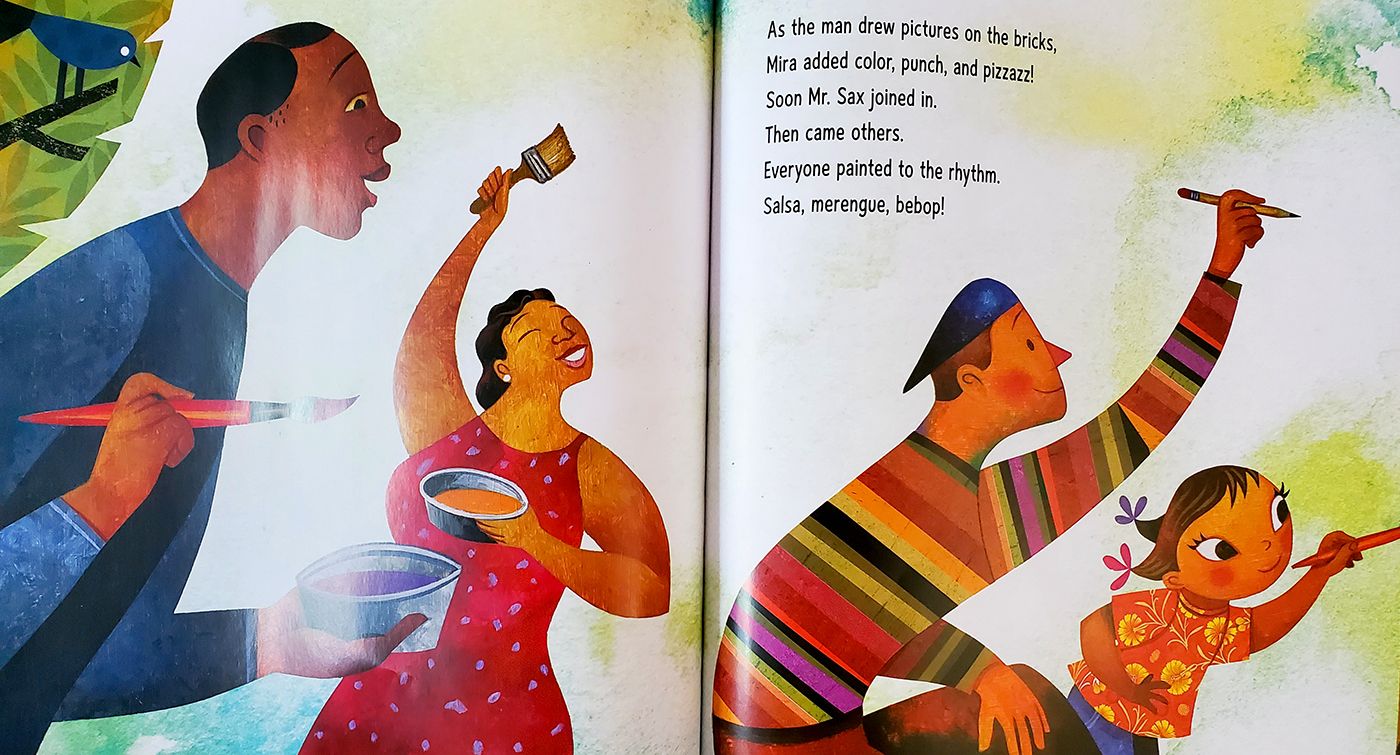 Radiating with Colorful Possibilities Everywhere!
In a world that is becoming increasingly cynical, Maybe Something Beautiful brings the much-needed message of hope and positivity.
The book's message has resonated with artists, writers, and creators of all kinds, inspiring them to look for beauty in the world and channel it into their work.
It has encouraged children to take the initiative in improving their communities and to never underestimate the impact of their creativity.
Revealing that even small contributions can transform the world around us into something beautiful, Maybe Something Beautiful is not just a book but a beacon of hope that challenges everyone, regardless of their skills or passion, to make a difference.
A testament to the transformative power of art, this picture book reminds us that even in the most unlikely places, creativity can flourish, and something beautiful can emerge.
It's a movement, a call to action for everyone to explore their creative side and use it to brighten their world.
Whether you're an artist, a teacher, or just someone looking for a dash of inspiration, this book is a must-read.
After all, who knows?
Maybe you'll be the next to create something beautiful!
Here's to the powerful arts, the joy of creativity, and the magic of turning the ordinary into something beautiful!
Because as Mira shows us, with a bit of creativity and courage, maybe something beautiful is just around the corner.
So, pick up your copy of this phenomenal book, grab your supplies, and add a splash of color to your world to create something beautiful!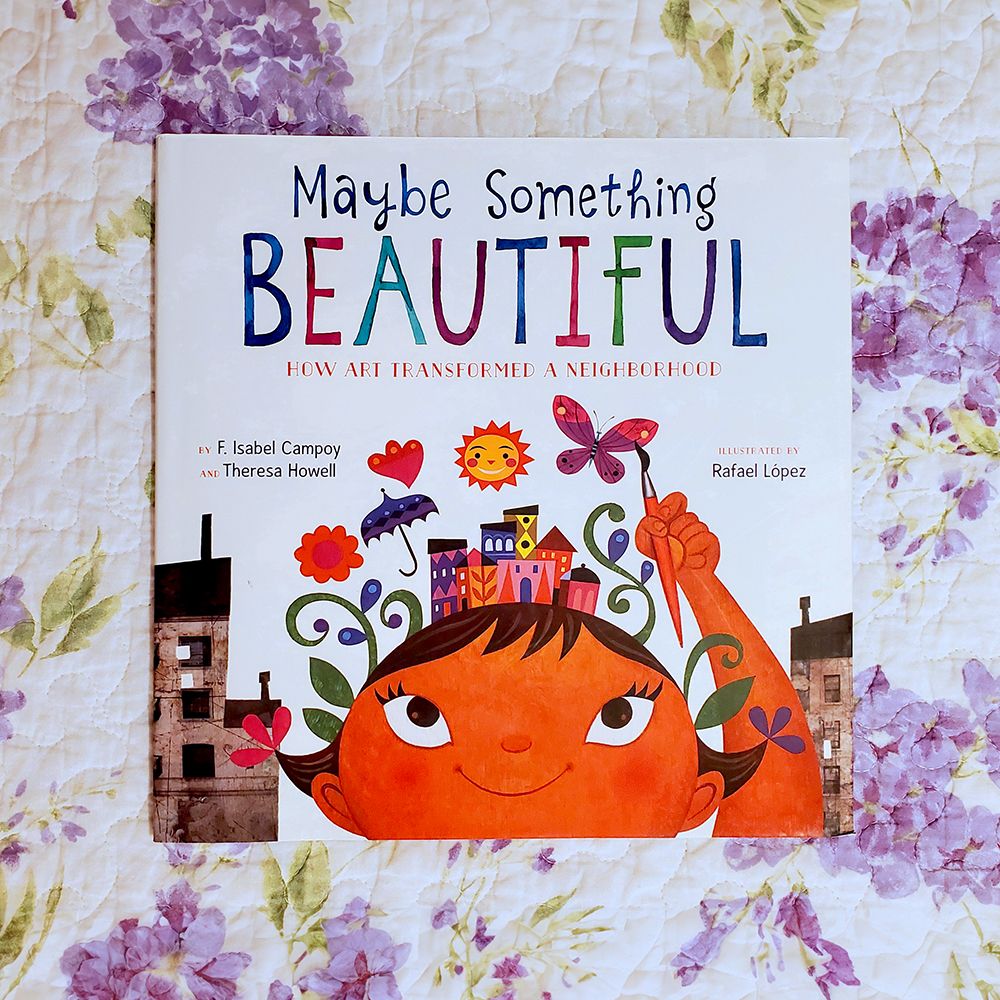 Maybe Something Beautiful
Check Price on Amazon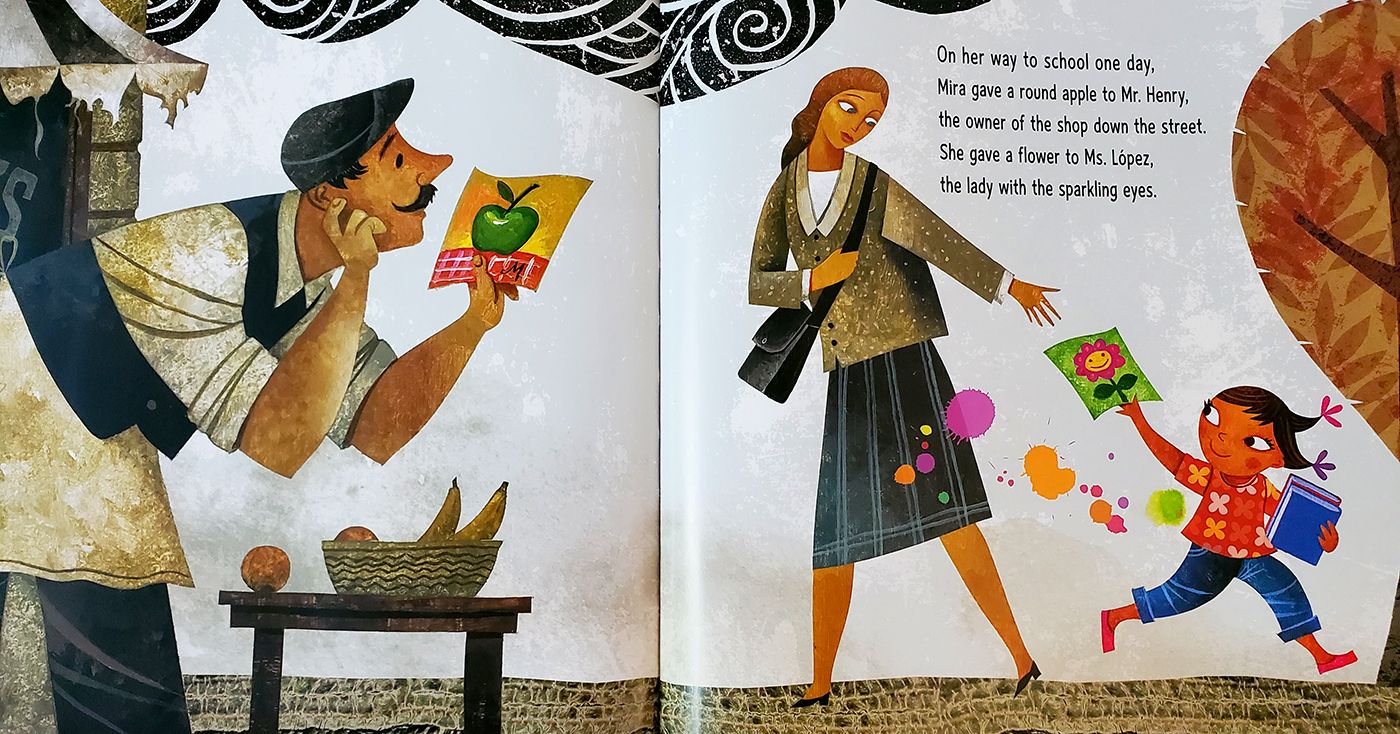 Eager to dive into this colorful tale? Check out Cookies Cozy Corner's read aloud!
Want even more content about creativity and art?
Be sure to check out all of our creative chronicles!
Looking to get creative and inspired with some awesome books?
Check out some of our other articles:
-Swatch: The Girl Who Loved Color
-What Do You Do With a Problem?