Are you looking for new, creative ways to take your art to the next level and push your creative limits?
With so many tools and resources out there, it can be daunting to find the right one that fits your needs.
Artificial Intelligence (AI) has been a game-changer in numerous fields, and content creation is no exception.
If you're a creator of any kind, be it an artist of some sort, a digital marketer or anyone in between, then Fliki AI may just be the answer for you.
Not heard about this revolutionary tool yet?
No worries -- here's all you need to know!
At first glance Fliki AI appears promising--and if used correctly can help take your content game up a whole new notch.
Instead of being limited by artistic confines or traditional restrictions, creators from all walks of life have found newfound creativity with Fliki.
With disruptive Artificial Intelligence technologies and capabilities at its core, this tool will revolutionize how content creators create artwork — from transforming photos into stunning pieces of modern art to interactive 3D animations; Fliki promises an experience unlike any other bringing innovative methods for streamlining creation processes.
It's time turn heads with a splash of buzz; let's explore the possibilities together and put Fliki AI to the test!
Let's delve deeper into how you can harness the power of Fliki.ai to create unique, engaging, and creative content that stands out.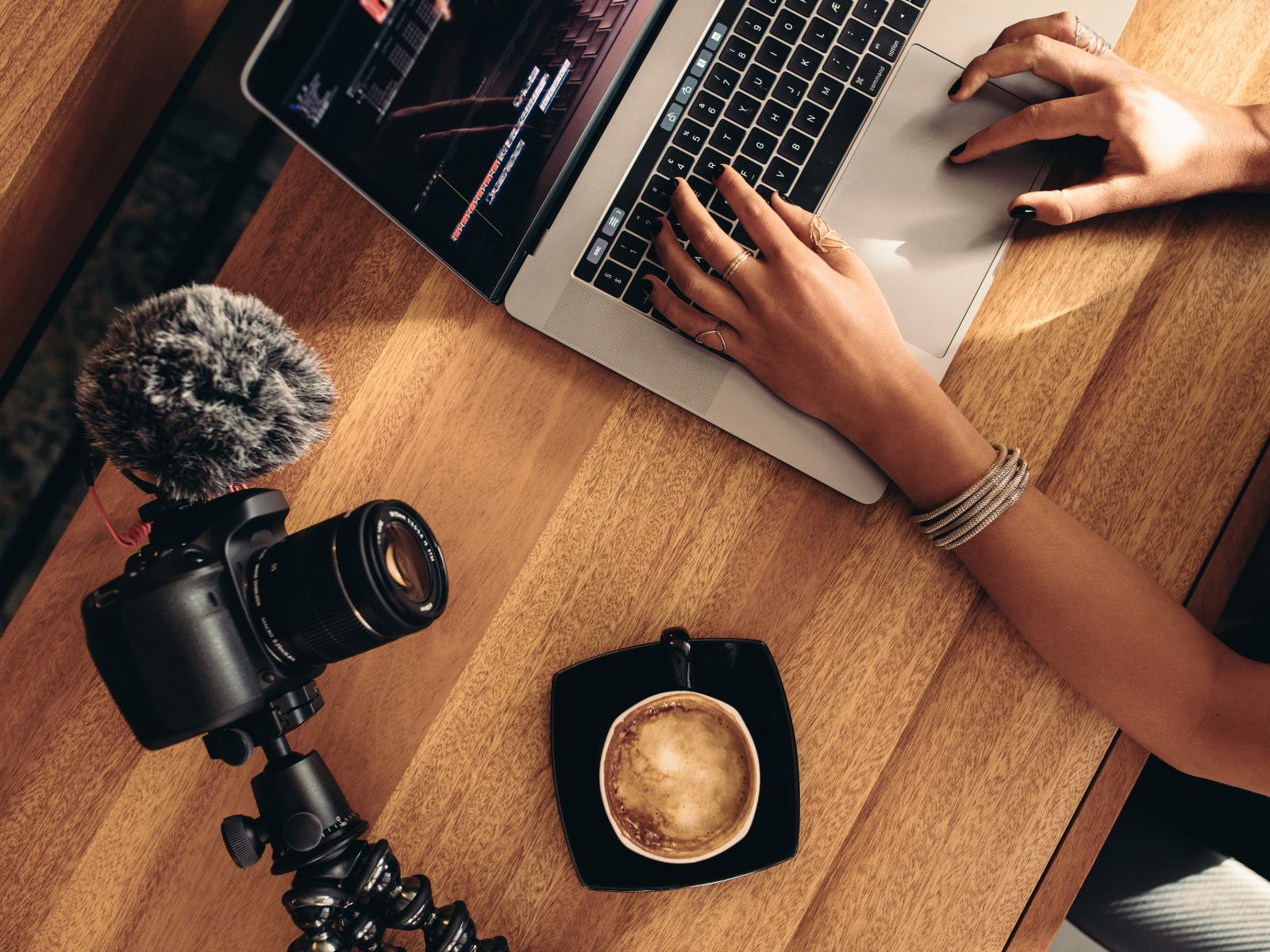 What is Artificial Intelligence?
AI is a computer system that can 'learn' and adapt from the data it receives.
It enables machines to imitate human behavior and make intelligent decisions like a human would do.
In the content creation space, AI makes it easier for creators to automate tedious tasks while still achieving great results.
It also assists in creating much more complex visuals that wouldn't be possible without AI-driven technology.
There's a boom of AI-driven technology that is transforming the way content creators create, and Fliki is a great tool for getting a head start.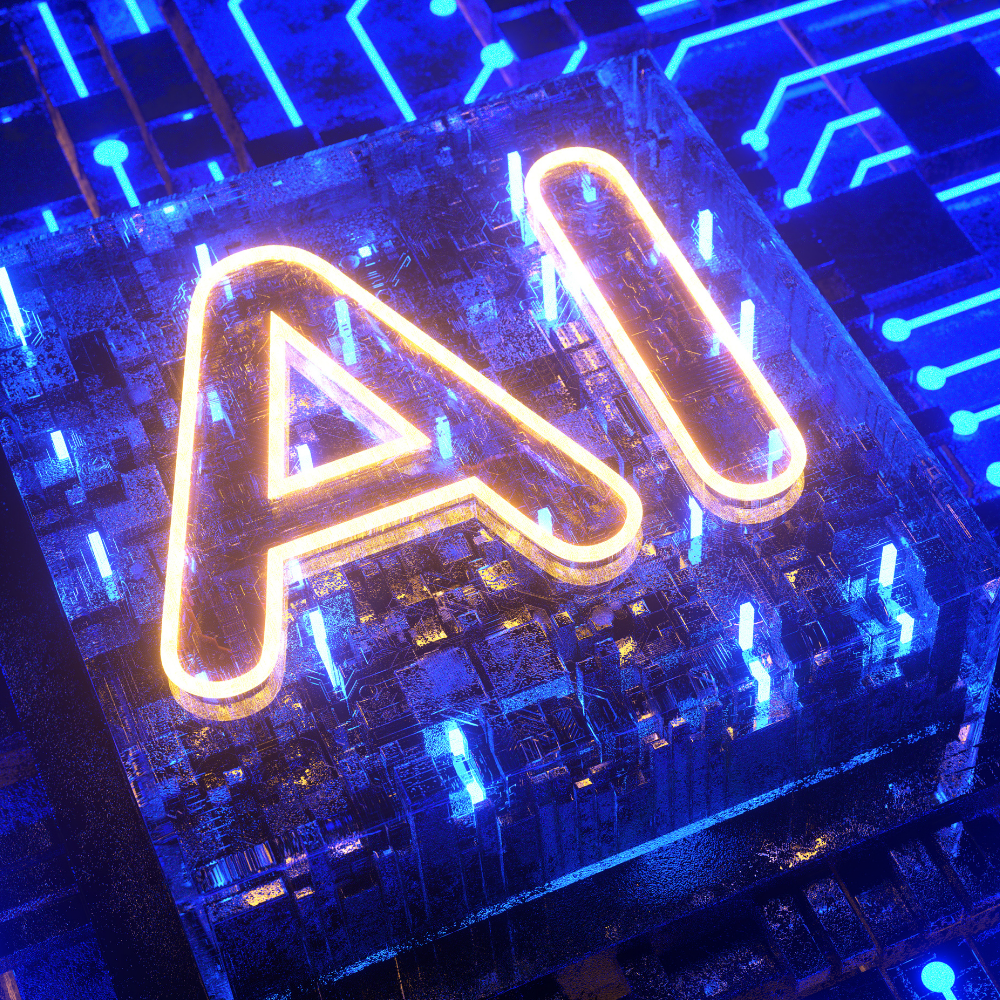 What is Fliki?
Let's start with the basics.
Fliki.ai is a pioneering tool that has transformed the landscape of video creation.
Powered by generative AI, it simplifies and accelerates the process of transforming ideas into stunning content.
If you're tired of grappling with complex video creation tools, Fliki.ai provides an effortless solution.
Fliki.ai isn't just for marketers; it's a versatile tool used by content creators, educators, and businesses alike.
It's ideal for creating educational content, marketing and social media videos, corporate presentations, and even localized translations.
Fliki supports over 75 languages, so it's a great way to create content for an international audience.
With a user base of over 2 million people worldwide using Fliki.ai to create captivating content, Fliki is making quite the splash in the creative pond.
From podcasts and YouTube shorts, to product demos and high-quality videos, this powerful, user-friendly tool is transforming the way we create all sorts of different formats and video content.
It's not just about making the process easier; it's about unleashing creativity and bringing ideas to life in a captivating way.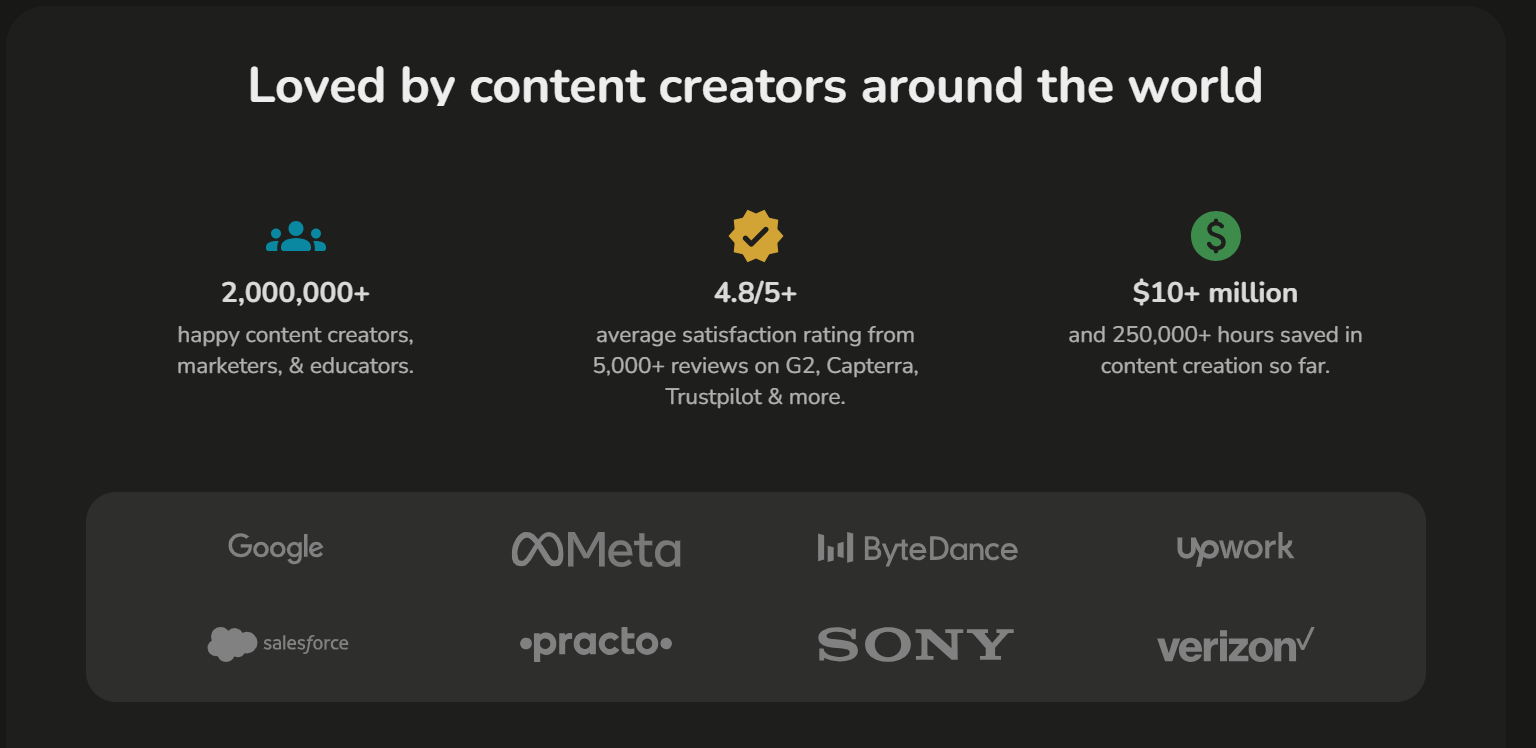 What Can Fliki Do For Me?
Fliki is a powerhouse of capabilities and features that are designed to make your content creation process easier.
From removing the need for lengthy editing processes or complicated animations, Fliki takes care of all the tedious tasks so you can concentrate on creating compelling content.
Create audio and video content, convert blog articles, and more with Fliki's user-friendly interface.
It's so much more than a video creator; it's an all-in-one content creation platform that can help you quickly turn your ideas into engaging visuals.
The best part? Fliki is incredibly easy to use!
You don't need any special skills or prior knowledge of video production to get started.
It offers an intuitive, drag-and-drop interface that can be used by anyone to create stunning visuals.
The flexibility of the tool enables you to customize and personalize content to fit your brand's voice and aesthetic.
Not only does Fliki provide a wide range of features, but they're also incredibly customizable and easily adjustable so you can make your content look just the way you want.
You can even add music or voice-over to your content, or adjust the speed of animations and video clips.
Plus, the the text to speech conversion and exceptional AI-generated voices that replicate human speech patterns and intonation give you the perfect audio for your videos.
Fliki also allows you to create localized versions of your videos with ease, enabling you to quickly reach a global audience in no time.
Using the automated video creation tools, you can achieve amazing results in a fraction of the time it takes to create content from scratch.
One of the biggest benefits of using Fliki.ai is the time-saving aspect.
With the ability to create new variations of your work quickly, creators can maximize their productivity and save valuable time by using Fliki.ai.
The tool is designed for speed and efficiency so you can get the most out of your time and resources.
With Fliki.ai, creators can leverage AI voices and transform their ideas into beautiful videos in just four simple steps.
Start with your text, choose your AI voice, let AI create the media, and voila!
You've got yourself a masterpiece, perfect for audience engagement.
And the best part is you don't need to be a tech whiz to use it.
The interface is as easy to navigate as your phone, so you won't be wasting time trying to figure out how to use the tool.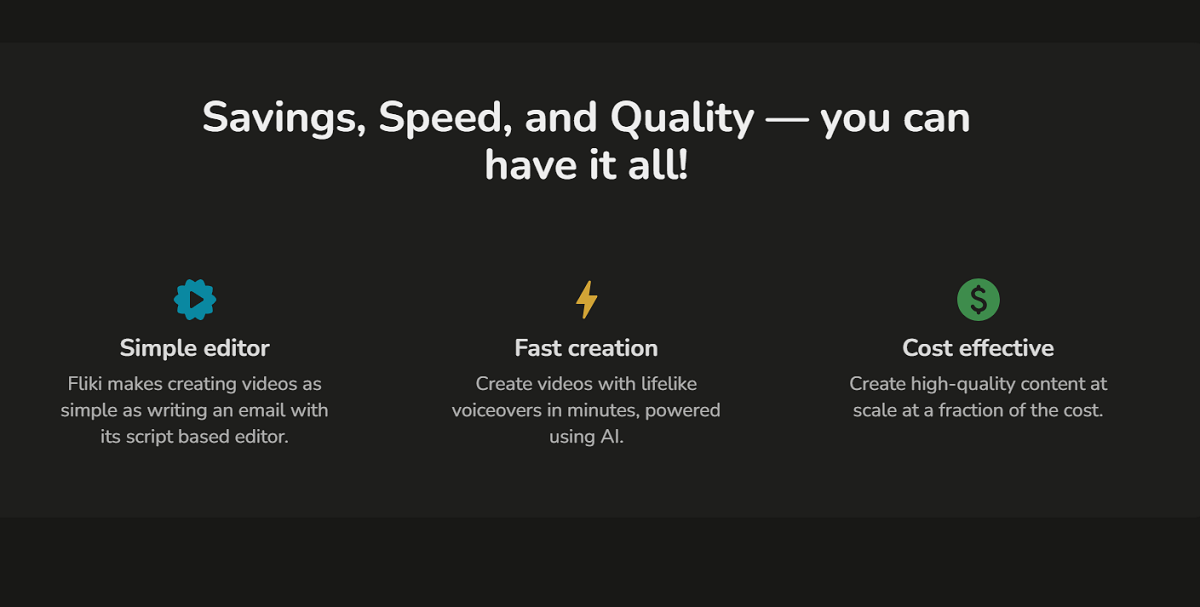 How is Fliki Shaking Up the Creative World?
Fliki.ai is revolutionizing content creation with its powerful features and capabilities.
Creators are now able to quickly transform their ideas into captivating visuals with a few clicks of the mouse, without having to worry about tedious editing processes or complex animations.
The AI-driven technology has enabled creators to push their boundaries and explore new creative possibilities.
Plus, with the speed and efficiency of Fliki.ai, creators can optimize their productivity and save time in the process.
In less than a minute you can create engaging videos with the Text to Speech solution and Text to Video converter.
With so many loaded features, Fliki's platform is changing the way content creators create.
Fliki is transforming the creative process, giving content creators an opportunity to explore new possibilities and unleash their creativity in ways never before thought possible.
Fliki.ai promises an experience like no other, and it's transforming the way creative content and captivating videos are created.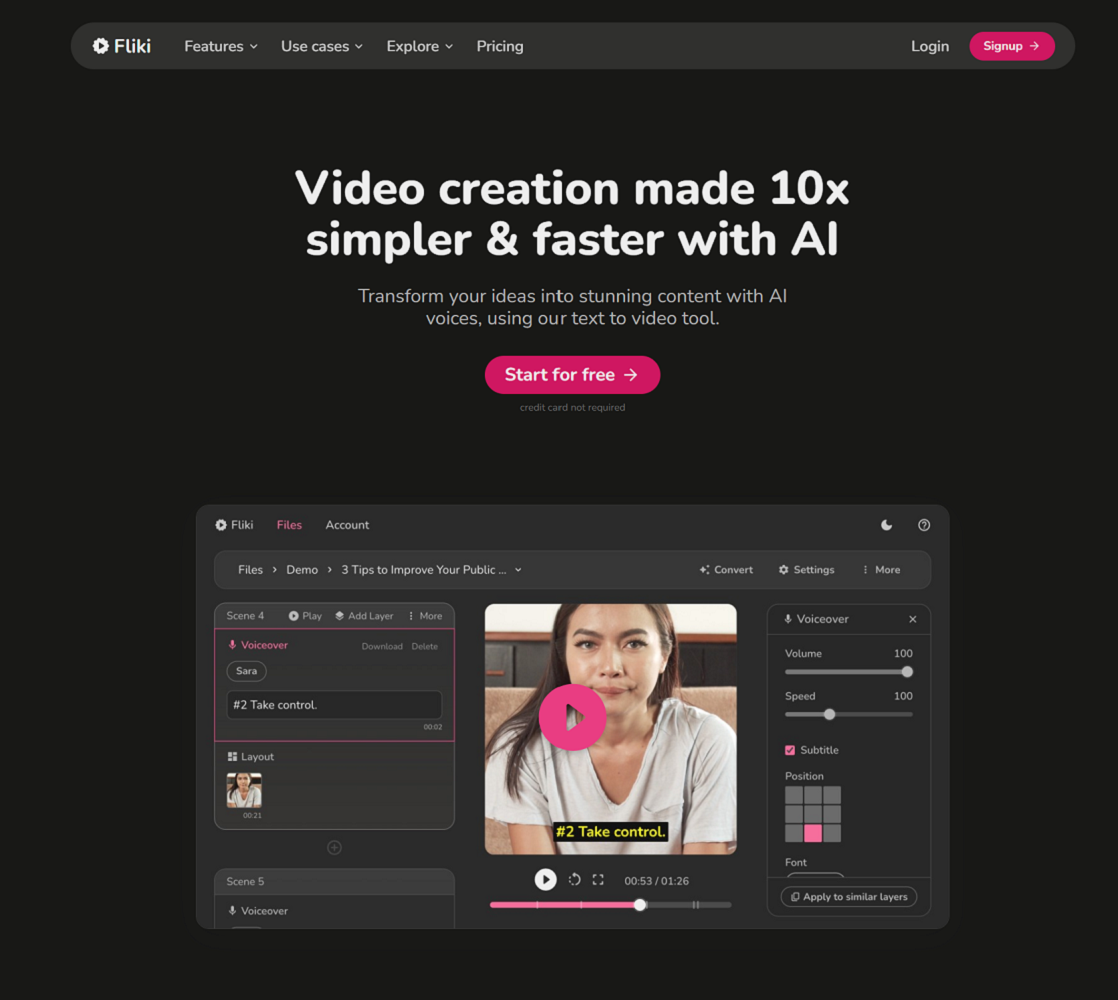 Fliki's Unique Features
Fliki.ai is not your average content creation tool.
It's an AI-powered companion designed to empower creators with cutting-edge technology.
Here are some of its standout features:
Fliki uses advanced algorithms to provide suggestions tailored to your content needs.
Whether you're crafting product descriptions or writing blog posts, Fliki.ai can offer relevant insights to enrich your content.
Automated Video Creation:
Fliki.ai eliminates the need for lengthy editing processes or complex animations, making it easier to bring your ideas to life.
You can create stunning visuals with ease and customize them to fit your brand's voice and aesthetic.
Produce amazing videos with just a few clicks using Fliki's AI voices.
You can transform your ideas into compelling videos in just four steps, and you don't even need to be a tech whiz.
Fliki.ai makes it easy for you to create localized versions of your videos with ease, enabling you to quickly reach a global audience.
Explore Fliki's vast collection of high-quality stock media to fulfill all your creative requirements.
Immerse yourself in the extensive library, brimming with millions of assets meticulously curated to elevate your video creations.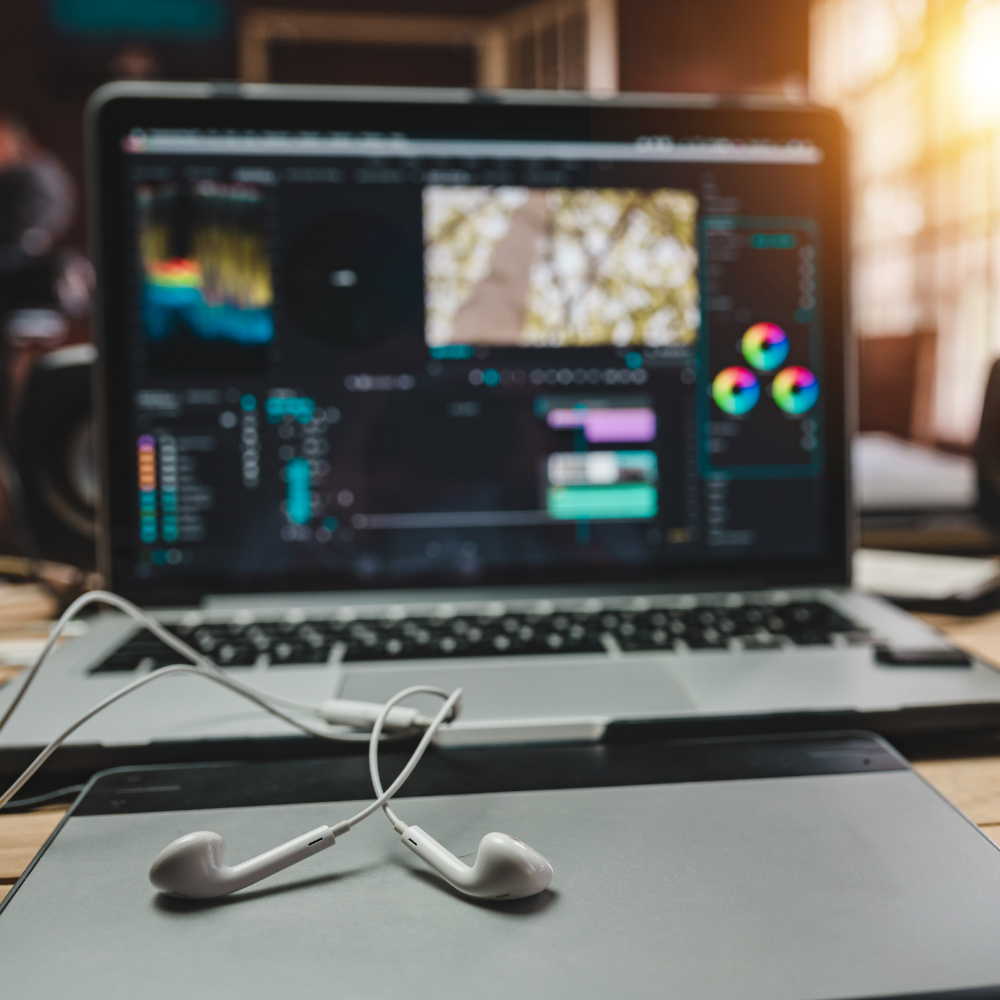 Leveraging Fliki for Stellar Content Creation
Fliki is helping creators take their content creation game to the next level with its powerful features and capabilities.
The tool makes it easier for you to create stunning visuals, customize them to fit your brand's voice and aesthetic, and produce amazing videos with AI voices in a fraction of the time.
Plus, you can maximize your productivity and reach a global audience with localized content.
Here's a step-by-step guide on how you can utilize Fliki to create compelling content:
Step 1: Start by inputting your text. This can be anything from a product description to a draft blog post.
Step 2: Choose your AI voice. Fliki.ai offers a range of AI voices, so you can select one that best fits your brand's style and tone.
Step 3: Let AI generate the media. Fliki.ai will then use your text to create a unique video complete with visuals and narration.
Step 4: Review and edit your content. You can adjust the images, tweak the script, or change the voice until you're satisfied with the result.
So, if you're looking for a helpful tool to make your work easier, check out Fliki and see the difference!
You'll be buzzing about it in no time! Start transforming your ideas into captivating visuals with Fliki AI - put this revolutionary tool to the test today!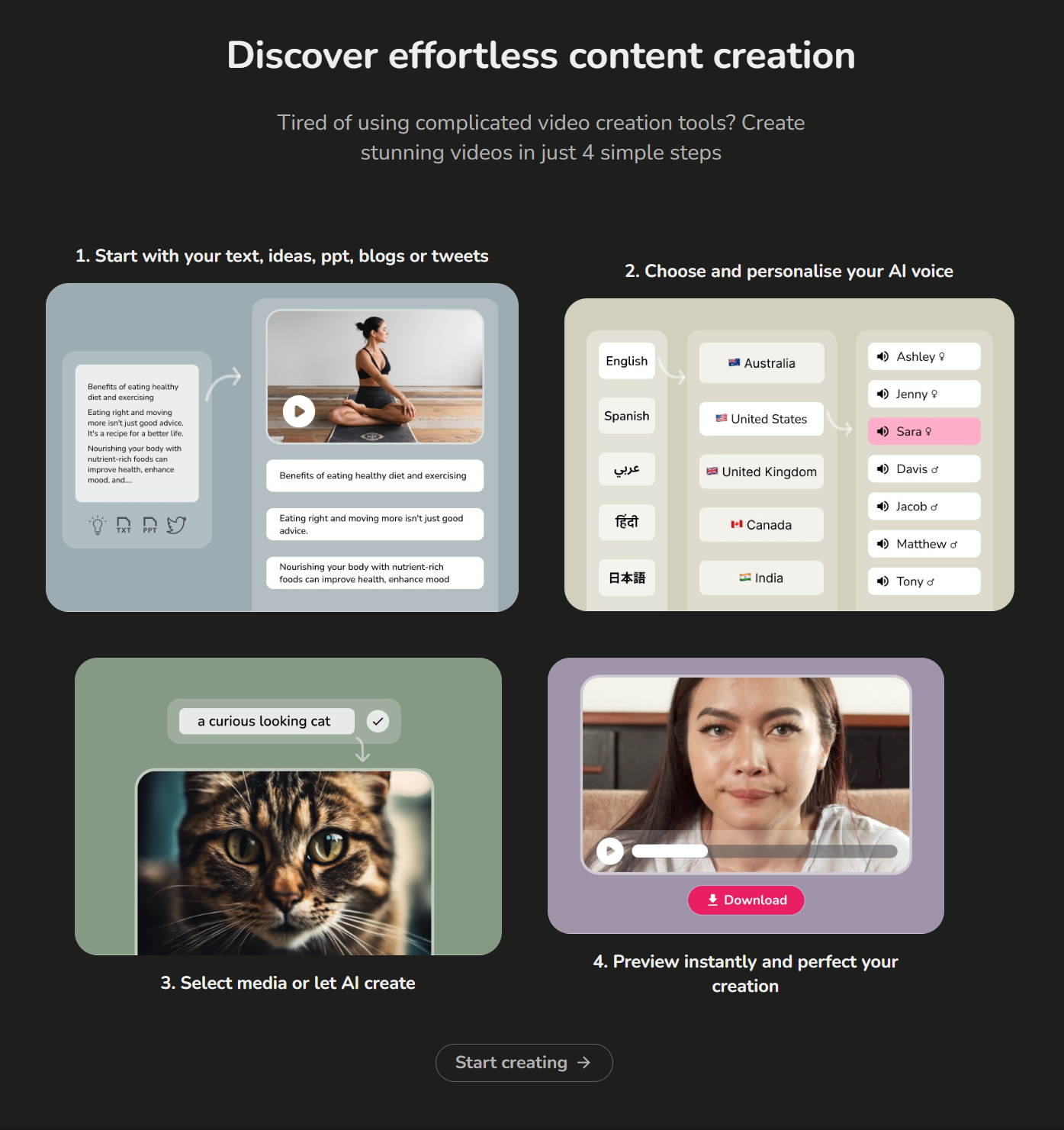 Unleashing the Power of Content Creation
Fliki is not just a productivity tool—it's a secret weapon for content creators.
It's a new way of thinking about art and creativity; it's a platform that's pushing boundaries, challenging conventions, and inspiring creators to think outside the box.
This powerful tool simplifies and accelerates the process of transforming ideas into stunning content.
With its AI-driven technology, it's revolutionizing the way content creators create, and by leveraging the capabilities offered by Fliki, you can quickly and easily craft captivating visuals.
By harnessing its innovative features, you can create content that not only stands out but also drives engagement and visibility.
As more and more creators discover the benefits of Fliki AI, we're likely to see even more creative output and innovation in the art world.
So, why wait?
If you're looking for a helpful tool to make your work easier and maximize your productivity, give Fliki.ai a try today and see the difference!
It's time to take control of your creative process, explore new possibilities, and put this revolutionary tool to the test; you won't regret it!
Dive into the world of Fliki and unleash your creative potential today!
Happy creating!
👩🏻‍🎨
If you're ready to start creating your own media content, head over to
Fliki
!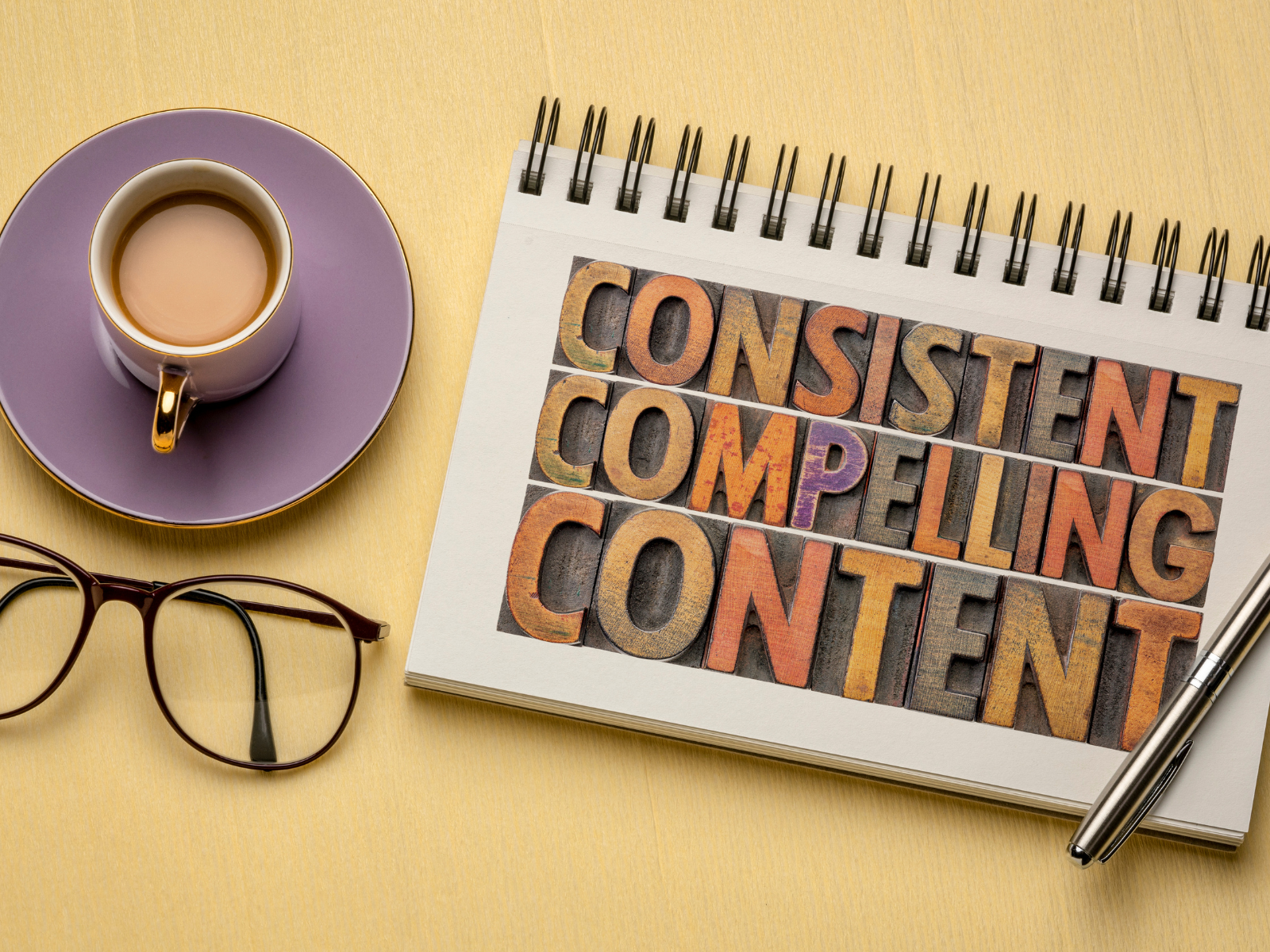 Eager to learn more about this powerful AI tool? Check out Studio Hacks' video review!
Want even more content about creativity and art?
Be sure to check out all of our creative chronicles!
Interested in tapping into your creativity for content creation?
Check out some of our other articles: