Hello, all you craft enthusiasts and DIY mavens!
Are you looking for a creative, stylish way to express your artistry?
Ever found yourself drooling over those super chic crochet bags that are all the rage right now?
Look no further than the fabulous world of crochet!
Crochet is an incredibly versatile craft and its infinite possibilities can add real pizzazz to any wardrobe - why not take it up a notch with your very own custom-made crochet bag?
Not only can you create something that is totally original and unique to you, but you can also make it in a variety of fashionable colors.
Get ready for some serious fabulousness; with just some basic material and the concept of using yarn, stitches, and your imagination together now you can design your very own fashionable accessory.
There's nothing like carrying around an eye-catching bag created with your own two hands -- so why not try out crochet today and see what amazing designs you can come up with?!
We'll walk you through all the basics of crocheting so even if you are new to crafty arts, these crochet tips will help get started artfully creating a beautiful bag for yourself or be the envy gifting of friends.
With our help along the way, we'll show you how to transform simple supplies into an incredible work of fashion art.
Whether you're a beginner or a seasoned crafter, by the end of this post, we guarantee that everyone will be angling for an invitation to add these fabulous handmade items to their wardrobe!
So, pull out those crochet hooks, power up those ideas, and let's see what unique creation emerges!
Read on to learn more about creating your very own stylish crocheted bag!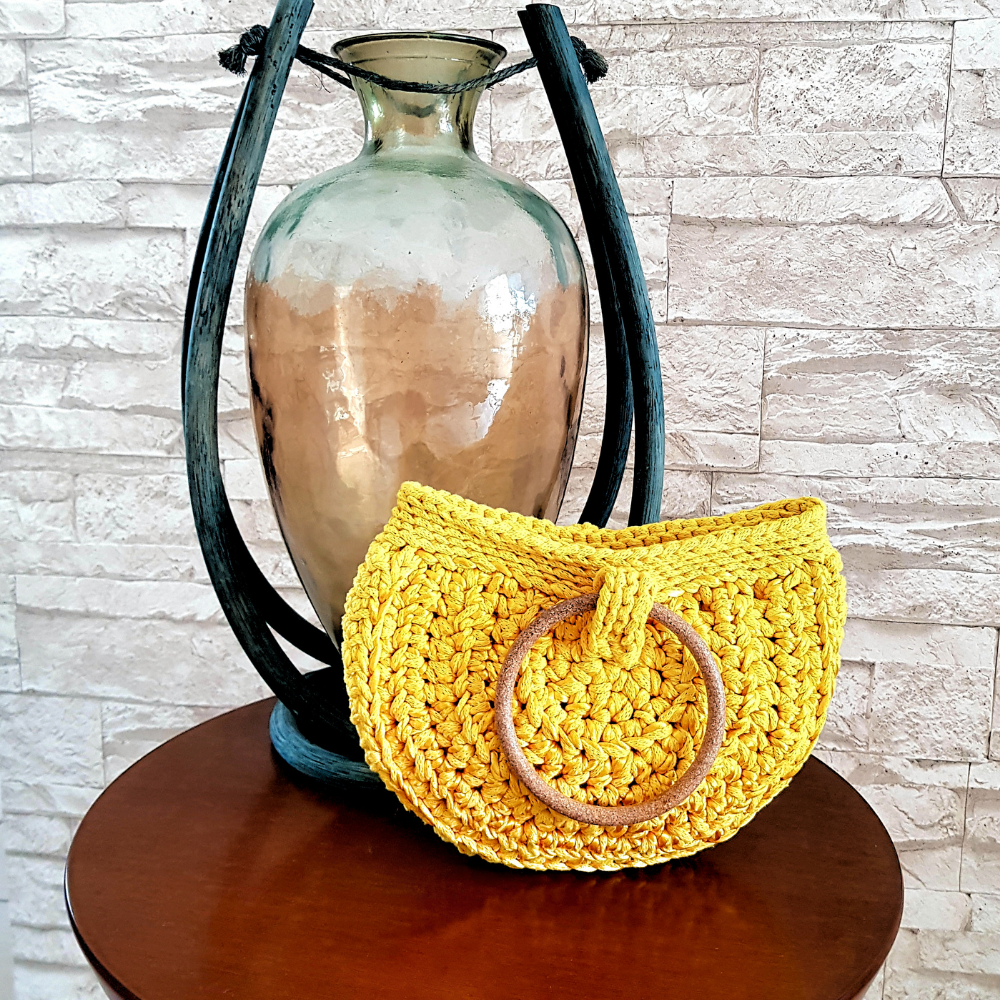 The Hook on Crochet: A Stitch in Time
Crochet is an art form that has stood the test of time, evolving from a humble home craft into a sophisticated fashion and décor trend.
It is a versatile and enjoyable craft that has been passed down through generations.
The art of crochet dates back centuries, with roots spread across Europe, South America, and Arabia.
It was originally used to create fabrics for clothing and household items in regions such as Egypt, South America, and China.
It wasn't until the 19th century that crochet began to be used for decorative purposes.
Today, crochet is popular among artists of all skill levels and continues to be a versatile craft.
From blankets and scarves to garments and accessories, the possibilities are endless.
One popular item that can easily be created through crochet is a stylish bag.
In recent years, crocheted bags have taken center stage in the fashion world, offering a blend of style, sustainability, and individuality.
Not only is it a practical addition to your wardrobe, but it's also a fun project for anyone looking to get creative with a hook and yarn.
Crochet bags, initially used for practical purposes, became a fashion staple in the 1960s and 70s when boho-chic was all the rage.
They reemerged in the 90s with the grunge trend and are currently enjoying a resurgence as part of the sustainable and slow fashion movements.
Notable designs that have shaped the industry include the classic granny square bag, the boho-inspired drawstring pouch, and the intricate lace clutch.
You can find crochet bag patterns in all sorts of styles, from classic to modern, tote bag designs to crossbody bags!
Each design highlights the versatility of crochet, providing endless inspiration for your own creations.
Modern crochet bags are a great way to add a unique, handmade touch to your wardrobe.
So, are you ready to get crocheting?
Let's dive in and learn more about creating your own stylish crochet bag!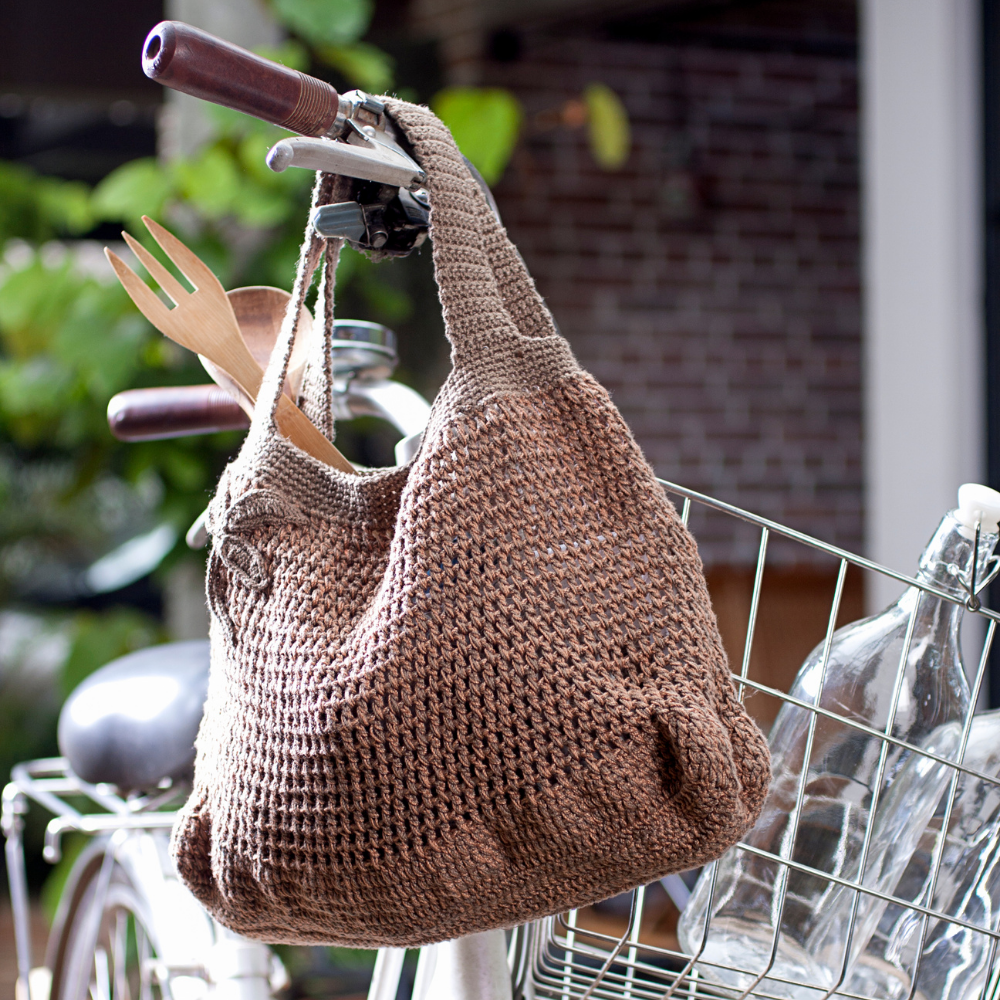 Gathering Supplies: The Crochet Starter Pack
No matter which style of crochet bag you choose to make, the supplies list will remain fairly consistent.
The most important items would be your hook and yarn.
Most crochet projects will require a medium-weight yarn such as worsted, aran, or DK.
You can use any type of fiber you'd like, but for bags we recommend acrylic or cotton blends that are machine washable.
The size of the hook will depend on the project, however, most crochet bags will require a size G-6 (4mm) or H-8 (5mm).
Before you embark on your crochet journey, you need to gather the right tools.
Here's what you'll need:
Yarn comes in all sorts of weights, textures, types, and colors, ranging from lightweight thread to bulky yarn.
Cotton or wool yarn are great choices for bags due to their durability.
The color and texture are entirely up to you – let your creativity shine!
You can find yarn at your local craft store or online.
The size of the hook will depend on the weight of your yarn.
A good rule of thumb is to start with a medium-sized hook and adjust as needed.
The type of hook is also important – if you are using a yarn with a tighter twist, opt for an inline hook.
If the yarn has a loose twist, use a tapered hook.
A tapestry needle will help weave in your tails and neaten up any loose ends, and you'll want a yarn needle to weave in ends and attach your straps.
These are optional but can be helpful for marking the beginning of rounds or complex stitch patterns.
You'll need scissors to cut the yarn when you are finished crocheting.
You might also want to pick up a crochet bag pattern, ranging from market bags to drawstring backpacks, and patterns will provide you with detailed instructions for creating your own bag.
Some websites will even provide free crochet bag patterns and more free crochet patterns, tutorials, and tips for a variety of projects.
Once you have all your materials gathered together, you can get started on creating your very own stylish crochet bag!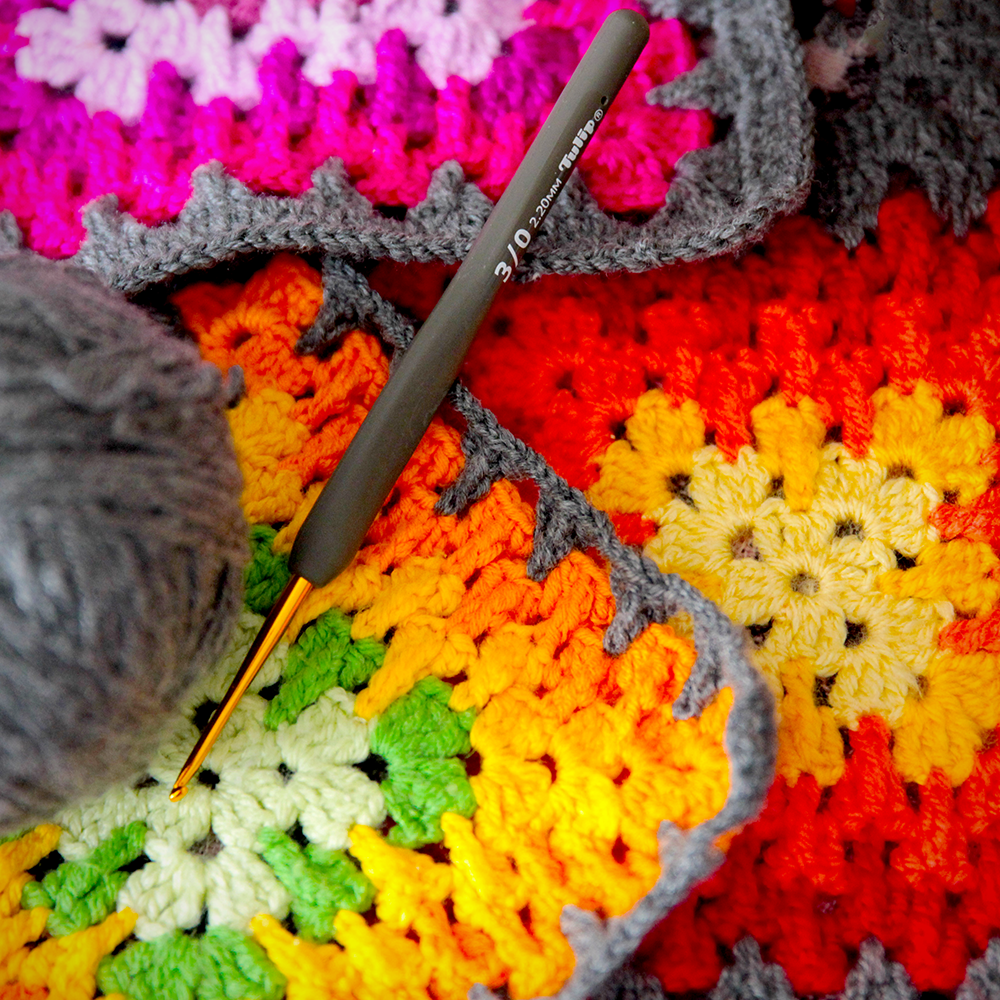 The Art of Crochet: Stitches and Techniques
There are numerous crochet stitches out there, but don't fret!
We're starting with the basics. If you can master the chain stitch, single crochet, and double crochet, you're well on your way to becoming a crochet superstar.
Even if you're a beginner, you can create a beautiful crochet bag by mastering just a few basic stitches:
Chain Stitch: This is the most basic crochet stitch and forms the foundation of your work.
Single Crochet: This is the simplest stitch that creates a dense, tight fabric – perfect for sturdy bags.
Double Crochet: This stitch is taller and looser than the single crochet, adding variety to your texture and design.
Half-double Crochet: This is a combination of the chain stitch and the double crochet, creating a slightly looser fabric than single crochet.
Slip Stitch: This is the smallest stitch and is used to join rounds or to add texture.
Once you have mastered these basic stitches for an easy crochet bag, you can build on them to create more complex patterns for your crochet project.
Crocheting a bag starts with the basics: learning how to hold the yarn and hook correctly.
This will give you greater control over your stitches, which is essential for making neat and even projects.
From there, you can move on to forming the base of your project, such as a circle or rectangle.
Once you've established the foundation, it's time to add some texture and flare!
From there, you can choose from a variety of stitches to create beautiful patterns and designs.
With each stitch, you'll need to practice tension control and keep your stitches even for a neat finish.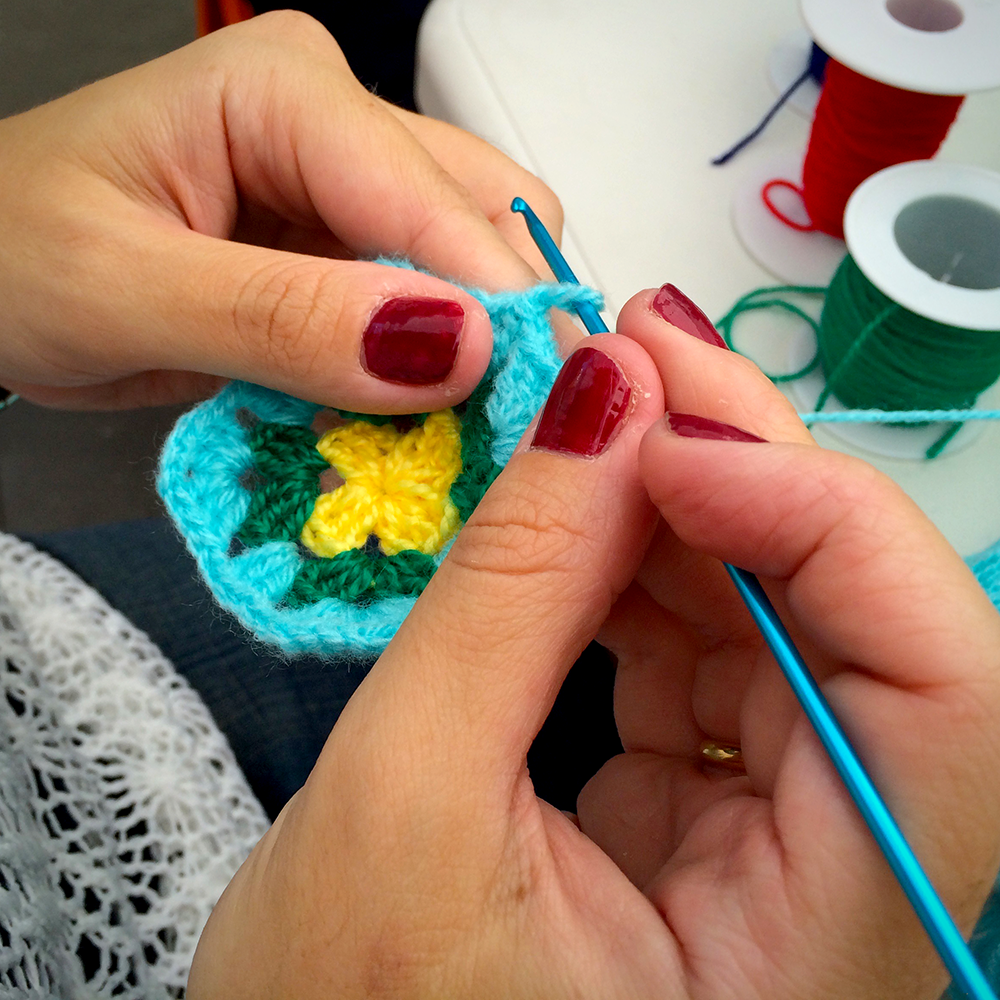 Creating Your Masterpiece: Let's Get Stitching!
Now that you're familiar with the basics, let's dive into creating your very own crochet bag.
The first step in creating your crochet bag is to choose the type of bag you want to make.
There are many different styles, including tote bags, wristlets, shoulder bags, and backpacks.
Once you've decided on the style of the bag, you can start selecting the yarn and hook you want to use.
You can use any type of yarn, but we recommend choosing a yarn that is durable and easy to work with.
After selecting your yarn and crochet hook, you're ready to start crocheting your bag.
Depending on the style you've chosen, the pattern will vary.
Some bags may require crocheting in the round while others may be worked in rows.
For beginners, we recommend starting with a simple pattern and working your way up to more complex designs.
Start by chaining stitches until you reach your desired width.
This will form the base of your bag.
Then, work your way up by adding rows of single or double crochet stitches, and remember to count your stitches in each row to keep your work even.
Want to add some flair?
Mix things up by adding color transitions, patterns, or even tassels and fringes; this is where you can really let your personality shine.
Add stripes, polka dots, or even a granny square pattern.
The world is your oyster, or in this case, your bag.
Once you finish the crocheting, it's time to add your finishing touches.
The beauty of crochet is that you can get creative with the final touches.
You can add embellishments such as buttons, beads, tassels, and pom-poms.
Additionally, you can line the inside of the bag with fabric for added durability and to give it a more professional finish.
Choose a closure such as a drawstring, snap, or zipper and attach straps for convenience.
Of course, a bag isn't a bag without some sort of handle or strap.
You can create a simple strap with a long chain stitch or get fancy with a braided or beaded one.
Once you're done, sew it onto the bag and you've got a unique fashion piece that is all your own!
Finally, weave in all your loose ends with a tapestry needle to give it a neat finish.
Now your masterpiece is complete!
All that's left to do is show off your stylish new bag and be proud of your creative achievements.
Crocheting can be a great way to express yourself through fashion, and it's sure to add some real pizzazz to any look!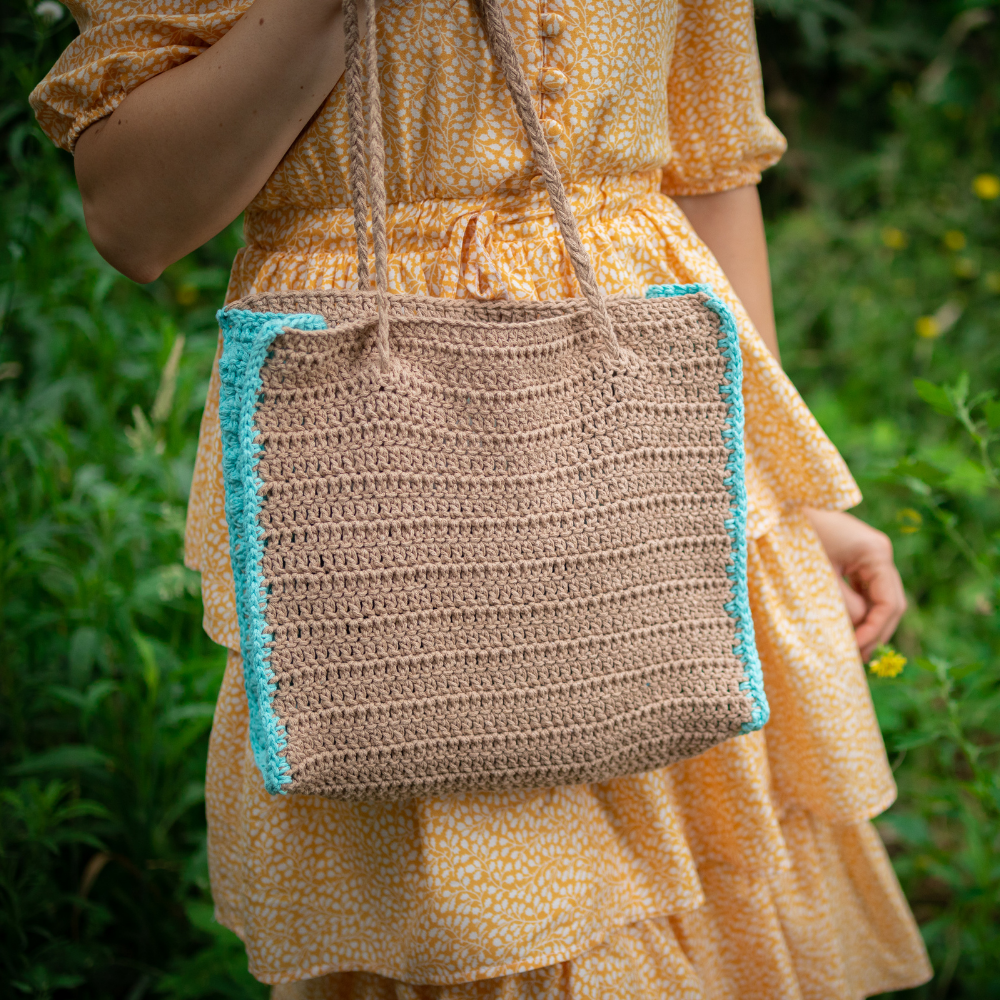 Tips and Tricks for Successful Crocheting
Unsure of where to start?
Here are some additional tips and tricks to help you along your crochet journey.
Keeping a consistent tension in your yarn will ensure your stitches are even and your final product is symmetrical.
Start with Simple Patterns:
Don't be intimidated by complex patterns; start with something basic like a granny square or single crochet.
This will help you get familiar with the basics before attempting more difficult projects.
Don't be discouraged if your first few attempts don't turn out perfect; keep practicing and you'll see improvement.
Don't be afraid to experiment with different designs, stitches, and colors.
The beauty of crochet is its versatility and the ability to truly make something your own.
Make sure you know what kind of yarn and hook to use for your project because this will determine the size, texture, and overall look of your bag.
The wrong supplies can lead to uneven stitches or a crooked final product.
Crocheting can be an intense activity that requires a lot of concentration; don't forget to take breaks in between!
Remember, crocheting is meant to be relaxing and fun.
So, don't stress if something doesn't turn out the way you expected.
Embrace the imperfections and enjoy the process!
Remember, the joy of crocheting is not just in the end product, but also in the process.
It's a wonderful way to express your creativity, relax, and even meditate.
So, pick up that hook and let's get crafting!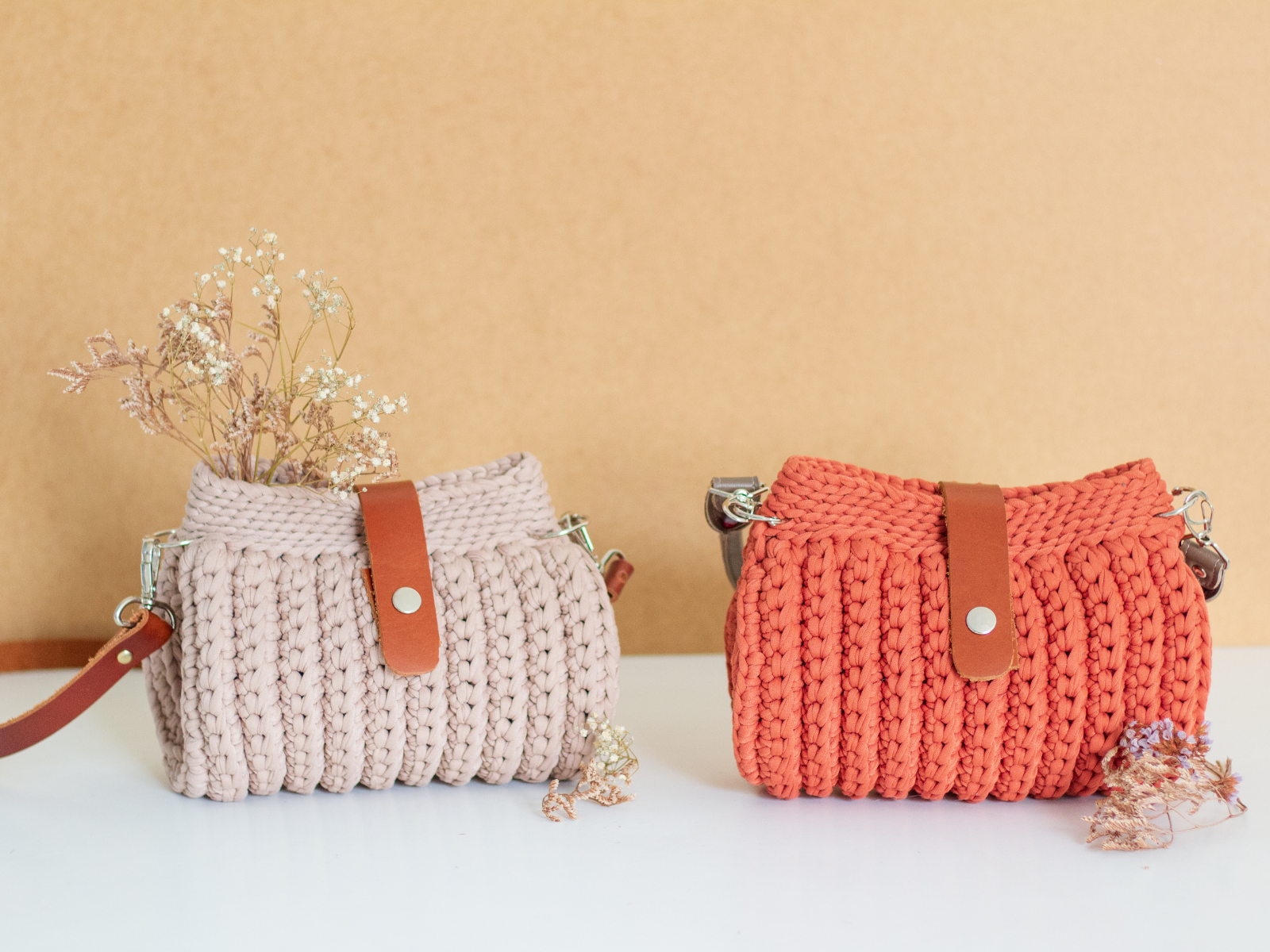 Stitching Up Your Crochet Bag
Creating your own crochet bag is not just a fun project but also an outlet for self-expression.
It's a testament to the fact that with a little yarn, a hook, and some patience, you can create something beautiful, functional, and uniquely yours.
Crafting your own crochet bag is a relaxing and fulfilling experience, allowing you to explore your creativity and make something special for yourself or a gift for someone else.
Whether you're a seasoned crocheter or a beginner, there's a bag style and pattern out there for everyone, and the art of crochet is open to all with the right supplies and attitude.
We hope this blog post has inspired you to pick up a hook and yarn and start creating your very own unique and stylish crochet bag.
Remember to have fun and get creative with your design; the possibilities are endless, and each stitch is a step towards creating your masterpiece!
And if you mess up?
It can be a happy accident and a great opportunity to learn something new!
After all, it's not just about the bag, it's about the journey.
No matter what, you can rest assured that your crochet bag will be one-of-a-kind.
Each stitch is unique in its own special way, and no two bags will ever look alike.
So, what are you waiting for?
Pick up that hook and let's get crocheting!
Happy crocheting, folks!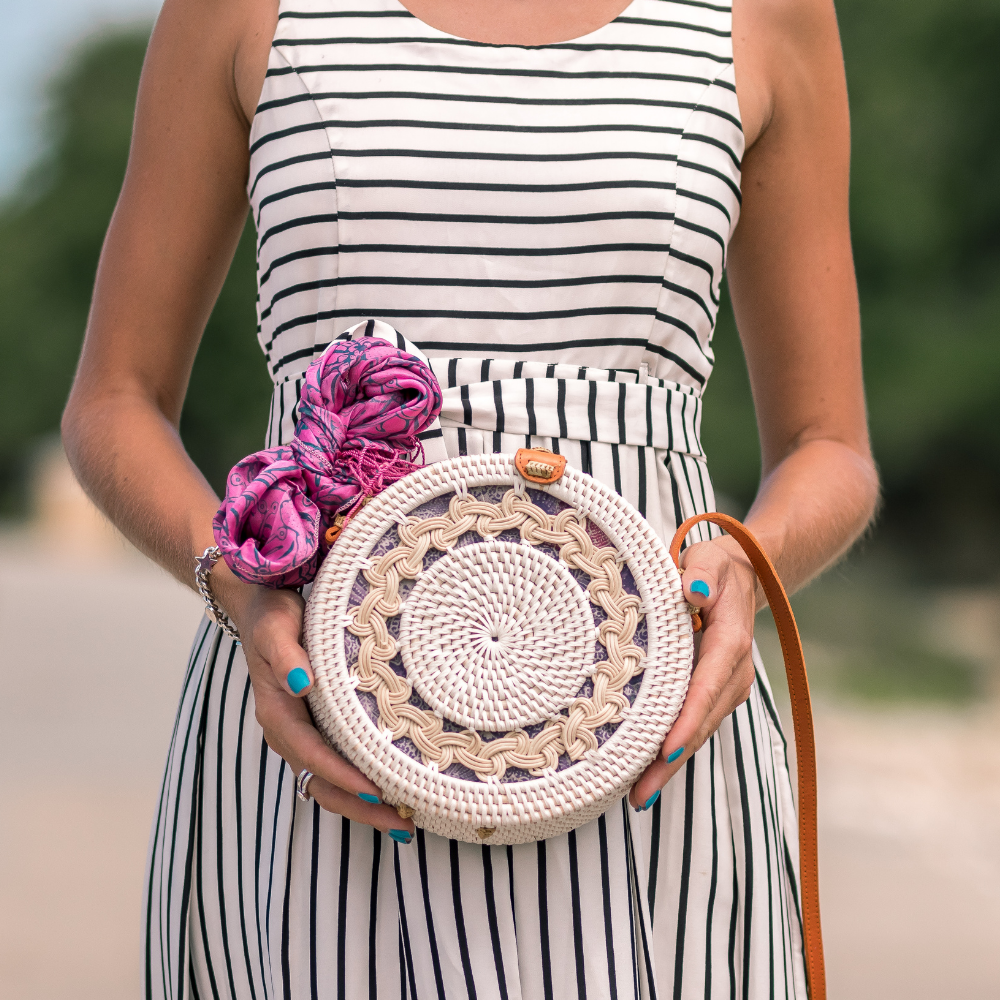 Ready to start crocheting your next bag? Check out Day la Hanh's video tutorial!
Want even more content about creativity and art?
Be sure to check out all of our creative chronicles!
Interested in crocheting?
Check out some of our other articles:
-Difference between knitting and crochet