Are you looking to add some new pizzazz and personality to your accessories?
If you love crafting and creating unique items, then the magical world of beading is just waiting for you.
Beaded bags, also known as purse beading, is a timeless art that continues to gain popularity with time.
Just as the name suggests, beaded bags are bags adorned with colorful beads woven together to create a mesmerizing pattern.
Beaded bags have been a staple in women's fashion for centuries, and they're an expression of creativity, craftsmanship, and cultural heritage that has stood the test of time.
While some people may view beading as an intimidating craft, it's a rewarding pastime that brings out your creativity and allows you to express your individuality.
From shimmering evening bags and chic handbags to intricate embroidered backpacks and fun-and-frilly crossbody purses, the creative possibilities that come with beaded bags are endless – whatever style of bag you dream up can come alive with beading!
Not only can creating these masterpieces be a lot of fun, it's also an incredibly fulfilling experience, too, which makes them the ideal statement piece for your wardrobe.
With plenty of different colors, shapes, and sizes available to choose from, the possibilities for your bag designs are truly endless.
Whether you're new to jewelry making or have been experimenting with it for years, these beautiful beaded bags will certainly challenge your skills – but we promise it'll be worth it!
Armed with some materials and patience, who knows what brilliant designs can emerge from your open mind as we dive into the world of beaded bags, full of history, techniques, and tips.
So let's dive into the un-bead-lieveable world of amazing bead-work and explore the magical world of crafting beaded bags together!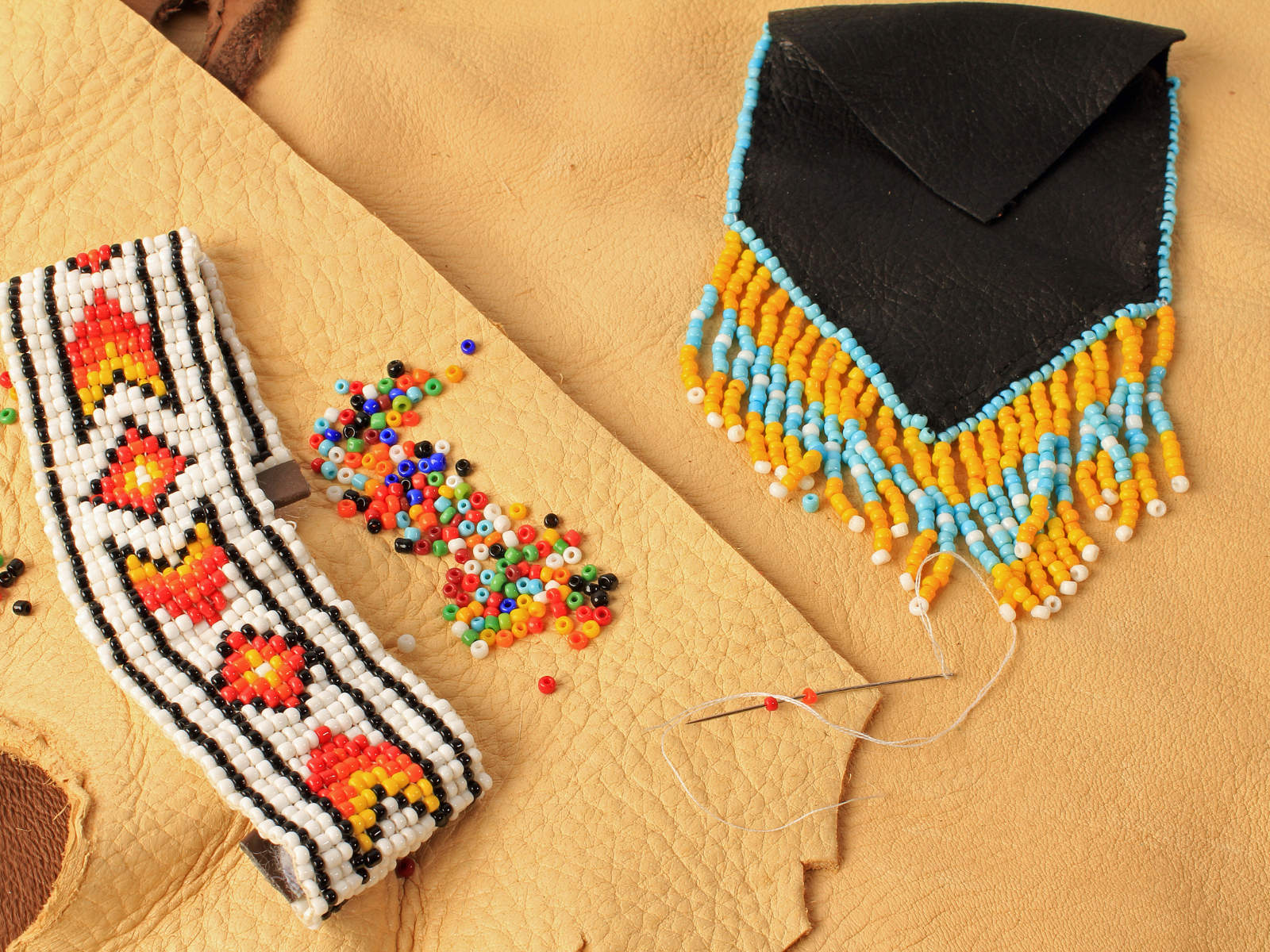 A Stitch in Time: The History of Beaded Bags
We've come a long way since the prehistoric times when people wore beads made from bones and shells.
Ranging from a beaded clutch or beaded handbag to a ready-to-wear shoulder bag, beaded bags have a rich history spanning different cultures and generations.
These fashion accessories have been around since ancient times in Africa, the Middle East, Europe, and Asia.
Beaded bags were used to express social status and commemorate major events or victories – from henna-inspired decorative beadwork to intricate beaded patterns found on traditional Native American dress.
The use of intricate beadwork can be traced back to the Victorian era, when women began using elaborate designs for their fashionable
As time went by, beaded bags gained popularity among the wealthy, and artisans began incorporating beading into fashion accessories.
As the world became more mobile, women needed a practical yet stylish way to carry their essentials, thus the beaded bag was born.
From France, Austria, Germany, Italy, Belgium to Czechoslovakia, each country added its unique touch to the designs.
In the early 1800s, the reticule, a small handbag, often embellished with beads was the height of fashion.
Between 1820 and 1830, beaded bags supported by metal frames came into vogue.
In the early 19th century, European traders brought colorful glass beads to the Plateau region between the Cascade and Rocky Mountains, leading to the creation of indigenous patterns of Native American tribes.
Fast forward to the 1920s, the era of flappers and jazz, where beaded bags became a roaring sensation.
From the ornate designs of Europe to the indigenous patterns of Native American tribes, beaded bags have woven their story into the fabric of cultures worldwide.
In the 1920s beaded bags were all the rage and were carried by women to social events; they continued to sparkle through the flamboyant flapper era, carrying the exquisite designs of the period.
Today, beaded bags are experiencing a revival; they've become a favorite among fashion influencers and style icons, adding a touch of vintage charm to modern outfits.
Whether paired with a casual day outfit or an elegant evening dress, beaded bags can instantly elevate your look.
Moreover, the art of beading has inspired other accessory trends.
From beaded jewelry to beaded hair accessories, the influence of this age-old craft can be seen everywhere in the fashion world.
Nowadays, beaded bags are considered stylish fashion accessories that come in various shapes, sizes, and colors.
From simple to extravagant, they come in a range of styles, making them the perfect accessory for any outfit.
Their versatility makes them suitable for casual looks as well as formal occasions – the choice is yours!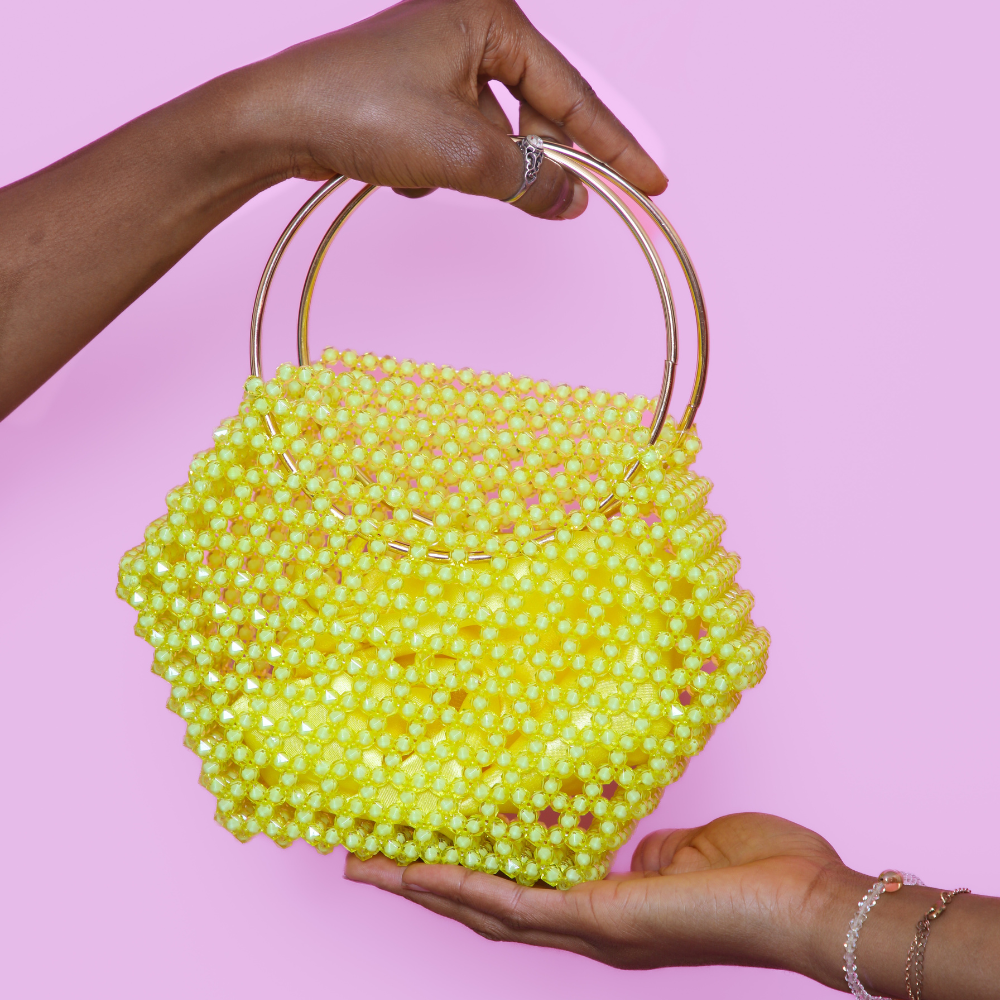 The Art of Beading: Techniques
Creating a handmade beaded bag is nothing short of creating a piece of art.
It involves careful selection of beads, threading them into a pattern, and then painstakingly attaching them to the fabric of the bag.
Beads are like the chameleons of fashion; they can be made from glass, wood, plastic, metal, clay, or even precious crystals and gems, like pearls.
Depending on the choice of beads, it can significantly influence the look and feel of the bag; they can either make your bag look like a million bucks or a cute DIY project.
Depending on the design and the type of bead used, bags can either exude an aura of luxury or a charming rustic appeal.
The beading techniques used can also add to the texture and style of the bag.
Beaded bags can be made using different types of beading techniques; flat peyote, square stitch, loom weaving, and brick stitch. are some of the most popular techniques.
Brick stitch and square stitch involve stitching beads together to create a brick-like pattern.
Loom beading involves weaving beads on a loom, while peyote stitch involves stitching beads together in a zigzag pattern.
Each technique has its unique style, and you can explore them to find what works best for you.
Regardless of the beading technique you choose, it is important to understand each step properly before moving on to the next one.
When starting with beading techniques, you should start with simple designs.
Once you have mastered these basic techniques, you can then move on to more complex designs and patterns that will help add texture and dimension to your bag.
You should also be mindful of the color combinations and the use of contrast to make your beaded bag stand out.
As you create your beaded bag, you can use embellishments such as tassels and charms to add character and personality to your bag.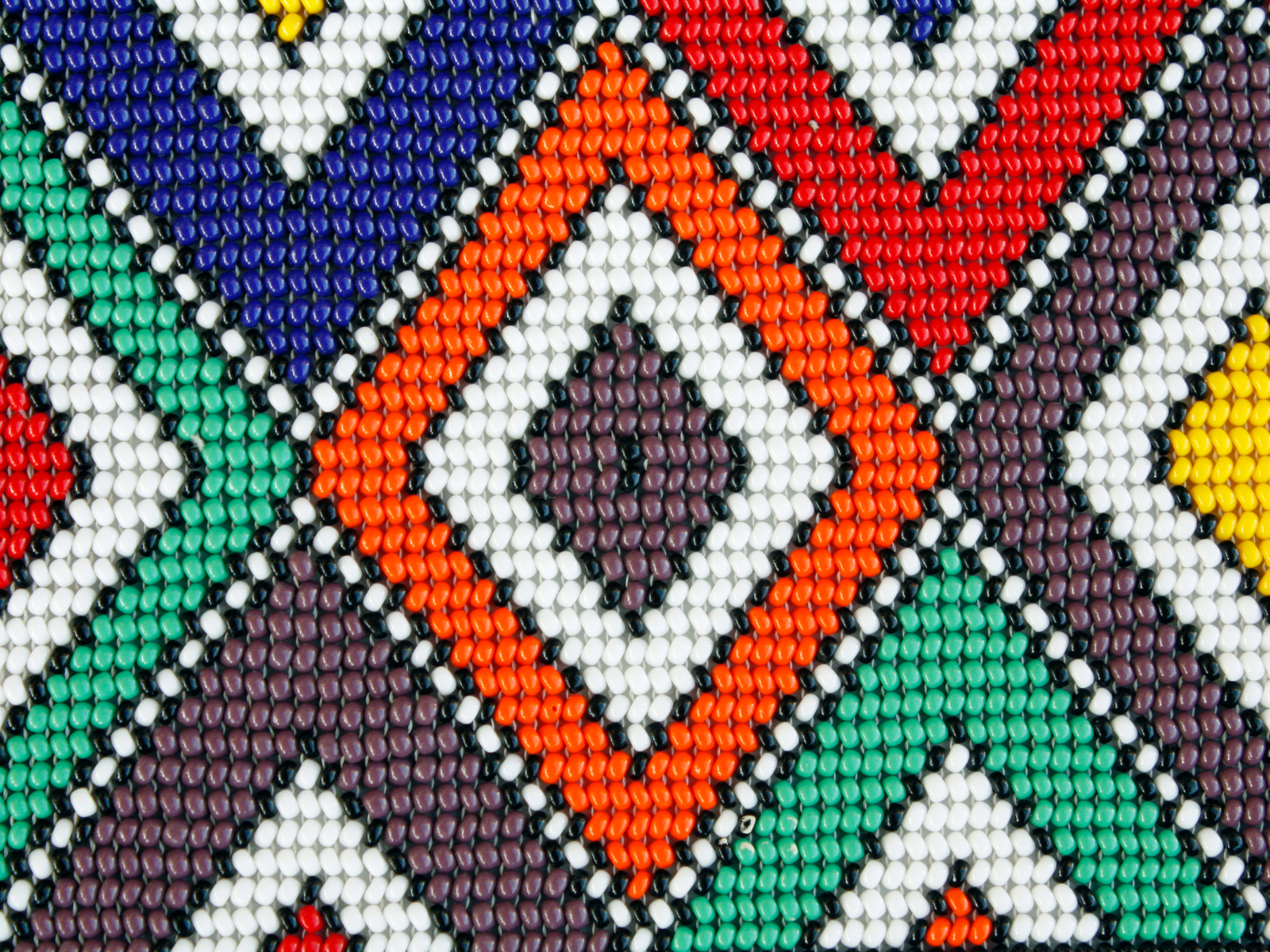 Bead-azzling Your Own Bag
Let's get down to business.
The materials used to make beaded bags vary and include beads, thread, needles, and a beading loom, depending on the method you choose.
You'll find that there are different types of beads to choose from, such as seed beads, glass beads, and crystal beads.
Seed beads are the most common type of bead used to make beaded bags, and they come in various sizes and colors.
For those looking to create their own beaded bags, check out local craft stores or online platforms like Amazon and Etsy because they offer a wide variety of beads and beading supplies to choose from.
The type of thread you use can also make a difference in the outcome, as some threads are stronger than others.
When choosing your thread, it's important to consider the weight and size of the beads, as well as the design of your bag.
The choice of fabric is also essential when making beaded bags.
Since beads are heavy, a sturdy fabric is necessary to support them.
Canvas works well for this purpose; however, you can also use suede or leather.
You may also want to consider adding padding such as foam or felt if the bag is meant to be carried by hand.
If you haven't already done so, it's important to sketch out your design before you begin beading.
This will give you a better idea of how your bag is going to look and whether the beads will fit snugly together.
Once you have all the materials ready, it's time to start beading!
Here's a step-by-step guide on how to create your own beaded bag.
Choose Your Beads and Pattern: Get creative here; mix different types of beads, play with colors, and create a design that speaks to you.
Get a Loom: A bead loom is essential for weaving your beads together because it keeps your beads in place while you work your magic.
Start Beading: Thread your needle and start beading according to your pattern; this process can be time-consuming, but hey, Rome wasn't built in a day!
Finish Off: Once done, remove your work from the loom and sew the edges together, and voila--your beaded bag is ready!
Remember, patience is key.
Beading can take a lot of patience and practice, so don't be discouraged if it takes a bit of time to perfect.
Most importantly, have fun with it – the more creative you are, the more unique your bag will be!
When your beaded bag is complete, don't forget to show off your fabulous creation!
There's always something satisfying about seeing the finished product come together after days of hard work.
So, go ahead and flaunt your beaded bag – you deserve it!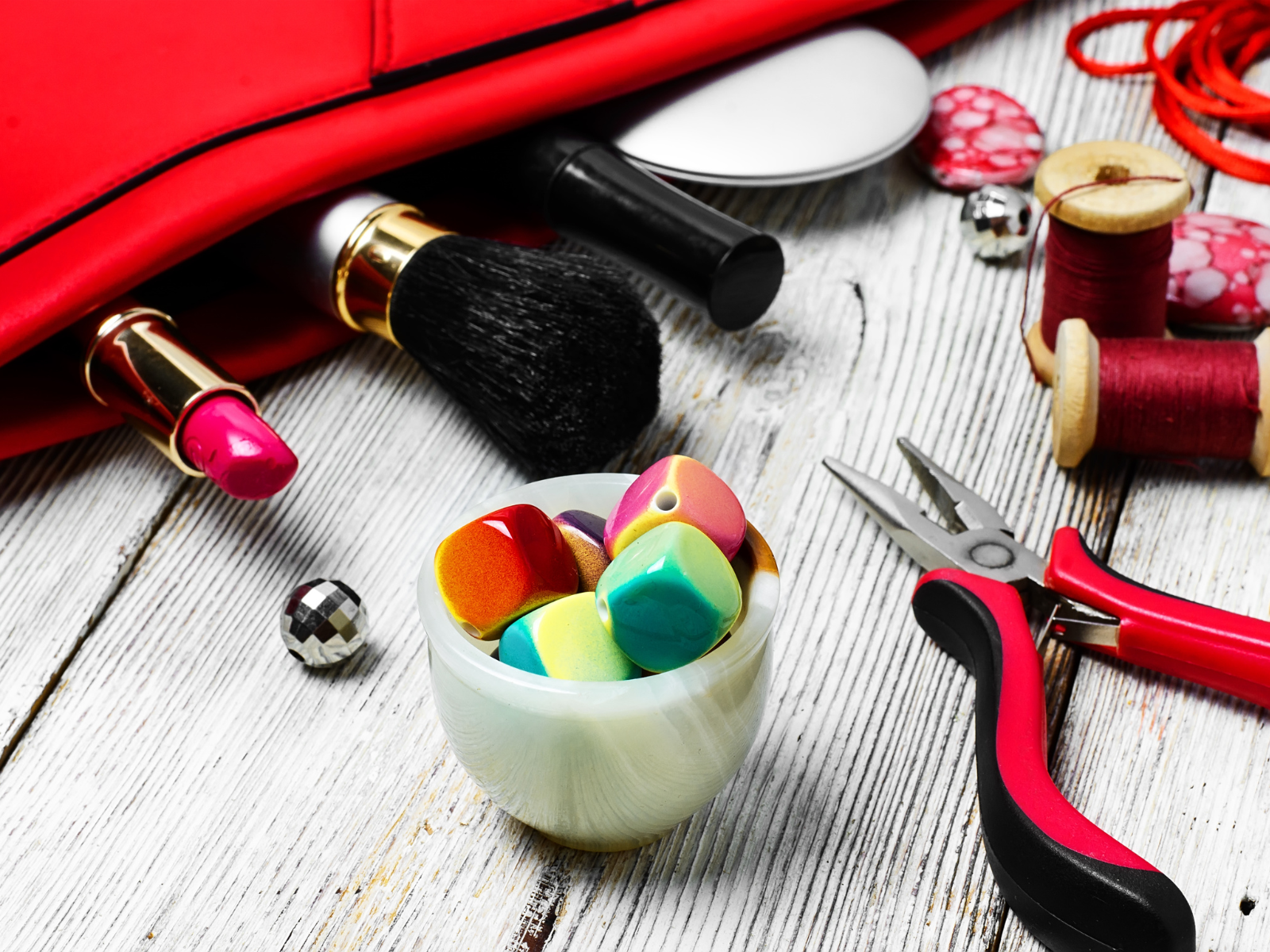 Beading Tips and Tricks
You don't need to be part of a team of designers to create stunning bags sold by the big brands; you can create your own one-of-a-kind beaded bag with a few tips and tricks.
No matter what beading technique you choose, there are a few things to remember.
Here are a few tips to help you get started with beading:
Start with simple designs and work your way up as you gain more experience.
As a beginner, it's crucial to have the right tools, such as a bead mat, to prevent beads from rolling off.
Choose good quality beads for the best results.
Choose the right thread – preferably nylon or cotton threads as they are stronger than other types of threads.
Measure everything out before starting – this will help avoid any costly mistakes.
When designing your pattern, consider the size and weight of the beads you are using to ensure that it can support them.
Use bead boards to keep your design organized and easy to follow.
Choose beads that will complement each other in terms of color and size; this will give you a nice contrast and an eye-catching design.
Work in a well-lit space to avoid eye strain and invest in good quality threads and needles.
The more intricate your design, the longer it will take to assemble; don't be discouraged if it takes some time!
When you're working on a pattern, it's essential to keep track of your progress to avoid missing out on a step.
Take your time and be patient; this is key if you want to create beautiful pieces of art that will last for years.
Be creative and don't be afraid to experiment with different techniques or materials – the possibilities are endless when it comes to creating beaded bags!
Have fun with the process – beading is like a form of meditation, so don't forget to enjoy it.
Now that you have some tips on how to make your own beaded bag, let's get creative and start crafting!
Feel free to experiment and even include fun features like zippers or pockets – it's all up to you!
Now that you know the basics of beading and have some useful tips, it's time to make something truly special; you can even sell your creations for a nice price!
Good luck with all of your beading projects, and don't forget to share them with us on social media for a chance to be featured!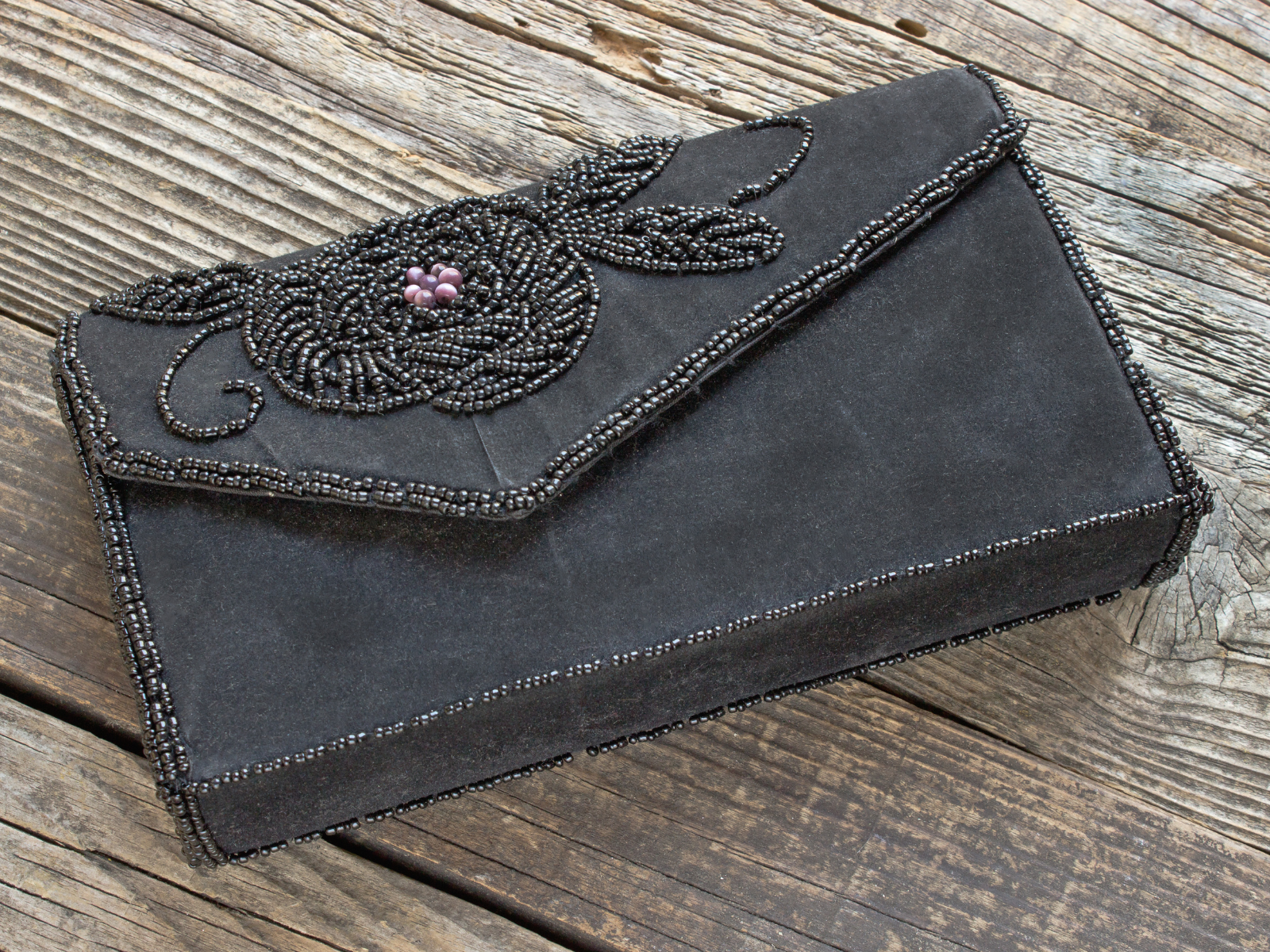 A Bead-azzling Future
Beaded bags have been around for centuries, but their popularity continues to rise today.
Whether you're looking for a unique accessory for a night out or an extra source of income, this craft can open up new horizons – the limit is your imagination!
Beaded bags are more than just accessories; they're a testament to human ingenuity and craftsmanship.
From intricate patterns to unique designs, beaded bags offer an opportunity for endless creativity.
No matter if you're wearing one or a designer making one, remember - each bead carries a piece of history and a whole lot of love.
If you feel inspired and want to add a touch of glamour to your wardrobe – or even just some extra sparkle! – then beading is definitely something worth trying.
Plus, it's also a great way to relax, express your creativity, and create something unique.
Creating a beaded bag requires patience, creativity, and a good eye for detail.
But worry not - with the right techniques, materials, and tips, you can make a beautiful and artistic beaded bag that will turn heads wherever you go.
Beaded bags are an excellent way to showcase your fashion sense, and they make excellent gifts for loved ones.
Whether you're a beginner or an experienced beading enthusiast, explore the endless possibilities of beading and create a bag that's uniquely yours.
Let your creative side run wild and embrace the magic of beading!
Who knows - you might just have a bead-azzling future ahead of you!
So, go ahead: bead bold, bead beautiful, and, most importantly, bead yourself!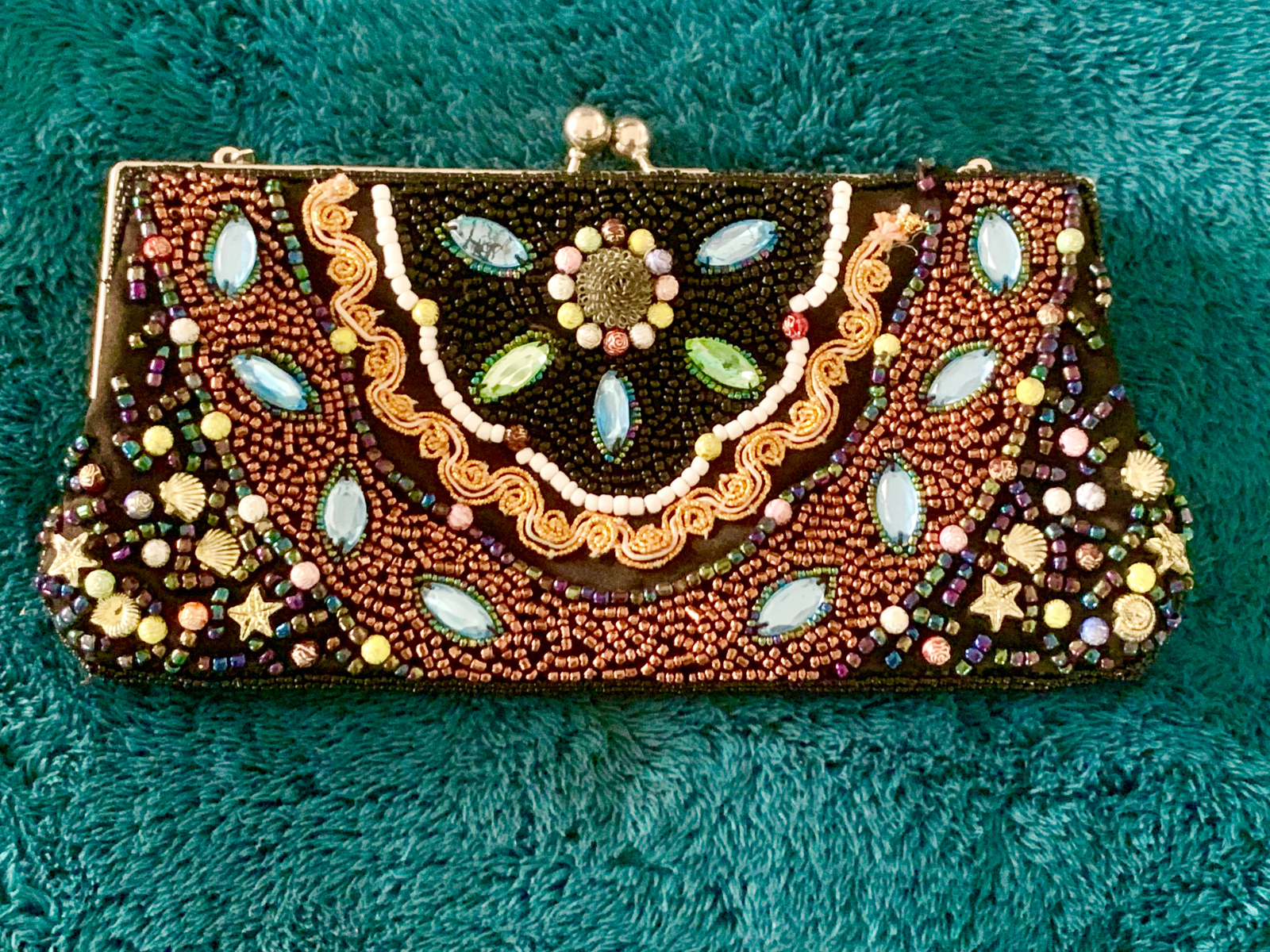 Eager to start crafting your own beaded purses and bags? Check out these video tutorial from Made by Nolo and Diary Rere!
Want even more content about creativity and art?
Be sure to check out all of our creative chronicles!
Love crafting with beads?
Check out some of our other bead articles: