Are you ready to take your artwork to the next level?
If so, then look no further than this comprehensive guide to markers perfect for all different kinds of projects!
Whether you're a seasoned artist or just starting out, there's something for everyone.
From colors that will truly pop on canvas and bring your pieces to life, to tips and tricks from industry professionals on how to make the most out of these products — it's all here!
Keep reading for an art adventure sure to help refresh your artistic experience!
So, let's dive right into the vibrant world of markers and unleash your inner artist!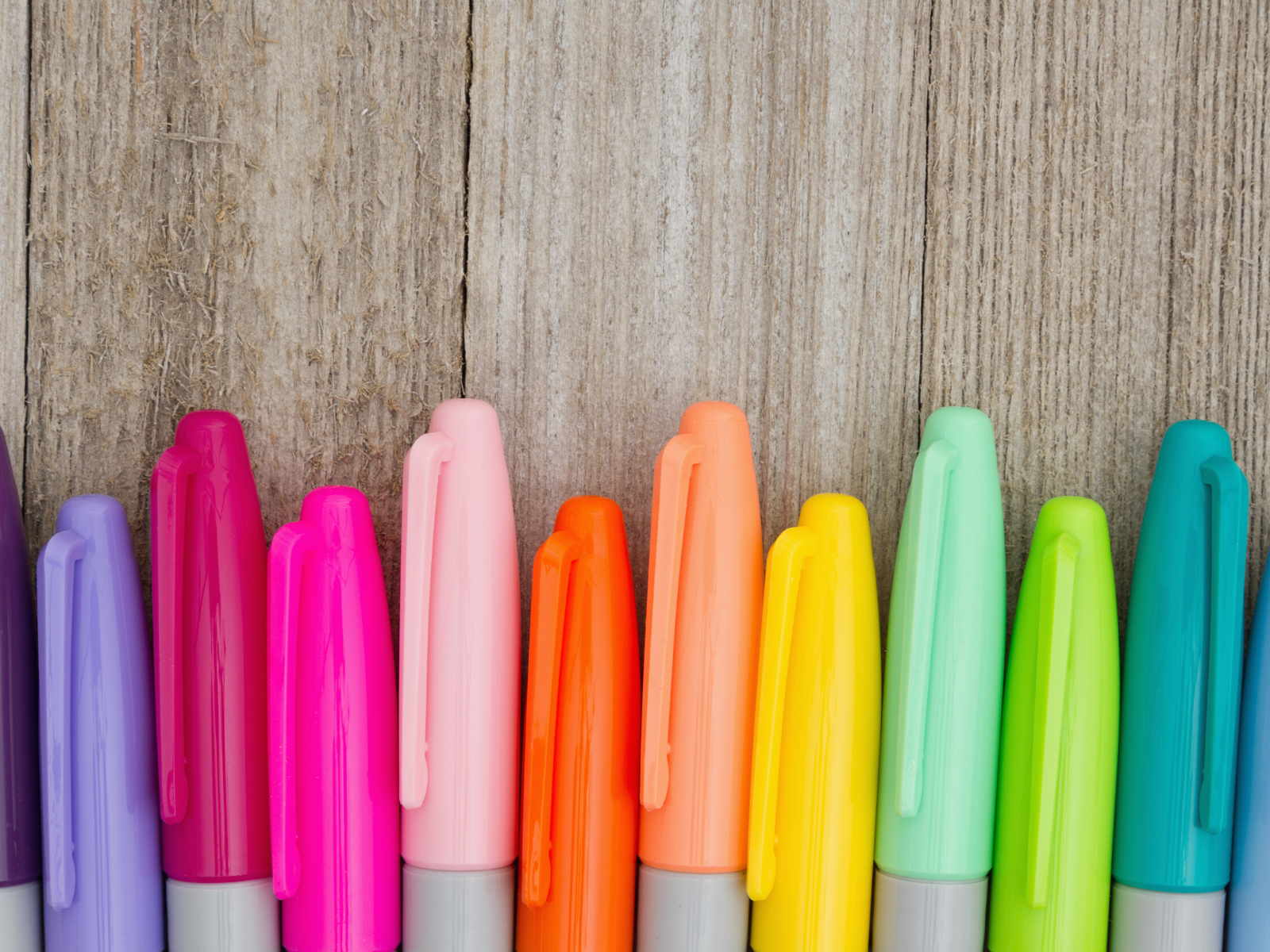 Understanding the different types of markers available can help you identify the best ones for your project.
Markers come in a variety of styles, from water-based to alcohol-based, and everything in between.
Some popular marker types include:
Known for their quick-drying and blendable properties, they provide a smooth, finished appearance, perfect for illustrative work and graphic design.
Safe and easy to use, making them ideal for beginners or kids.
These markers offer a unique, vibrant look that is ideal for blending and creating soft watercolor-like effects.
These markers are great for writing on surfaces that absorb ink, such as wood or paper.
They create bold, opaque lines and have a longer-lasting finish than other markers.
These markers are perfect for writing on chalkboards or to add a creative twist to any project.
Highly pigmented and fade-resistant, these are excellent for crafting detailed, intricate artwork.
Mimic the strokes of a paint brush to create a variety of textures and strokes.
Used for precise and detailed work.
Ideal for objects, fabric, or surfaces requiring a long-lasting design.
Works best on fabrics, such as clothing or accessories.
Knowing which type of marker is best for your project will help you create a masterpiece!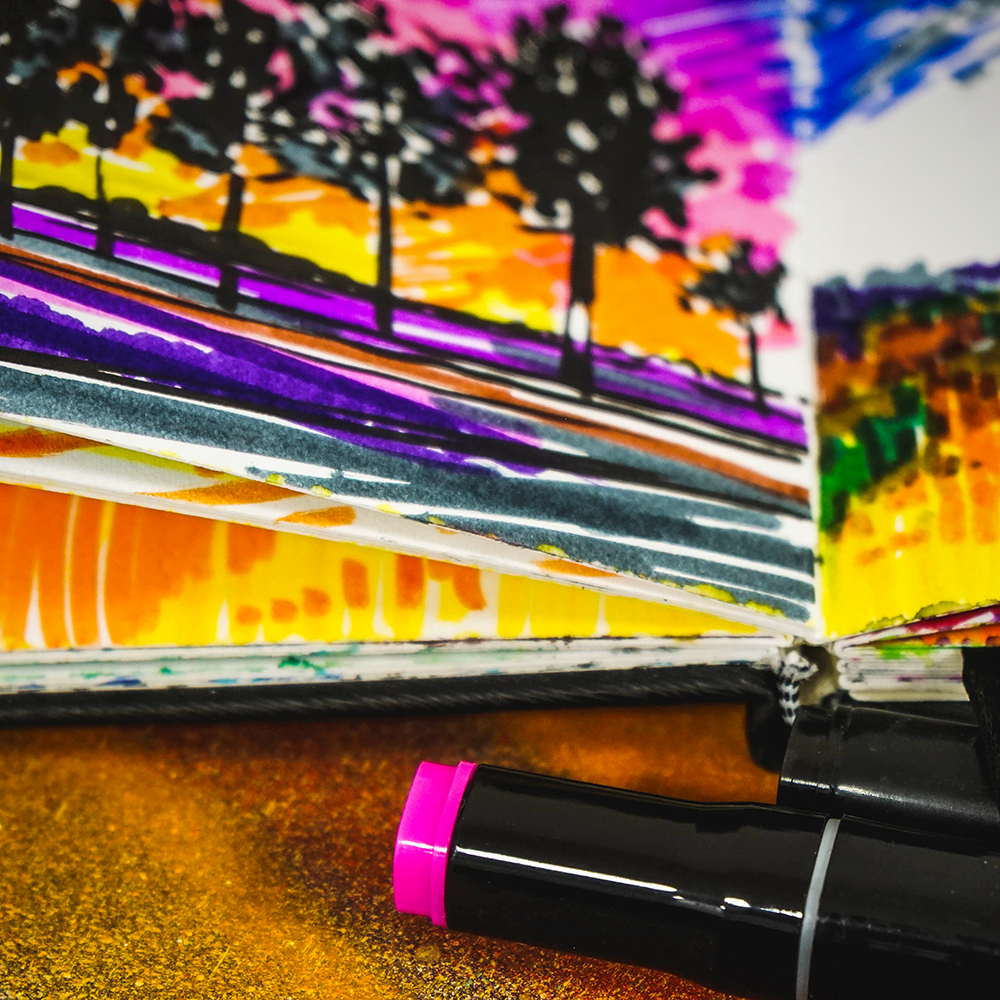 Selecting the Right Colors
Choosing the right colors is essential when it comes to making your artwork stand out.
Certain color palettes are more suitable for certain projects, so it's important to research the types of colors that are ideal for your needs.
Consider what kind of outcome you'd like to achieve and select accordingly.
Common color schemes include:
Primary Colors: red, blue, and yellow
Secondary Colors: orange, green, and purple
Tertiary Colors: A range of hues made by combining primary and secondary colors (red-orange, yellow-orange, yellow-green, blue-green, blue-violet, and red-violet)
Neutrals: White, Black and Gray
Complementary Colors: Two colors that are opposite each other on the color wheel (e.g., red and green, yellow and purple, blue and orange)
The possibilities are endless when it comes to selecting the perfect color palette!
For a classic look, opt for neutral hues, like black and gray.
If you're looking to create something with more of a "pop," then brighter shades of red, blue, and yellow are your best bet.
For a vintage-inspired design, opt for pastel hues that will provide a soft, dreamy look.
For something more modern, consider cooler tones such as blues and purples.
Your artwork's style and color scheme will dictate the number of colors you require.
Some considerations include:
A basic set of primary and secondary colors can suffice for beginners or artists who primarily sketch.
For more advanced projects, investing in a set with a broad range of colors or complementary shades can provide valuable versatility.
Some marker brands and sets solely focus on skin tones or specific color themes, catering to those with specialized needs.
Once you've decided on your colors and style, it's time to start shopping!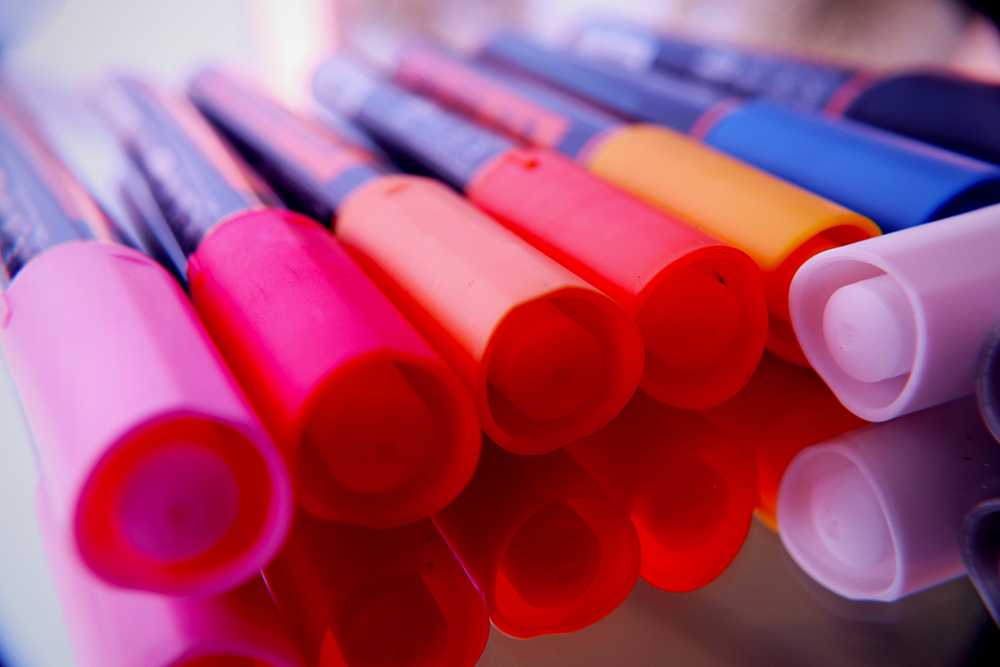 Finding the Perfect Marker Set
Now that you have a better understanding of the types of markers available and how to choose the right colors for your project, it's time to make a purchase.
Start by researching various marker brands to compare their products and ensure you're getting the best quality for your money.
Look out for features such as:
Number of colors in the set
Quality and pigmentation levels
Water-resistance
Fade-resistance
Price
Ease of use
Ink blotting properties
Whether the set contains refills
Depending on what project you're working on, specific markers can enhance and bring your idea to life:
For illustration or comic art: alcohol-based markers with dual tips can offer the perfect blend of colors and precision.
For coloring books or doodling: water-based or gel markers with fine or brush tips can provide a versatile and creative experience.
For calligraphy and lettering: brush tip markers with smooth strokes and pigmented ink are ideal for creating beautiful calligraphy.
For mixed media projects: pigment-based or permanent markers work well with various surfaces and mediums, offering a versatile and long-lasting option.
For designing on fabrics: fabric markers are designed to stay vibrant and resist fading, making them perfect for t-shirts or other clothes.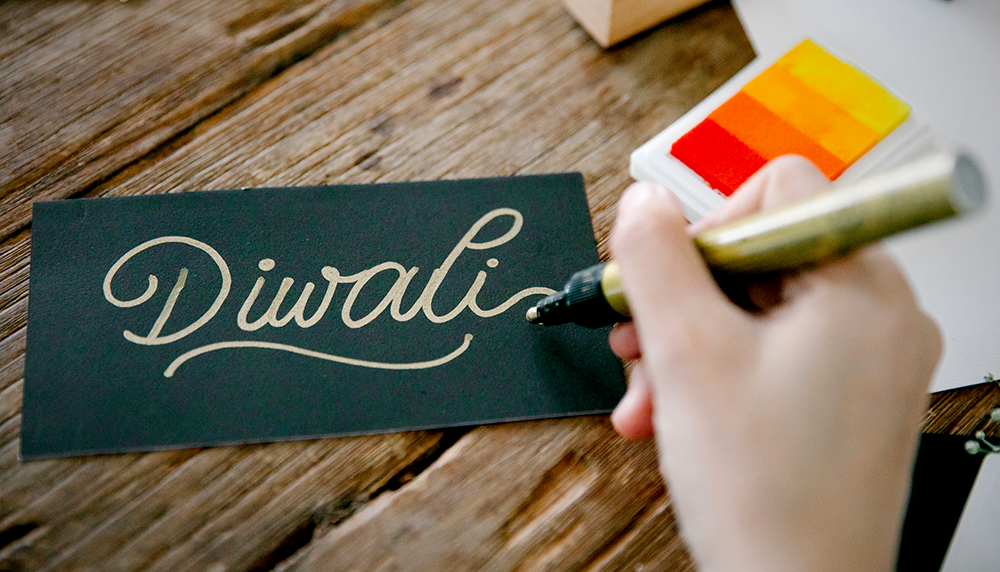 Quality Matters
In the world of markers, you often get what you pay for.
Cheaper markers might be tempting, but they may lack pigmentation, durability, or blendability.
Investing in high-quality markers from trusted brands can help you create a beautiful, lasting piece of art.
Do your research and make sure to read reviews for each set you're considering.
Opting for a well-known, established brand might cost more upfront, but the investment in quality materials will pay off in the long run.
By taking the time to find the perfect markers for your project, you can ensure that your artwork is vibrant, precise, and looks great for years to come!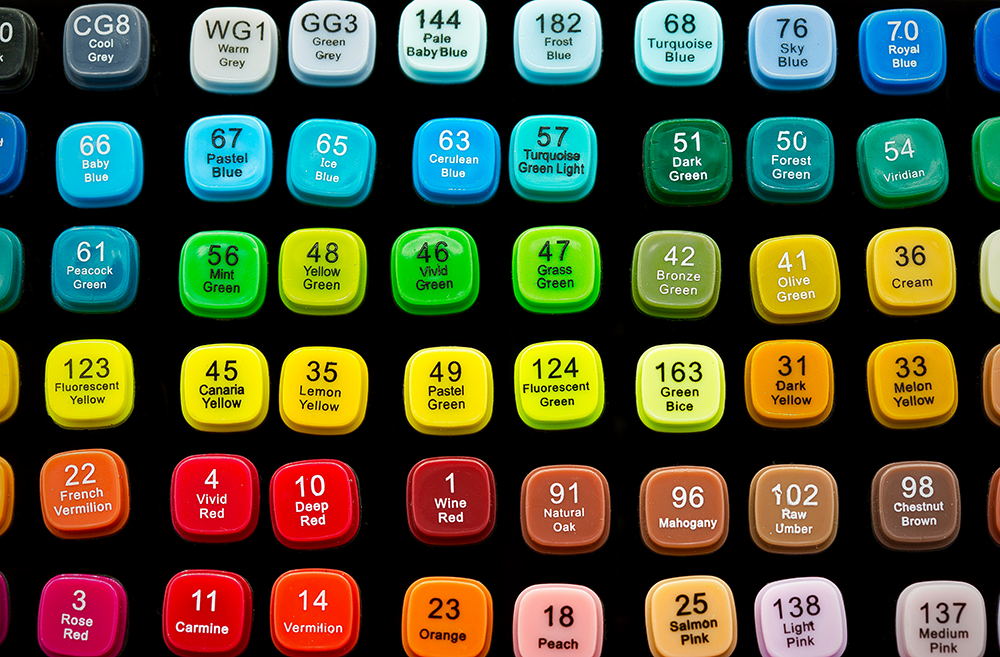 Marker Tips and Tricks
Now that you have your marker set, it's time to get creative!
To help you make the most out of your artwork, here are a few quick tips and tricks from the pros.
Start with sketching in pencil before applying ink.
This way, you can have more control over the design and make sure all lines are consistent.
Prevent running out of ink by using a refillable marker.
These markers are designed to last longer and offer a more cost-effective option.
For smoother transitions, use blending markers.
These markers contain dual tips of varying sizes and work great for blending colors or creating gradients.
When creating intricate designs or lettering, try using a ruler or template for guidance.
This will help you stay consistent and create a neat, professional-looking piece of art.
Bring life to your artwork by experimenting with different kinds of techniques and approaches.
Try using different materials such as paper, canvas, wood, or fabric to find out what works best for your project.
Also, the internet is teeming with resources to help you become a better artist.
Look up tutorials and tips for any medium or subject you're passionate about, and never be afraid to try something new!
Art websites, forums, and YouTube tutorials can all provide valuable insight into the world of art and markers.
These platforms offer expert advice, techniques, and inspiration to bolster both your marker choice and artistry; plus, you can get insider tips and feedback from fellow artists!
Finally, practice makes perfect!
Try sketching around your home, doodle on a piece of paper, or even draw with friends.
The more you practice, the better you'll become.
So don't be afraid to take risks and explore different approaches — that's how great art is made!
By following these tips, you'll have all the tools you need to make your artwork stand out!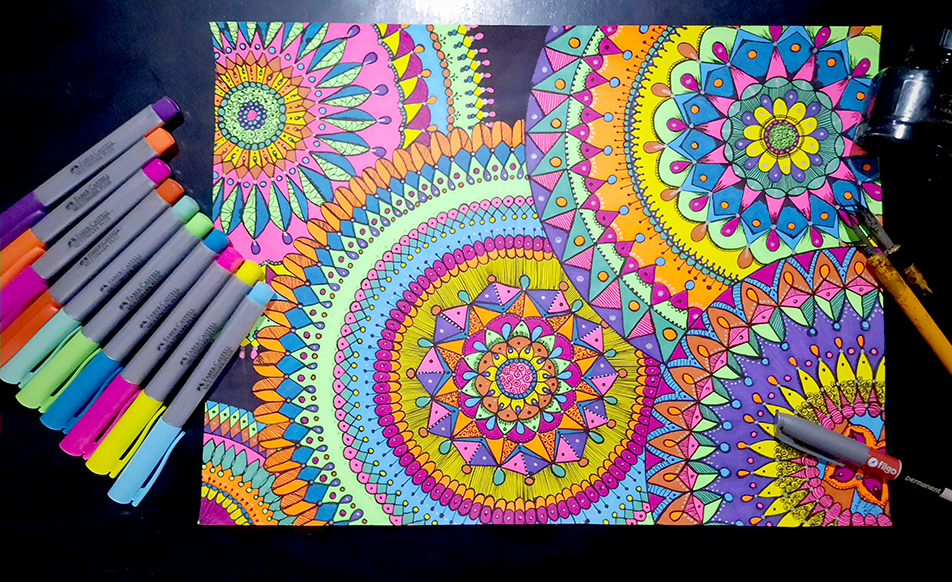 Find the Markers Perfect for Your Artistic Vision
Picking the right marker for your project can unchain your creative potential and elevate your artwork to new heights.
With a variety of marker types, project suggestions, and tips from the masters, you're sure to find the perfect set to bring your art vision to life!
You now possess the tools to make a well-informed decision and start creating beautiful pieces.
Venturing into the vibrant depths of the art marker world will unlock creativity, satisfaction, and endless possibilities in your artistic journey!
So, tap into your creative side, and most importantly, have fun!
Interested in learning more about finding the perfect markers? Check out Jazza's video!
Need the finest markers for your art kit?
Check out some of our other marker articles: