Welcome to the spellbinding world of ink splotches and graceful loop-de-loops!
No matter if you're a seasoned artist or a complete beginner, the mesmerizing art of calligraphy and hand-lettering is sure to capture your imagination.
Whether you're a beginner looking to hone your skills or an experienced pro interested in elevating your craft, these tips will help you take your lettering style to the next level.
These amazing calligraphy tips will help take your hand lettering and typography design from so-so to stunning!
Get ready to embark on the journey of mastering beautiful penmanship – it's going to be fun!
There's always something to learn and improve upon for your calligraphy practice, so let's dive right into the swirls and twirls of these game-changing calligraphy tips!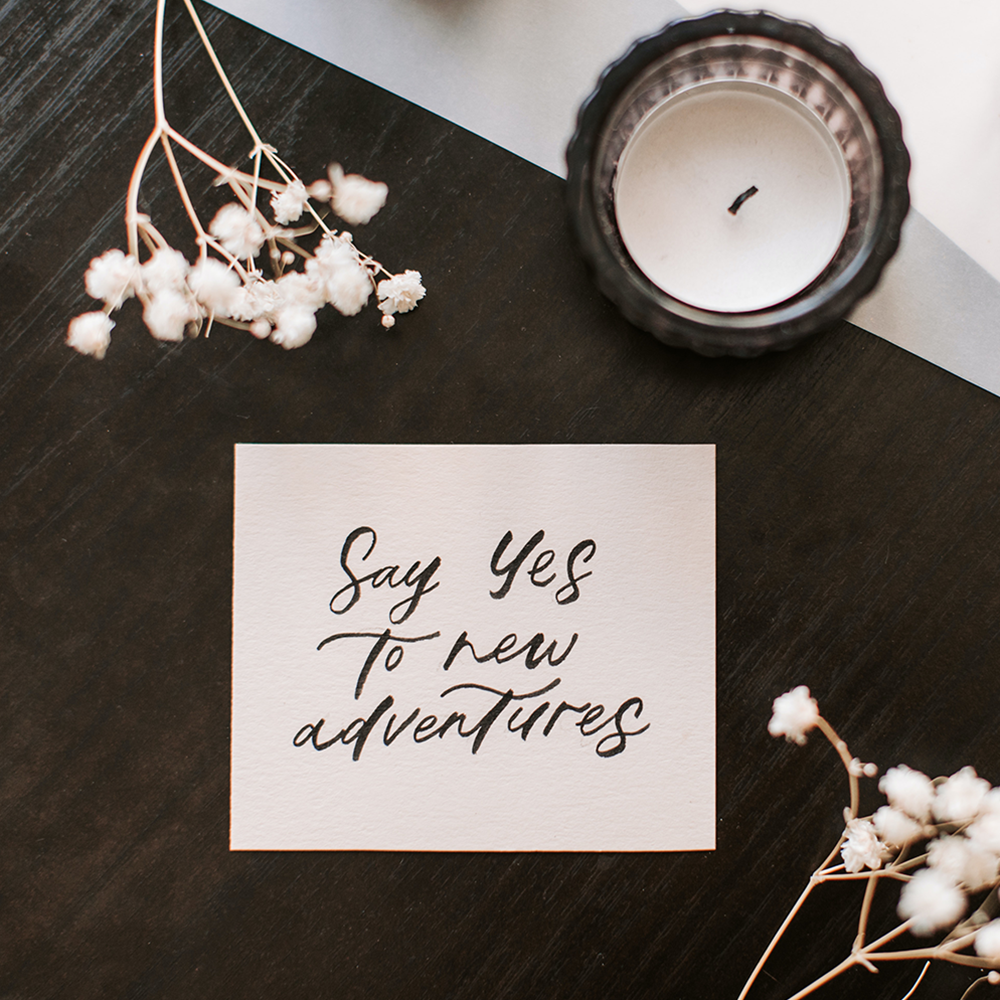 Calligraphy Basics
Before you start producing amazing lettering and calligraphy, it's important to understand the basics of penmanship.
Begin by understanding the structure and form of each letter, the way a calligraphy pen should be held, and the different types of strokes used in calligraphy.
This will provide you with a great foundation for your lettering and help you to lay down smooth lines.
The more practice you put into this, the better your lettering will be.
Know your calligraphy pens; it's important to understand the different types of pens and how to use them effectively in your lettering.
Get familiar with the different calligraphy materials; this includes the nibs, holders, inks, and paper type.
Modern calligraphy uses a variety of tools, and each one plays an important role in achieving the desired result.
Fountain pens, brush pens, and dip pens are all popular for calligraphy, and brush calligraphy is a great way to learn lettering basics.
Experimenting with different equipment will help you find the right tools for your calligraphy style.
It's a great way for learning calligraphy and mastering all the basics, too.
Whether you choose to use ordinary printer paper, brush lettering, calligraphy nibs, or your own style of writing, practice makes perfect.
Start with simple exercises, basic strokes, and doodles to get a feel for the pen before moving onto more complex designs and lettering styles.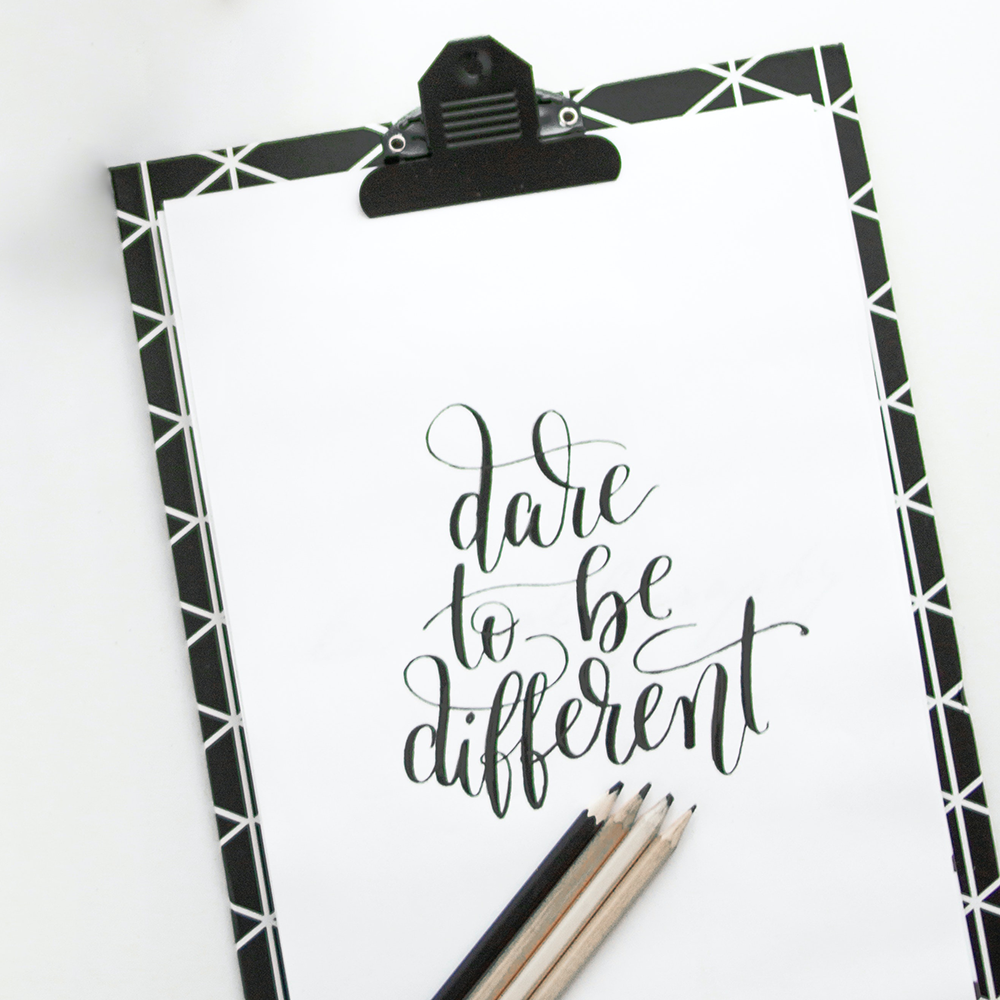 Acquire the Right Supplies
Having the right supplies is critical for your calligraphy journey.
Start by choosing a good quality pen that is comfortable to hold and provides the right type of nib for your style.
Make sure you also choose a good quality ink, as this will affect how your lettering looks on the page.
You wouldn't go for a hike in fanciful stilettos, so don't try to create calligraphy with a dried-out ballpoint pen.
Pick a high-quality calligraphy pen or brush that lets you control the thickness of your strokes.
Look for pens with adjustable nibs, which allow you to create a variety of line weights.
And your calligraphy paper matters, too!
Opt for a semi-absorbent option that won't bleed ink or turn your meticulous artwork into a watery mess.
Smooth paper is a great choice for beginners, because its texture helps to minimize the appearance of mistakes.
And don't forget to invest in some other calligraphy supplies, such as an practice sheets, an inkwell, a ruler, and an eraser.
The perfect supplies will make a big difference in the quality of your work.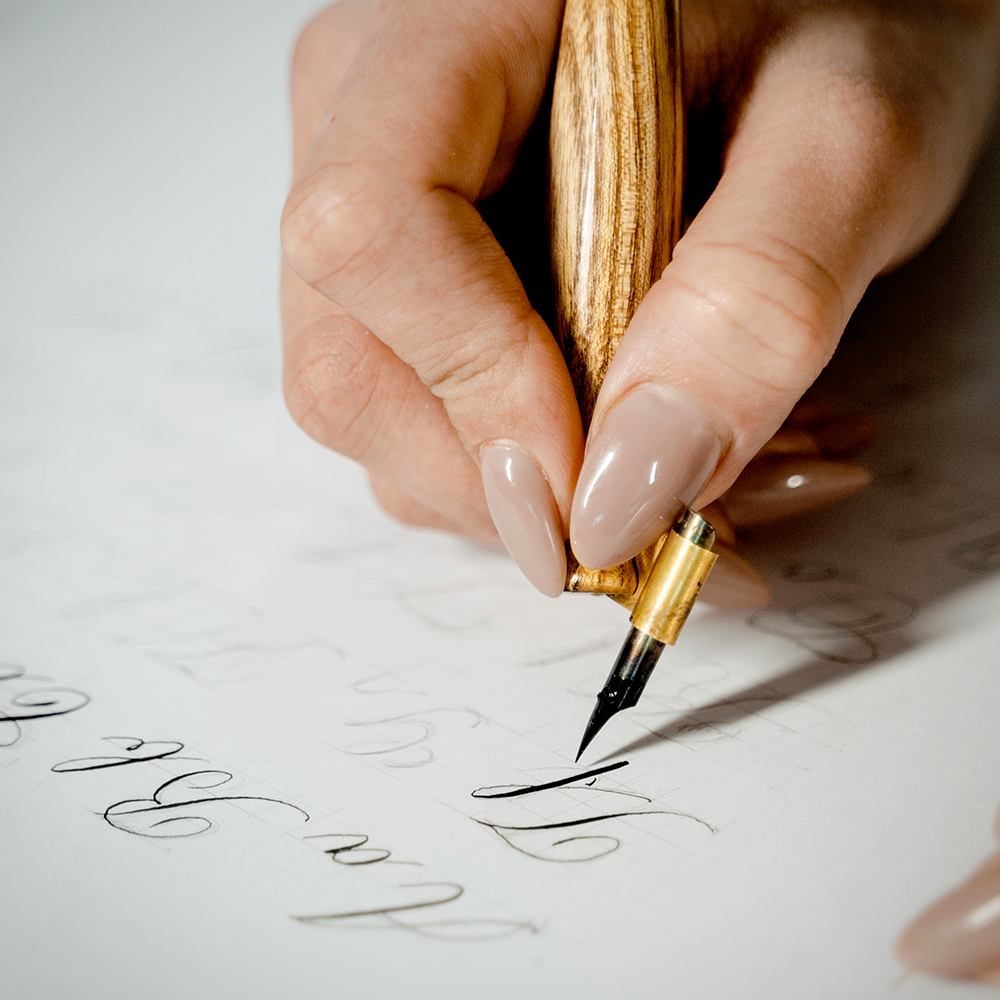 Building Your Calligraphy Collection
So, you've got the basics covered—time to go out and buy every type of ink, nib, and cartridge on the market, right?
Wrong!
While it can be tempting to splurge on all sorts of calligraphy goodies, proceed slowly and steadily.
When you begin building your collection of calligraphy tools, you don't need to go all out from the get-go.
Start with the most essential items and add more as you become more confident in your lettering.
Choose a few pens and inks that you love and focus on mastering them before expanding your collection.
With so many fancy supplies, your calligraphy arsenal can soon become overwhelming.
These can include specialized papers, brushes, nibs, and special inks.
While these can be great additions to your collection once you're more confident in your skills, they are not essential for beginners.
By gradually building your collection, you can savor the process and truly appreciate the unique properties of each new addition.
As you continue to practice, try out different tools and techniques.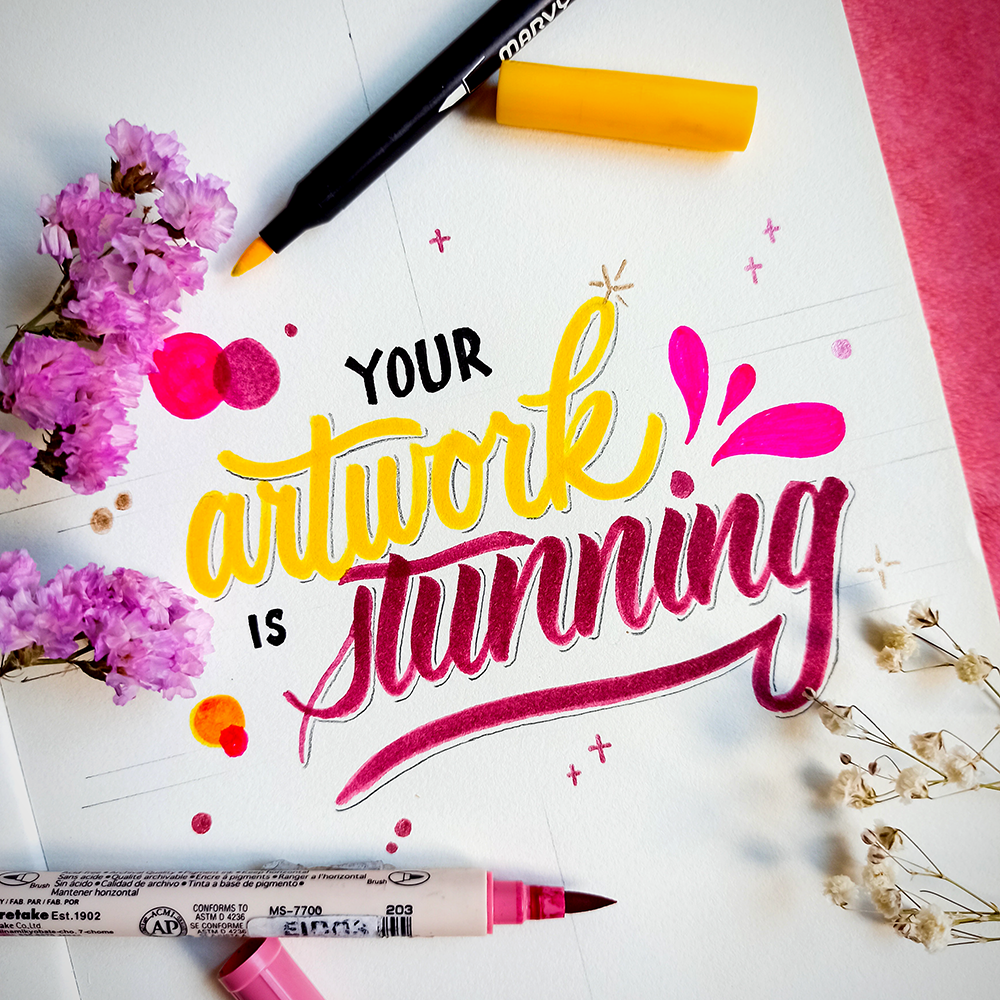 Take Advantage of Special Occasions
When handwriting cards and notes, you can use special occasions to put your calligraphy skills to work.
Valentine's Day, birthdays, anniversaries, and other holidays are the perfect occasion to practice your calligraphy.
It's also a great way to show someone you care and put a smile on their face!
Retail cards have nothing on the charm and warmth of a calligraphy-penned message.
Use special occasions as a practice opportunity and a chance to create personalized cards and gifts, and watch your friends and family swoon over your handcrafted masterpieces.
Plus, it's a brilliant way to put your newfound calligraphy skills into practice; you can even create affirmations and inspiring quotes or messages for your loved ones!
The more you create, the more you'll improve.
It's a win-win: practice makes progress, and your loved ones receive one-of-a-kind keepsakes.
With enough dedication and patience, you can master the art of calligraphy and hand-lettering.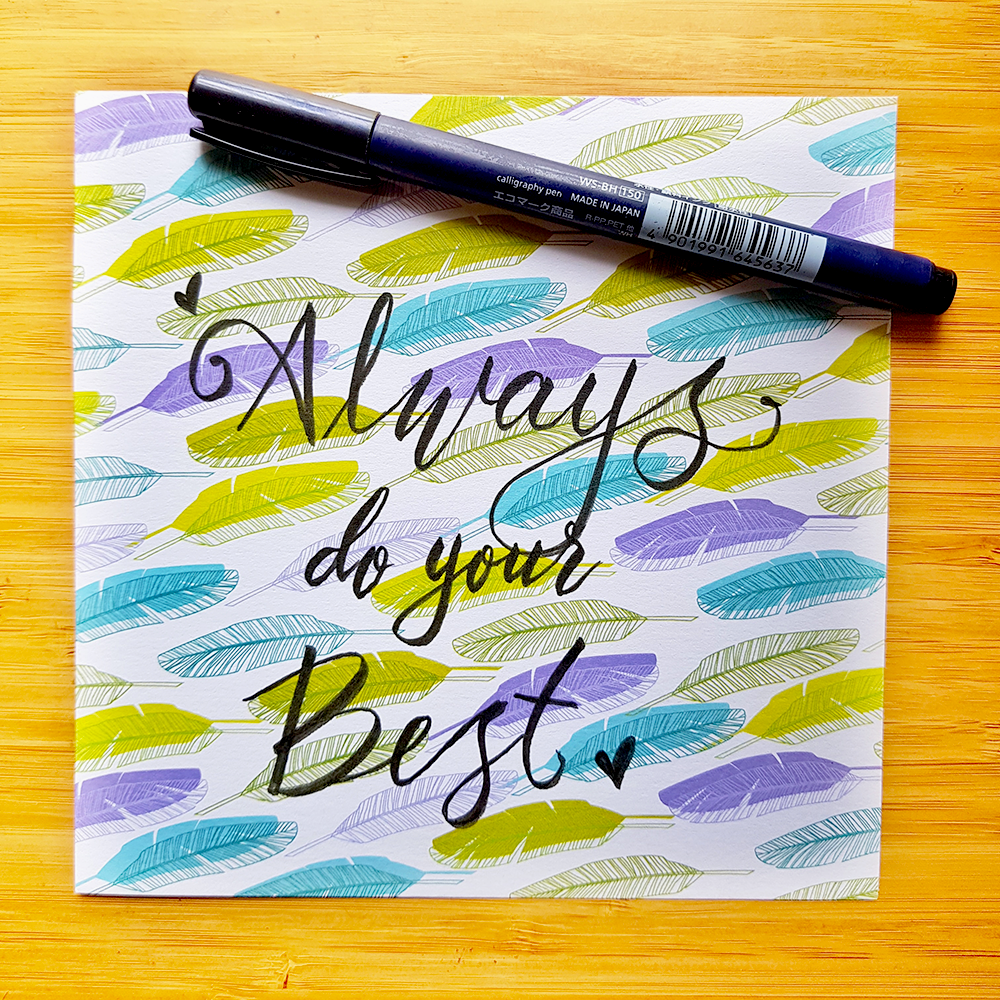 Don't Get Discouraged Because Practice Makes Progress
Creating beautiful calligraphy requires patience and practice.
As much as we'd love to be calligraphy savants in the blink of an eye, nobody is perfect right out of the gate.
Keep in mind that progress, not perfection, is the name of the game.
Give yourself time and space to develop your skills, and remember that Rome wasn't built in a day.
Sometimes, exasperation hits (oh, the smudged words and botched flourishes!) but learn to embrace the challenges as part of the growth process.
You might even apply too much pressure at first as you learn calligraphy.
Breathe deeply and tackle that troublesome letter 'g' with all the grace and patience of a calligraphy Jedi.
It's normal to make mistakes as you learn a new skill – don't get discouraged.
Take the time to analyze your work and learn from it, and you'll soon be on your way to creating beautiful lettering.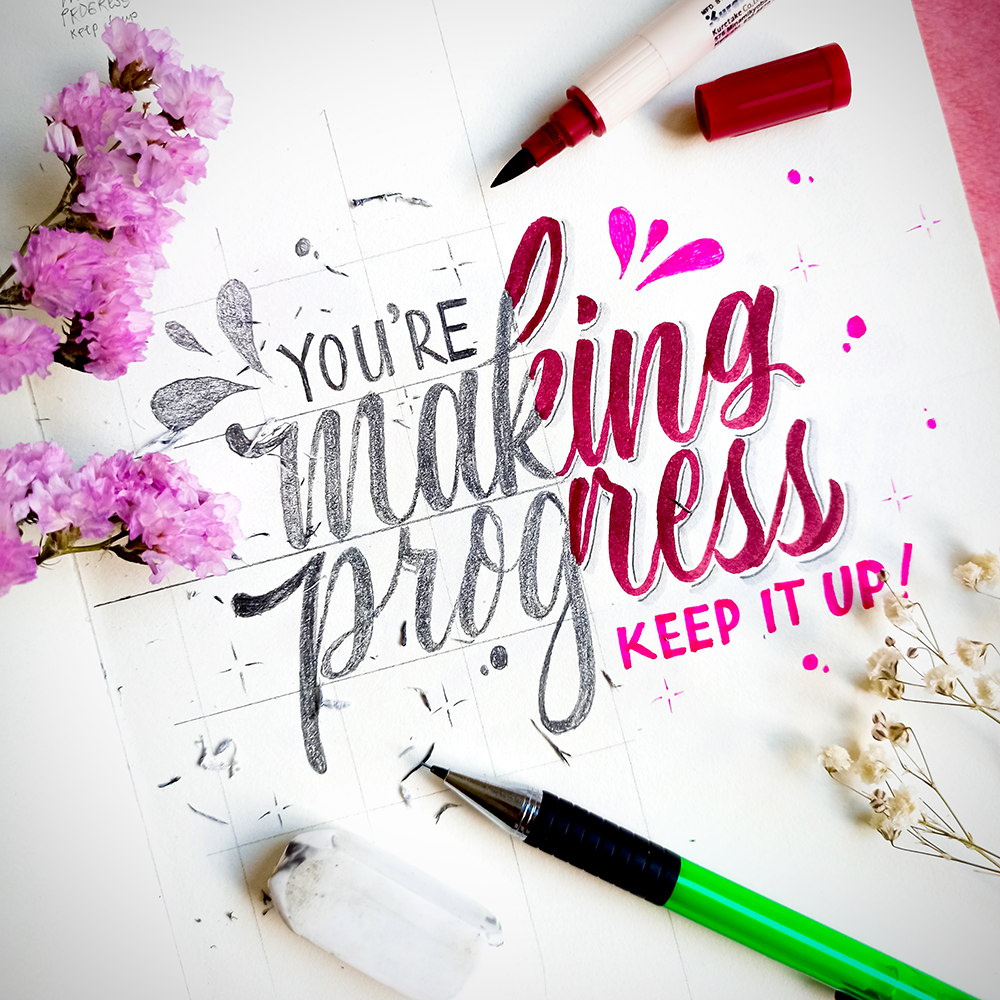 Document Your Progress
When you start your calligraphy journey, document your progress along the way.
Keep a sketchbook or art journal, jot down notes about what worked and what didn't, and make a gallery of your best work with photos.
This will help you keep track of your progress and give you an opportunity to reflect on your accomplishments.
Plus, it'll be fun to look back and see how far you've come!
Visual proof of your calligraphy progress is like a virtual high-five.
This tangible, visual record will help you see how far you've come, which can be inspiring when you hit inevitable obstacles.
Documenting your progress is an invaluable way to track your growth, and you may even surprise yourself with how much you've accomplished.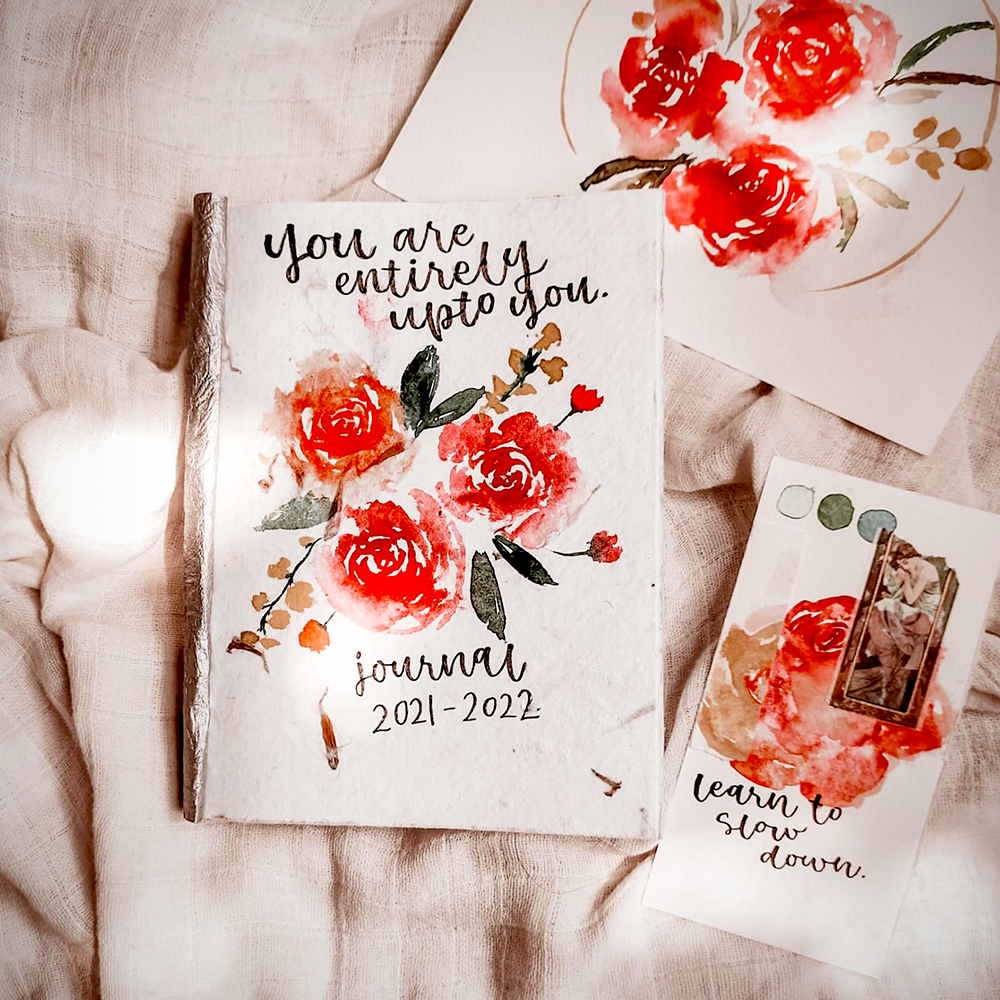 Set Your Own Goals
Don't compare yourself to others – set goals that you want to achieve.
Every calligrapher is on a different journey, so focus on what you want to achieve with your lettering and practice.
Set goals for yourself, such as mastering a certain font or trying out a new calligraphy style.
This will help keep you motivated and focused on your personal objectives.
With these tips in mind, you'll be sure to improve your calligraphy skills.
The journey of mastering beautiful penmanship is a rewarding one, and it's never too late to start.
Grab your calligraphy pen and let the ink flow!
You've got this.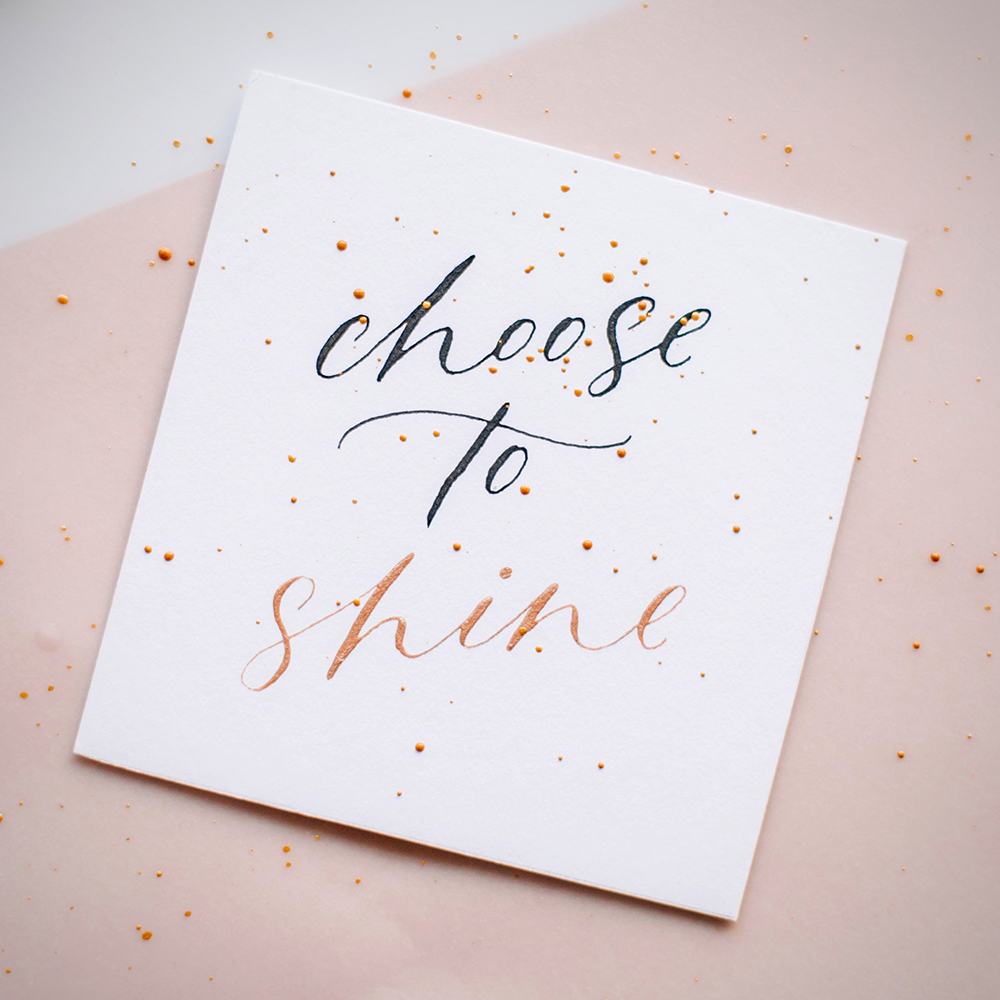 Don't Stress Over Mistakes or Spills
What's an art project without a little chaos?
Calligraphy won't always be picture-perfect.
Ink spills, smudges, and mistakes are part of the learning process, and they certainly add some spice to your calligraphy adventures.
Don't fret over these mishaps; rather, use them as opportunities to refine your skills and learn how to prevent similar mistakes in the future.
Plus, you can even use your mistakes and transform them into something new.
Sure, a spilled ink bottle can be a bummer, but it also provides the perfect opportunity to explore abstract designs and creative experimentation.
You never know what kind of beautiful art will come from a mistake!
So, as messy and unpredictable as it can be, let your mistakes motivate you to keep learning and improving.
Embrace those imperfections and continue moving on; you'll get better with practice.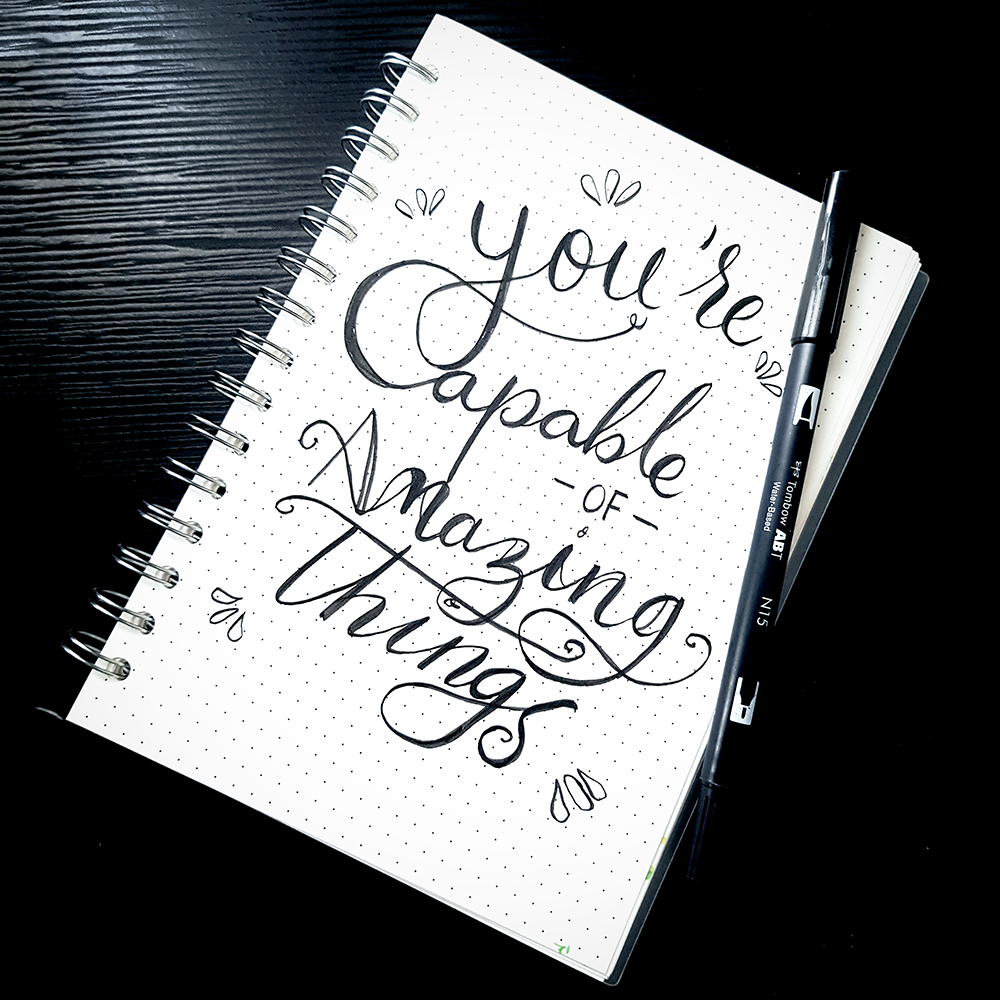 Connect with a Calligraphy Community
If you're just starting out with calligraphy or looking to improve your skills, find a support network of fellow calligraphers.
Connect with like-minded people and form a community to encourage and inspire one another.
The calligraphy community is teeming with talented and supportive artists, each with their unique take on this thriving art form.
Connect with fellow calligraphers through social media, forums, or workshops, and let the creative energy flow--share tips, tricks, and resources, or seek advice when you hit a roadblock.
By mingling with like-minded artists, you'll not only refine your skills but also forge lasting connections that add a vibrant dimension to your calligraphy journey.
This is also a great way to learn from more experienced calligraphers, receive feedback on your work, and build up your confidence.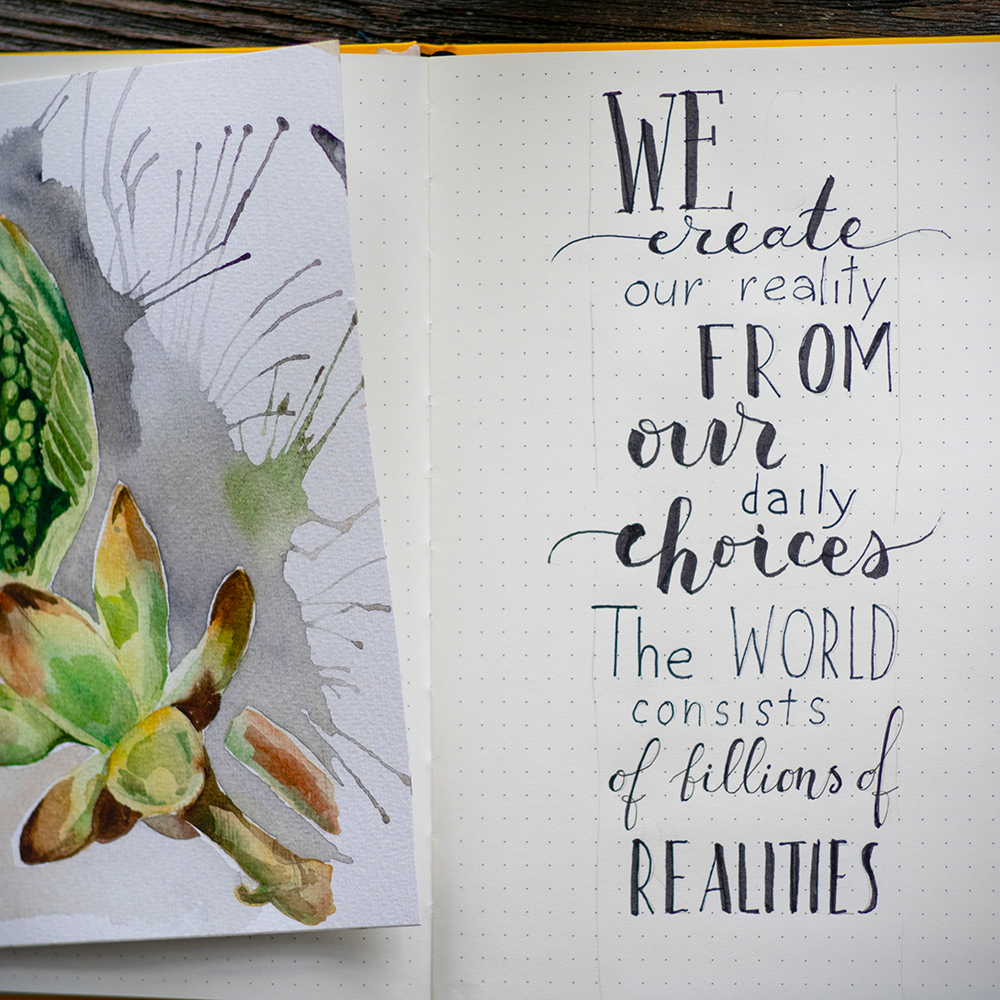 Crafting Perfected Calligraphy
Calligraphy is so much more than writing with flair—it's a journey of creativity, progress, and personal growth.
Hand-lettering and calligraphy can be daunting at first, but with enough practice and patience, you'll soon discover the beauty of this timeless art form.
These tips are sure to enhance your calligraphy and hand-lettering skills!
Don't be afraid to make mistakes–that's how we learn and grow.
Take the time to practice, connect with a calligraphy community for support, document your progress, and don't forget to have fun!
With dedication and these helpful calligraphy tips, you'll be well on your way to mastering the art of beautiful penmanship.
So, what are you waiting for?
The wonderful world of calligraphy is just a few strokes away, so grab your pen and start creating!
Good luck on your calligraphy journey!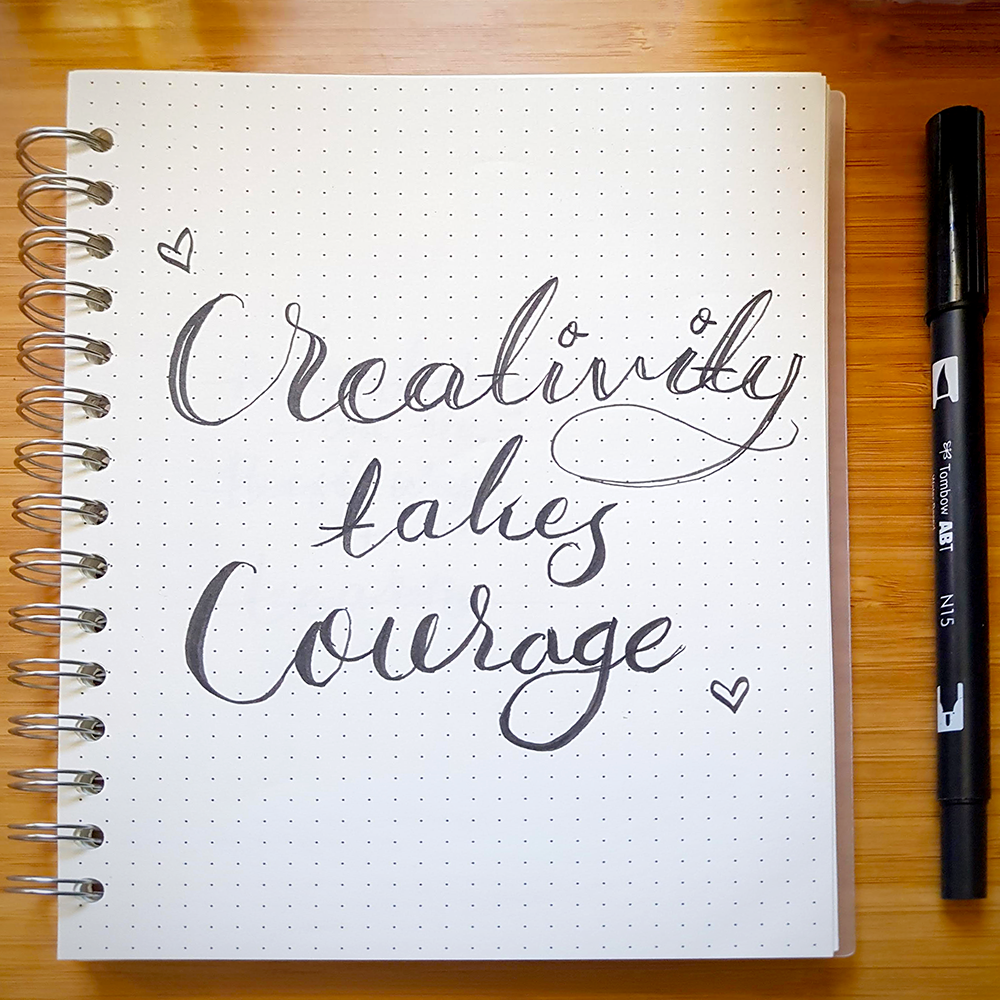 I've even managed to secure a FREE gift for our readers from world-renown calligraphy instructor, Diane Foisy! If you're eager to start calligraphy, you'll definitely want to check it out!
Ready to dive into the world of calligraphy and hand lettering? Check out AmandaRachLee's video!
Want even more content about creativity and art?
Be sure to check out all of our creative chronicles!
Interested in starting calligraphy and hand lettering?
Check out some of our other articles: